Ahead of the Association of Colleges (AoC) 2015 conference, chief executive Martin Doel tells FE Week reporter Alix Robertson how his members have a fundamental place in delivering government goals.
With the government spending review on the horizon, and post-16 education and training area reviews sweeping across the country, attendees at this year's AoC conference may be feeling anxious about the future.
And Martin Doel, chief executive of the AoC, is all too aware of the rocky landscape ahead for colleges.
"With the funding cuts that have occurred, the sector is beginning to show frailties and difficulty, which is inevitable … I think it's remarkable that the colleges have kept going," he said in an interview at AoC's London HQ ahead of its three-day conference from November 17.
"My big worry, of course, as we go into the spending review, is that there will be even further cuts," he added.
Although funding troubles and the prospect of a visit from the FE Commissioner may be dominating discussions at present, Mr Doel was determined that the AoC conference would be primarily about "colleges, and by inference their students, the communities that they come from and the employers that they support".
The theme of the conference, at The ICC Birmingham, is Powering the Economy.
"It's about the essential role that colleges have in building a recovery that's sustainable and balanced, that everyone can have the opportunity to share in and share the benefits from," said Mr Doel.
Alongside the speeches at the event, from figures such as Skills Minister Nick Boles, Mr Doel said he hoped the debates on offer would challenge people's thinking about the role of colleges.
"I will be sharing with members, particularly in some of the sessions, some of the thinking we did immediately after the election, which I think is still valid," he said.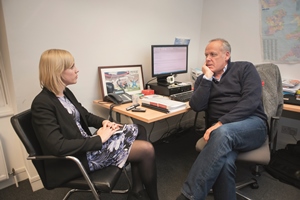 It involves understanding how colleges will be integral to delivering the government's key objectives.
"We work back from what we think government's core and key intentions are, which I'd put down clearly as the statement of 3m apprenticeships and growth — 3m high quality apprenticeships by 2020," he said.
Alongside meeting this target, other focuses are a delivering a good standard of English and maths for all young people; promoting higher technical and professional education; and filling the technician gap, particularly where large numbers of workers are retiring in key industries.
The conference must address "growing into that space which traditional universities have neglected over a number of years," said Mr Doel.
The final goal was reaching the long-term unemployed and providing an alternative to continuing on benefits.
"If you look at those four elements of core government policy, my suggestion is you won't achieve those four policies without a pattern of locally responsive colleges that meet local economic needs," said Mr Doel.
"That's why the conference theme is' Powering the Economy' — you won't power the economy if you don't have a pattern of colleges that provides that pathway into level three, four and five and responds to the local economic community — those are the distinctive things that colleges can do."
Doel on… area reviews
Are area reviews simply college finance and stability plans?
The motivation towards having area reviews is financial. The cuts that have been sustained so far mean an increasing number of colleges will become financially inadequate. The fact the sector delivered a net deficit … that's the reason behind area reviews.
Will area reviews succeed in making college finances more stable?
It's dependent on how well the reviews are carried out, and also it's one thing carrying out the reviews and another thing to carry through the recommendations. If the government wants colleges to take on new structures, new groupings, and actually to collaborate as well as compete, then that's a significant transition — and for a group of businesses that don't have much spare cash around, there ought to be a restructuring or transition fund to assist them. Mergers in the short term cost money. Reshaping your provision, even if you don't merge, means moving resources, staff, from one place to another, concentrating on facilities here rather than there.
Do you think University Technical Colleges (UTCs) should have been part of the process?
Yes, and especially because they're aiming to offer technical and professional provision, which is the core role of FE colleges. I can see how involving every school in the country in a review of 16 to 18 education would have made it an exceptionally complicated exercise. That's not to say though, in some areas, it wouldn't be very helpful and useful to have schools involved.
Is it right that area reviews are designed within Local Enterprise Partnership (Lep) boundaries?
My recommendation to the department has been to think in smaller groups, which might be sub-Lep areas. I also think the Leps are not a good match for travel-to-learn patterns. I think we need to be much more organic about this, and understand where the viable groupings or the most likely groupings are.
Are the right people chairing area review boards?
I'm hoping that the steering committee in BIS and DfE, who are overseeing the area review areas, are learning as they go. I also don't think Leps are particularly equipped to lead reviews; therefore I'm very pleased that the FE Commissioner, or the Sixth Form College Commissioner, are chairing and doing work for them, informed by the Leps.
How many colleges might be lost during the area review process and how many might be merged?
You hear stories about 100 colleges disappearing, but history just doesn't bear that out. We've done some recent analysis of colleges, which looks at the period since 1992, and the process by which over 400 colleges reduced down to just over 300 colleges. The greatest number of mergers in any one year in that process was 10 and there was substantial financial support to enable those to take place. Maybe we might do more than 10 mergers in one year, but I find it very hard to see we will do 100 a year. Financially I think it will be closer to 10, and if there is consolidation after the area reviews this will be a three to four-year process, and as likely as full mergers will be situations where colleges collaborate in order to deliver complementary provision across an area.
**Exclusive additional online content
Should more Universal Technical Colleges (UTCs) be appearing, given funding constraints?
I do get frustrated sometimes, when the government thinks the only way to change an education system is to change the institutional landscape, rather than to support existing institutions.
If I were designing an education system from scratch I think I would probably include UTCs, but we haven't got that luxury – we start from wherever we are. And to try and insert a new set of institutions into the landscape, where there's no need for them, or there's a surfeit of good provision already – it just seems to me to be a waste of resources when we don't have resources to waste.
So I think that in some places, university technical colleges will be a useful addition to the landscape, a major contribution, and in many of those cases, colleges are sponsoring and supporting them. In other places I think they risk being a diversion, so I think we need to learn from the first generation of UTCs to consider where they will work and when they'll actually contribute to that local economic growth.
What is your message to principals forming 'strategic alliances' ahead of area reviews being launched?
I think the colleges are getting ahead of the game to form their own groupings, and I think they are being encouraged to do that. If that's what they want to do then the AoC would be supporting them to do that and helping them with things like data collection and information in order to make good decisions.
Sharing services is an interesting option, colleges have had a history of doing that, and I think it will deliver some of the savings necessary. However, I think collaborating around the curricular offer is probably where the most powerful savings are likely.
We're very interested in things like outcome agreements; where a set of colleges agree with the combined authority, or the LEP, what broad outputs from the colleges will be.
I think that conversation between a group of colleges and the LEP, or the combined authority they're serving, is a really powerful thing to think about – for reinforcing the relevance of the college, the face of the college in its local economic community.
If colleges are really independent, might they just ignore the area review board?
Well, fundamentally, yes. That's one of the things we argued very strongly for when the area review guidance was being put together, that actually colleges are autonomous bodies. It's for them, and their incorporated boards, to make the decision on the recommendations.
In doing that, the colleges are going to have to take account of reality, and if they are heading for financial difficulty or require extra support, then clearly they're most likely to take account of the recommendations. If they are sound financially, their quality is very good, and they are demonstrably meeting local need, then we need to defend their ability to carry on doing that.