A sector leader has called for an investigation into whether sex discrimination lies behind some of the controversial apprenticeship funding rates.
Mark Dawe, boss of the Association of Employment and Learning Providers, told his organisation's autumn conference this week that training firms are dropping the adult care worker standard "left, right and centre" as they "can't afford to run it".
He said it was "ridiculous" that the Institute for Apprenticeships and Technical Education (ifATE) has declined appeals to increase its funding band, which sits at £3,000, but "you can change a tyre on a big vehicle" on the specialist tyre operative standard and receive £12,000.
"I'm starting to think there is an element of sexual discrimination here"
Both standards are at level 2, and the funding duration for the tyre operative is just a third longer than for the adult care worker (18 months compared with 12 months).
FE Week analysis shows that of the 10,480 adult care worker starts recorded in the first three quarters of 2018/19, 85 per cent were female.
There were not enough starts for the tyre operative standard to compare, but the level 2 autocare technician standard, also funded at £12,000, had 270 starts in the same period and 96 per cent were male.
Dawe also pointed out that the powered pedestrian door installer and service engineer standard, which is essentially an "electric door opener", is also given thousands more (£9,000).
"The more I look especially at level 2 and level 3 the funding bands for the different sectors, the more, on average, male-dominated sectors are getting vastly more money compared with the female sectors," Dawe told FE Week.
"There is a bit of service sector versus engineering, but actually that is a historic bias and I'm starting to think there is an element of sexual discrimination here."
He added this was an area where "we ought to start looking and seeing if there is some truth behind it" and called on the IfATE and Department for Education to do their own research as "they have the data".
The IfATE makes the decisions on funding bands for apprenticeship standards before getting sign-off from the education secretary.
A spokesperson for the institute said: "All funding decisions for standards are taken on an individual basis, utilising quotes and costings data from providers delivering to the sector in question and following the same established procedures that balance the need for quality delivery with value for money for taxpayers.
"There is no variation in our approach by standard or sector."
He added: "The institute is wholly supportive of diversity across technical education and promoting equality of opportunity, which we have demonstrated through our continuing gender-neutral language work."
The spokesperson would not say whether the IfATE would launch research into potential sexual bias in apprenticeship funding decisions.
According to IfATE figures, starts on the adult care worker standard have soared from 513 in 2016/17, to 14,744 in 2018/19.
In May, however, a review by the institute kept the funding band for the standard at £3,000, despite calls for it to be doubled.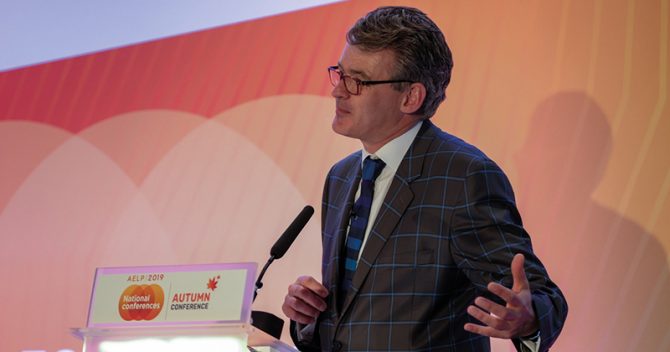 This caused a significant provider of the two, Professional Training Solutions, to stop recruiting apprentices to the programme, as revealed by FE Week.
A follow-up survey by the AELP found more than half of providers who offered the standards were reducing their starts, or pulling the programme altogether.
Many other providers said they were being forced to introduce "cost efficiencies", such as fewer in-person monitoring visits, reducing the number of tutors to learners or charging employers more.
In June, the All-Party Parliamentary Group on social care reported that as many as 500,000 unqualified people could be passing themselves off as trained care workers, putting millions of senior citizens at risk.
"There is a care crisis in this country, we need hundreds of thousands more care workers. We haven't got the training workforce we need and apprenticeships were a key part of that," Dawe told FE Week.
"Now we are putting those apprenticeships in a position where they are not viable to deliver, so it is going to get worse rather than better."