The government has told providers who deliver apprenticeship provision for non-levy-paying employers that they must not speak directly with the media about their delivery until officials approve the communication.
Following the launch of the non-levy procurement last Friday, the Education and Skills Funding Agency sent providers a terms and conditions document for contracts.
Included was a clause, described by Association of Employment and Learning Providers boss Mark Dawe (pictured above) as "nonsensical", which suggests they must not pass any information to the media about their apprenticeship delivery until it is signed by all parties involved in the contract, including the agency.
"The text of any press release or other communication to be published by or in the media concerning the subject matter of this contract shall require the approval of each party which shall not be unreasonably withheld or delayed," the document says.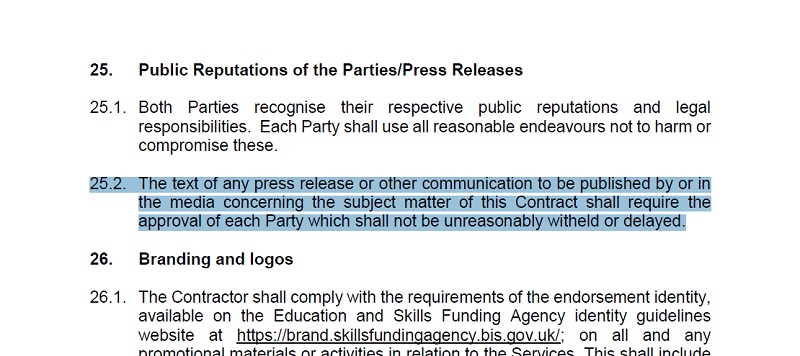 It suggests that if a non-levy provider wants to inform the press of any mishandling with regards to their apprenticeships contract, for example, they must now have the information approved by ESFA officials before sending it to a journalist.
"If the agency has admitted a provider on to the register and awarded it a contract, those hurdles in themselves should be enough for the agency to trust providers to get on with their own PR," Mr Dawe told FE Week.
The AELP boss addressed the clause in a webinar he was giving to AELP members this morning about the new non-levy procurement where he said providers would "fall foul" of the clause if they "sent out a case study to your local paper about an apprentice that is funded by this contract".
"Clearly the ESFA do not have the capacity to sign off hundreds and hundreds of press releases every day and also I don't think it is what they meant," he said.
"We can envisage huge bottlenecks forming at busy times of the year such as National Apprenticeship Week and we do think it is a disproportionate requirement.
"We are going to get some clarity on that but it is a slightly nonsensical clause so be aware of it."
A Department for Education spokesperson denied its clause was designed to "block providers speaking to the media or communicating their work in any way".
"This is simply to make sure that communications are agreed by both parties involved – something which is not new to ESFA contracts and is common in contacts such as this," she said.
"We work closely with providers to support their work and promote the benefits their training brings to people across the country."