Ministers have ordered the FE Commissioner to investigate a principal's "deeply concerning" corporate credit card use after her college was forced by FE Week to reveal £150,000 was spent in just four years.
Over 500 receipts obtained by this newspaper following a year-long freedom of information battle with Highbury College have lifted the lid on the lavish spending of its boss Stella Mbubaegbu.
College funds were spent on first class flights and five-star hotels in London and around the world.
"I have already asked the FE Commissioner to urgently look into this matter"
She racked up a £350 bill – including a £45 lobster and nearly £100 on cocktails – at a Michelin star restaurant.
Mbubaegbu also travelled in luxury cars, including a Cadillac and "executive chauffeurs" and spent £434 on a pair of headphones.
It comes at a time of redundancies at the college, in Portsmouth, which axed its sixth form two months ago, amid deteriorating finances and its Ofsted grade plunging from 'outstanding' to 'requires improvement'. The last time staff got a pay rise was in January 2013.
Department for Education minister Lord Agnew, who oversees the FE Commissioner, said he and education secretary Gavin Williamson were "deeply concerned by these revelations".
"I have already asked the FE Commissioner to urgently look into this matter," he added.
"School and college leaders must treat taxpayers' money with the utmost care and in a way that benefits their students. Where this does not happen we take the strongest possible action."
The college's board appears to have recognised the excessive spending. Minutes published from a meeting in May show they have restricted international and first class travel, as well as banning lunch and alcoholic drink claims.
A £2,000 limit has now been placed on the principal's corporate card. The college would not say whether this was a monthly or annual limit.
A college spokesperson said the expenses released to FE Week were "approved and authorised and were then subject to independent audit, as is usual practice".
The receipts acquired and analysed by this newspaper covered the academic years 2014/15 to 2017/18.
The highest spend was for travel – totalling over £70,000. That included first or business class flights and trains, as well as luxury car rides including in Cadillacs.
Mbubaegbu claimed for over 30 flights, 17 of which cost over £1,000 – with an average of £3,170 – to several destinations for an annual conference in the USA, as well as trips to Canada, India, Germany and Dubai.
The most expensive single flight was for £6,202, purchased on May 3, 2018, to Saudi Arabia – where the college runs Jeddah College.
The findings prompt questions over the extent of international travel, as the college does not have ventures in the majority of the countries visited. FE Week is investigating this further.
The college refused to say if any of the flights were not first class.
Receipts from the principal's travels also show taxi rides including the use of "executive chauffeurs".

One shows that after landing in London Heathrow on November 16, 2016, Mbubaegbu paid £175 for a firm called Connect Executive Cars to take her to the Hilton Birmingham Metropole hotel, while another firm, Aqua Cars, picked up her luggage and took it back to her home address in Hampshire.
Accommodation was the second highest expenditure. In total she spent more than £60,000 on hotel stays and reached Hilton Diamond status – which typically requires 60 or more night bookings in a single year.
Hotels were mostly four or five stars and ranged from stays across America, Canada, Germany, South Africa, Dubai, China and Saudi Arabia, to four separate nights at the Portsmouth Marriott Hotel – located less than a 10-minute drive away from the college and 20 minutes from her home address.
The principal's international trips haven't gone unnoticed by staff as the board minutes from May state: "Staff wanted management, especially the principal, to be more visible within the college. Staff wanted to feel valued and heard.
"The chair believed morale was low and that staff felt disempowered."
A chunk of expenses were claimed for activities in England. In July 2018, the principal spent £356 for a meal with three other guests at Quilon, a Michelin star restaurant in London.
The receipt shows that the drinks bill alone, including cocktails such as mojitos and margaritas, cost over £100. A £45 lobster main course was also included in the order.
The day before the meal Mbubaegbu travelled to London and stayed at the Hilton Hotel in Euston for one night at a cost of £313. On the night of the meal she checked into the five-star Conrad St James hotel in Westminster. Her one-night stay cost £385.
Another standout monthly corporate card expense, for November 2016, shows that Mbubaegbu purchased BeoPlay H8 Headphones at an Apple Store in Washington, America for $528 (£434).
Elsewhere, in January 2015, she paid for a $655 (£445) dinner for six people at Ruth's Chris Steak House while out in Orlando. It included a $56 (£44) bottle of Kim Crawford Sauvignon Blanc and multiple $50 (£40) ribeye steaks.
The principal's card was also used to purchase a £219.99 Kenwood dishwasher from Curry's on September 11, 2017. The college would not say whether this was bought for personal or college use.
Multiple books for the senior leadership team were also bought on Mbubaegbu's corporate card, including one single £750 purchase for 50 copies of Mission: How the Best in Business Break Through.
Other titles of some of the books include: Governance of Financial Management and Check The Ego: Operate with a high degree of humility by admitting mistakes and taking responsibility.
Highbury College's latest accounts, for 2017/18, show a deficit of £2.48 million and state that its financial position has "deteriorated over the last three years".
The board minutes from May 2019 state there "was a very limited safety net if cash ran out".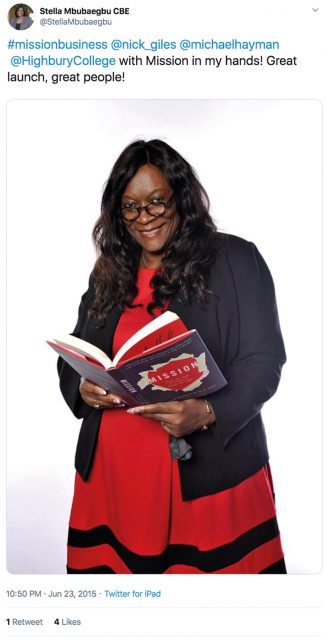 They added that "in the light of budgetary constraints", all foreign travel must now be authorised by the chair or vice-chair; all travel to be 2nd class unless authorised by the chair/vice-chair; and no lunch claims or alcohol claims can be made.
The college spokesperson added that Highbury "maintains continuous review of its procedures" to ensure that it "achieves good use of public money to meet the needs of our students and the community".
The college declined to comment on whether any of the expenses were reimbursed by the principal.
Highbury College blocked its staff from accessing FE Week's website in January after we reported published board minutes had revealed its lawyers were trying to recoup a £1.4 million debt in Nigeria.
The college lifted the block following outcry from then skills minister Anne Milton and chief Ofsted inspector Amanda Spielman, and after the Press Gazette reported the hypocrisy of a college restricting access to the media whilst promoting high quality journalism courses.
The college also attempted to keep the expenses a secret by refusing our FOI request, a decision that the information commissioner investigated and then overturned.
Agnew said: "The attempt to block disclosure in this instance, which was rightly overturned by the information commissioner, was shocking and FE Week should be commended for their dogged pursuit in this matter of public interest."
Mbubaegbu as the principal of Highbury College 18 years ago, and was awarded a CBE in the 2008 New Year Honours for services to further education.
Halton report is useful precedent as Atkins gets to work
The FE Commissioner, Richard Atkins, is now being sent in to investigate the use of Highbury College's principal's corporate card.
Atkins was a college principal when the government funding agency investigated "extravagant" college credit card spending at Halton College 20 years ago.
So in terms of a precedent, it is well worth dusting off the 'Report of the Investigation into Alleged Financial Irregularities at Halton College' published in April 1999.
The report author, David Melville, chief executive of the Further Education Funding Council, wrote: "I have identified a number of inappropriately extravagant items of expenditure on certain trips…staying in expensive hotels, eating in restaurants with costly food and wine, and incurring excessive or unnecessary expense. None of this expense has been properly related to the benefit of the college…I find that expenditure on college credit cards was not adequately controlled."
But like Highbury in recent months, the Halton board had begun to tackle the problem.
"I am pleased to note that the college has now amended the financial regulations to state that the use of college credit cards should be reduced to an absolute minimum and that expenditure on credit cards should be claimed with the same receipting procedures and with the same frequency as any other expenses claim."
The Halton report concluded that: "The level of accommodation or class or means of travel, whilst appropriate to business needs, should not be capable of being regarded as lavish. In addition, colleges should ensure that the use of college credit cards is covered by their financial regulations and monitored carefully."
And "the findings of these investigations indicate that the principal has not properly discharged his duties as accounting officer of the college, and therefore raise sufficient doubt for the board to consider his future as principal of the college".
Shortly after publication, the BBC reported on 15 April 1999 that the principal and deputy principal had "resigned after a damning report on its finances".
"Martin Jenkins and Jenny Dolphin quit their posts at Halton College in Widnes, Cheshire, with immediate effect," it said.
"They left, citing ill health, within 24 hours of the publication of a report which found the college was unable to justify spending more than £6m of public money."
In September 1999 the BBC reported the college auditors had been sacked after further investigations by the National Audit Office and Public Accounts Committee hearing.
And in 2006 Halton College and Widnes and Runcorn Sixth Form College merged to create Riverside College.