The government's preferred candidate to chair the Social Mobility Commission has told MPs that the FE sector needs a "complete overhaul", and reviewing vocational education would be one of her key priorities.
Dame Martina Milburn appeared before the education select committee this morning.
She made it clear that she is not impressed with the FE sector at present, and one of her top priorities in her first year in post would be to have a "real look" at vocational education.
"The whole FE sector I think needs a complete overhaul," said Dame Martina, who is a governor for Capital City College Group.
"It's not just about money, it's about the leadership, it's about the courses they are doing, it's about the way they engage on a local level with local businesses, and finding where the jobs are."
Her comments provoked former skills minister and committee chair Robert Halfon to jump to the sector's defence.
"Just picking up on one thing on FE, people say it is the Cinderella sector, and I reply she became part of the Royal family. It's important to challenge ugly sister of snobbery and intolerance," he said.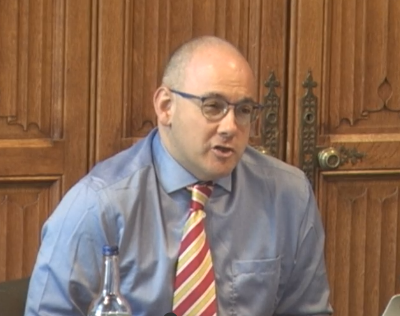 "FE has an incredible burden. A huge amount of its students come from disadvantaged backgrounds. They are burdened with compulsory maths and English GCSE resits, sorting out the problems from schools.
"They have been starved of funding compared to other parts of the education sector."
This is the sixth year that the funding rate for 16- to 18-year-olds has remained unchanged – meaning that FE providers have faced a huge real-terms funding cut over that time.
The Support our Sixth Formers campaign, backed by major players including the Association of Colleges and SFCA, as well as FE Week, has been calling for a £200 "SOS uplift" in 16-to-18 per-pupil funding rates.
As previously reported by FE Week, Amanda Spielman, Ofsted chief inspector, said during her speech at the launch of the Ofsted annual report in December that the "sector will continue to struggle" without an increase in the base rate funding for this age group.
"There are incredible colleges up and down our country doing incredible things," added Mr Halfon today.
"I wouldn't just say it's about leadership, there are a lot of colleges that are good and we need to look at how we can support them more, we just need to learn from good leadership to help those colleges that are struggling."
Dame Martina took on board what he said, but reflected on the mixed picture she has seen of the sector.
"We've all spoken to the enlightened heads who have local businesses who sit on their boards, and then you talk to others who say 'yes we sat on their boards it was a complete disaster and no-one would listen to me'.
"We all know the good things, and you can showcase those good things and say this is the way to make it all better."
She conceded that "funding is a big issue". "I know from sitting on the bard of Capital City College – it something we as governors talk about all the time," she said.
"But I don't think just putting money in will make the difference, I think to needs to be a number of things."
All four members of the board of the government's Social Mobility Commission stood down last December in protest at the lack of progress towards a "fairer Britain".
Education select committee MPs stressed the importance of Dame Martina not being a stooge for the establishment, if she takes on the top job.
She started her career as a journalist, and in 2000 became the chief executive of the BBC Children in Need Appeal, a post held for four years, before taking the top job at The Princes' Trust.
She is still a director of Prince's Trust Trading, and vice-chair of the Government's Youth Action Group, which brings together national youth charities to advise ministers and officials on developing and carrying out policy for disadvantaged young people.