In early 2006 Peter Marples, fresh off the back of a merger between his provider Assa and training giant Carter & Carter, was vaunted in national press as "one of the least known and more powerful people in further education".
When I tell him this, he laughs and describes it as "an inappropriate comment by an exuberant journalist".
"It's certainly not true now," he says.
The claim may not be true, but current venture Aspire Achieve Advance certainly has some clout.
As of last month, it held subcontractor contracts worth £5.8m, according to the Skills Funding Agency, and works with around 1,500 apprentices.
However, one of Marples's biggest regrets is the Assa deal (which he pitches more as a sale than a merger) despite the fact it resulted in his appointment to the role of business development director at Carter & Carter.
He had been managing director of Assa when the deal was struck in August 2005. The £24.2m Carter & Carter paid for Assa made Marples — who had led a management buyout of the transport, aerospace and food and drink industries provider just two years earlier — a multi-millionaire almost overnight.
But, he says: "I think the timing was not right to sell Assa at that point.
"I think the business could have gone on independently to probably have been now the biggest and best provider in the sector."
He chose to go ahead with the deal partly, he says, because of a "genuine belief that being part of something bigger would have helped us grow faster".
But Carter & Carter's subsequent demise meant his dreams for Assa were not to be.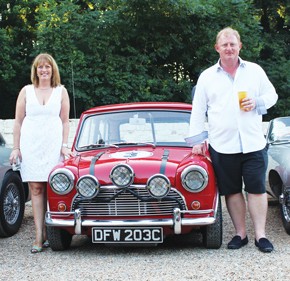 Carter & Carter had begun life in 1992 with a contract to improve the accident and repair division at the Vauxhall car firm. Five years later it moved into training, winning the British Audi Academy contract.
In 2005 Carter & Carter was floated on the stock market with an £80m valuation before Assa was acquired and by April 2007, Carter & Carter shares were trading hands for more than £12 each, valuing it at £550m-plus.
But the growth strategy came to an abrupt end with the tragic death of founder Phillip Carter, who died along with his 17-year-old son, Andrew, in a helicopter crash in May 2007.
Within eight months the 27,000-learner company was in administration with shares tumbling to 85p before they were suspended.
It was eventually bought out in the main by NCG (formerly Newcastle College Group). The deal was thought to have helped save the jobs of around 1,500 of Carter & Carter's 2,200 staff.
"It was very difficult personally because I should have been with Phil in that helicopter — the company lost its charismatic leader," says Marples, who resigned following the tragedy.
He adds: "I had an allegiance to Phil and respected his vision and drive and I didn't trust the vision and drive of those who replaced him."
Despite this, he tells me he was "of course" surprised the company declined so rapidly. He is also defensive about the huge growth of Carter & Carter.
"It was part of a strategy that the board fully supported and that business would have continued to prosper with Phil at the helm," he says, refuting any suggestion that the growth had made the company unstable.
"There isn't a negative perception of so much growth at NCG or at Vision West Notts, or at Learndirect," he adds, defiantly.
The attitude betrays "an entrepreneurial streak" that Marples, now 49, says first evidenced itself during his childhood in the village of Wirksworth, in the Derbyshire Peak District.
His mother and father, Jean and Walter, ran the local Post Office where Marples tells me he was bought up sitting on the counter, counting money from the age of three and his choice to go into accountancy was, he says, down to his mother.
There isn't a negative perception of so much growth at NCG or at Vision West Notts, or at Learndirect"
"My mother said I was no good with my hands, so I was either going to be a bank manager or an accountant," he says.
Marples took on an accountancy apprenticeship at Derbyshire County Council at 16, before joining the Audit Commission in 1987 and then being "head-hunted" by consultancy firm KPMG in 1990.
After nearly 13 years he left to join Assa and then, helped by profits from the company's sale to Carter & Carter and in true millionaire style, he led a consortium that bought Derby County Football Club in 2006. It was, he says, "probably the craziest thing I've done".
"I felt I could run it like a business, and make it successful using business principles," he says.
But he quickly found that running a football club was not like running a business.
"It's one of those things that you get caught up in the emotion of buying your club you support, and when you get into it you realise it's not quite what it seems," he says.
Under Marples, the club made it to the Premier League, something he is evidently proud of, but in 2008 he decided to sell the club.
His next move was to set up Aspire Achieve Advance with former West Nottinghamshire College principal Di McEvoy-Robinson.
"I didn't need to do it, but I'm very driven by trying to be successful at whatever I do — and apprenticeships are something that's really important to me," he says.
Though nowhere near as large as Carter & Carter, Aspire Achieve Advance has also grown quickly. In September 2012 it teamed up with City of Liverpool College to buy the "majority" of business from First4Skills — a provider behind around 10,000 apprenticeships across the country that had gone into administration.
But  Marples insists there should be no concern about over-expansion.
"We spend a lot of time on the quality side and… talking to employers, learners and staff about how we can continuously improve that quality," he says.
Marples, who is married to the Aspire Achieve Advance quality and compliance director Sarah and has two children, Thomas, aged 20, and Samantha, 23, is reticent about his life outside of work.
He seems to be someone who does not switch off easily, although he's clearly committed to his charity work with Children in Need and Frazer's House, which helps parents of children suffering with brain tumours.
"Being successful brings lots of different types of rewards," he says.
"It's not about writing cheques. Anyone can write a cheque and walk away. It's about putting your energy and the skills you've got into those sorts of things."