On the office wall of K College principal Phil Frier hangs a picture of Mount Everest.
It's a reminder of both his gruelling ascent to its base camp last year — 5,364m above sea level — and a comforting metaphor that even the most apparently impossible of challenges can be overcome.
It's also picture that therefore understandably draws numerous glances from the man at the helm of a debt-ridden, officially-inadequate college.
"The photograph reminds me that whatever the challenge, it can be achieved through teamwork," he says.
Frier was at the Everest base camp when he received a text message asking him to take over as principal of K College.
The trek had been on his "bucket list" having retired as principal of City College Brighton in 2012. The trip also helped raise money for Brighton students to build a school in Kenya.
It's hard to imagine the text would have offered a proposition more attractive than completing the life-threatening trek right to the top of Everest.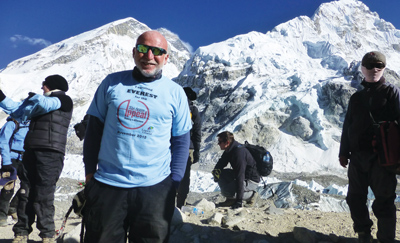 K College had endured industrial action over redundancy plans for up to 150 posts, and Bill Fearon, who had been at the college for a decade, had quit as principal while staff picketed at college gates.
And to top it all, it was clear finances at the college were not healthy. So much so, it had been subject to a notice of concern from the Skills Funding Agency.
Fortunately, Frier, a grandfather-of-three, has a taste for a challenge.
"I wondered all the way down [from Everest]: 'Do I really want to do this?'" he says with a laugh.
He agreed, he says, because he felt his 20 years' experience as a principal in different colleges, "could make a difference".
"It sounds very self-indulgent really," says the 62-year-old.
It was a low point for the staff and they felt they had made a really big effort
"But that's what drives you, it's not about the money or the other stuff, it's about the feeling… that you can bring your core values to bear on an organisation in crisis."
One of Frier's first moves as principal was to concede that the merger between South Kent and West Kent colleges, to form K College, had failed.
The answer now, it seemed, was to break up the college and so a tendering process for the provision and college sites was launched. It proved unsuccessful — the college didn't sell.
And in the middle of the saga came a visit from Ofsted inspectors. They said the college was inadequate, before FE Commissioner David Collins was sent in. His recommendation the college be given administered status, thereby removing powers from Frier, was duly enacted by Skills Minster Matthew Hancock.
Yes, it's fair to say the college has presented a set of pressures comparable to the seemingly impossible challenge of climbing Mount Everest.
"It was enough of a challenge to be able to give a bit of purpose, but when I was doing it I thought: 'Why didn't I just go and lie on a beach somewhere for six weeks? Why am I doing this?,'" he says of the Everest trek.
"But, having done it, it was one of the best things I think I've done."
And Frier admits to similar thoughts about the challenge of K College.
"It's been a really tough, but interesting, job," says Frier.
"I think people who know me would say that I never appear to be under stress, that I always appear fairly relaxed about the way things operate — but I do think being a principal is a stressful job anyway. I think the most important thing is to share the pressures.
"I have always tried to do that… I think the principals who really suffer are the ones who are so competitive they won't talk to others about what they are going through."
Frier came to FE through alternative education after getting involved with a children's guidance clinic while studying politics at York University.
In 1975 he headed south to Lewes, Sussex, when his wife Cathy got a teaching job.
He began working with difficult teenagers in a sixth form college and taught adult education classes, but with four children he had to supplement his income as a taxi driver.
"I would come home from work on Friday and go on the taxis at 7pm until 3am, just to get the cash to support a family, and the same on Sunday evenings," he says.
"So I spent a lot of time sitting in the taxi thinking: 'There must be a better way of earning money'.
"I love teaching, and I would like to have remained as a teacher, but the incentive is, financially, to move out — so I moved into a job as a vice-principal."
That vice principal job, at Hampshire College in 1989, was followed by a principal role at Park College Eastbourne. From there it was onto executive director at Sussex Downs College, before Frier started at City College Brighton in 2007, where Ofsted handed him a good rating in 2011 in what he thought might be his final inspection.
But he was to play host to inspectors again late last year at K College, and describes the grade four inspection result as "the low point" of his tenure, both for himself and for staff.
The report declared the college inadequate in every headline field, saying "the continued uncertainty over plans for the college's future existence is severely and adversely affecting the learner experience".
It did, however, praise Frier and his newly-established leadership team saying they had "stabilised a potentially chaotic situation and sought to restore fragile staff morale, with some success".
It added: "The interim principal has focused, rightly, on preparing the college for transition to new ownership while at the same time doing everything possible to ensure that current students benefit from improved provision."
"We didn't expect an Ofsted this year because we already knew," says Frier.
"It was almost that they decided they wanted to make a statement about where the college was, and I think that was very difficult.
"It was a low point for the staff and they felt they had made a really big effort in the course of the last six or seven months to get things right. It was a judgement on the past… the positive bits in it were about the last six months — but it was very difficult to get that message out there.
However, Frier says there have been high points.
"Getting out of the office and talking to students about the experience they are having gives me a real buzz on a daily basis, as does the way the staff have actually come together to try and make this successful," he says.
The end of the climb is in sight claims Frier, who's optimistic the college will be split up and handed to new owners by the start of the next academic year — when he'll be retiring again to tackle the next challenge on the bucket list.
"I want to spend three weeks living in Italy as a local, and go to the University of Sienna to learn Italian," he says.
"My wife will come out and join me so we can order a decent meal.
"And there's a cycle challenge fundraiser in Vietnam."
It seems a quiet retirement isn't on the horizon just yet.
———————————————————————————————–
It's a personal thing
What's your favourite book?
The Reluctant Fundamentalist by Mohsin Hamid
If you could invite anyone to a dinner party, living or dead, who would it be?
I think it would probably be President Kennedy, just because with him being shot when he was 47, I think, it's about that unfulfilled promise
What's your pet hate?
EastEnders — I think that's an easy one
What do you do to switch off from work?
Walking on the Downs — sometimes ending up in the pub for a swift pint.
I've got a big family, with four children, their partners and three grandchildren — so there's a lot of activity in the house generally, so I do like to get out walking, either just with my wife or walking alone
What did you want to be when you grew up?
I grew up in Manchester, so when I was nine or 10 the only thing I could actually see worth doing was playing for Manchester United