Like many young people given power and responsibility early in life, National Union of Students (NUS) vice president for FE Joe Vinson certainly comes across as old beyond his years.
But there remains a hint of the naivety that led to an unwise tweet he sent soon after he was elected one of the youngest parish councillors in the UK at the age of 18.
A member of the St Agnes Parish Council, he posted on Twitter: "Living in Cornwall is really getting to me. Can't wait to move away in September."
It hit local media headlines and some may think the lesson should be that you never undermine — or even appear to undermine — your supporters. But that's not quite how Vinson sees it.
"I don't particularly do regrets," he says, "but I think I learned a lesson that you can't always express how you feel in 140 characters.
"I think it was really easy for people to target someone who was young and really quite fresh-faced in politics, and I think that's a shame.
"I don't regret tweeting it, but I certainly regret how it was interpreted."
He adds: "I really enjoyed talking about my local area and representing the people who felt they hadn't had a voice for a long time on the parish council.
"There were a lot of old men in the room and I think that skewed the way we had debates a lot of the time.
"I think a lot of people didn't respect me as much as they should have in those meetings because of my age and thought I was irrelevant to them and I think that's one of the reasons local politics gets very stale."
But if ballot box popularity is anything to go by then those "old men in the room" could do a lot worse than take note of Vinson's example.
I don't think anyone in the sector ever gets their own way, and I think that's a good thing
Aged 20, he has already been an elected member of the UK Youth Parliament, a parish councillor, the president of Cornwall College's students' union (SU) and has held his full-time post with the NUS since June last year.
So far, he has followed faithfully in the footsteps of current NUS president Toni Pearce, who also held the president role at Cornwall before him before taking up the FE brief at the NUS and then taking the very top job.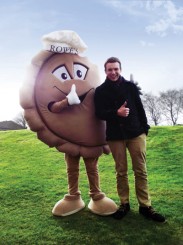 But he is adamant he has no intention of challenging her.
Sitting, without a hint of irony, at Pearce's desk at the state-of-the-art NUS offices in Gray's Inn Road, near London's King's Cross, Vinson is relaxed and happy to talk about his rise to the upper echelons of the student movement, and how it all started in a tiny village on the north coast of Cornwall.
After an education at St Agnes Primary School and the Richard Lander School in Truro, he decided to go to Cornwall College. It was, he says, an odd decision for alumni of his school.
"It was interesting because there was an FE college next to my secondary school where about 90 per cent of students went — but I chose not to go there," says Vinson.
"I was quite taken with the idea of going somewhere that was completely new and was a bit alien to me.
"There were a few reasons I guess, mostly because I wanted a fresh start. I had just come out as gay, so I wanted to reinvent myself a little bit.
"That was important to me, although I don't think I realised that at the time. But also the biggest thing for me was that the college I went to had I thought a much better approach to education and had a students' union which was much more active politically."
His interest in politics stemmed from his election to the UK Youth Parliament at the age of 14, and he joined the Labour Party at a similar time.
Four years later, he would run for the sabbatical position of Cornwall's SU president as he studied for A-levels in biology, sociology, politics and law.
He soon discovered that representing 40,000 students at different locations across a 65-mile expanse of countryside— and without a car wasn't easy. Understandably, transport for learners became a campaign issue for him.
He says: "I had an office which I worked at the most close to my home, but that wasn't the HQ of the college so I spent a lot of time at other bigger campuses and trying to get to the small ones as and when possible.
"In the first year I didn't have a car, so there was a lot of getting up at 6am and getting on the train to places I didn't know existed."
In the end, it was an interest in national policies that made Vinson run for an NUS role, and he said the FE sector had been very receptive during his first seven months in post.
He says: "I have never felt alienated particularly in the sector, but whether or not we get our own way is very different from whether or not we feel we are being listened to.
"I don't think anyone in the sector ever gets their own way, and I think that's a good thing. We definitely change the debate quite a lot and the narrative of what goes on around education."
He says he has a good working relationship with ministers and departments, but doesn't seem afraid to dish out criticism. One example is over government plans to cut funding for 18-year-old learners.
He says: "I think cuts to funding are always a bad idea. I think this has been handled
really badly, because the sector didn't necessarily see it coming and I think it was very much an ad-hoc move the government realised it had to make.
"What I think was disappointing was that I think government thought it could get away with saying they could target it at 18-year-olds and nobody would realise or pick up on the fact that funding for colleges would go down overall.
"What you can't do is take 17.5 per cent of the resources away from an 18-year-old in a classroom sat next to a 17-year-old. What it means is that everybody loses out and I am disappointed government felt that was the natural place for them to go."
But it is uncertain whether Vinson's history as an elected official will lead, as it inevitably does for many people, to Parliament or another career in politics. He is more than willing to admit he is uncertain about the future.
He says: "I really enjoy working for the NUS, really enjoy staying around in the FE sector. I have managed to enjoy the fruits of FE and the debate which goes around it for a long time.
"As to where I go next I don't know,Vinson adds: "I think university is a fabulous experience. It's not something I have done or will ever do, but it's beneficial for students to know what all their options are."
————————————————————————————————————————————————————————————-
It's a personal thing
What's your favourite book?
I haven't read a book since I joined the NUS, but I do like reading. The last book I read, which is probably my favourite, is One Day, by David Nicholls
What is your pet hate?
I don't like it when people don't listen to me
Who would you invite to a dinner party?
I would probably invite the Queen because I think she is quite funny in real life, but you never get to see that. The secrecy of the royal family fascinates me. I would quite like to invite Russell Brand to talk about his views on political apathy. I would also invite somebody like Nye Bevan, because to pick his brains would be a real privilege. And my mum
What do you do to switch off?
I am addicted to soaps. It used to be just Eastenders, which only got heightened by living in the East End. But now I'm into Coronation Street as well
What did you want to be when you grew up?
I remember telling my dad I wanted to be a QC, although I wasn't really sure what that meant at the time. That changed to being a doctor, and now I have no idea