Long-standing training provider Go Train is filing for liquidation with over 100 staff set to lose their jobs.
Following an unsuccessful acquisition attempt and low learner numbers, the company told staff yesterday the board had taken the decision to close, ending over 30 years in the sector.
According to firm's latest accounts, the company's owners, Go Train Holdings Limited, held "significant" debts and recruiting to pre-pandemic levels of learners became essential to fulfilling its contracts and its survival.
Chief executive Graham Clewes told FE Week that slow recovery from Covid-19 lockdowns and an unsuccessful attempt at being acquired by a larger company means the board had no option but to close the business immediately.
Clewes said: "It is with deepest regret that yesterday we informed our hard-working staff that we are in the process of filing for compulsory liquidation.
"The board decided that Go Train would be better, more secure and more sustainable as part of a larger group. This is because recovery from the disruption of covid-19 lockdowns has proven too challenging to overcome and attempts to consolidate services and curriculum have not had sufficient time to stabilise the company.
"The board received an offer to acquire the company which would have provided a way forward but unfortunately, despite best efforts it has not been possible to progress this to completion."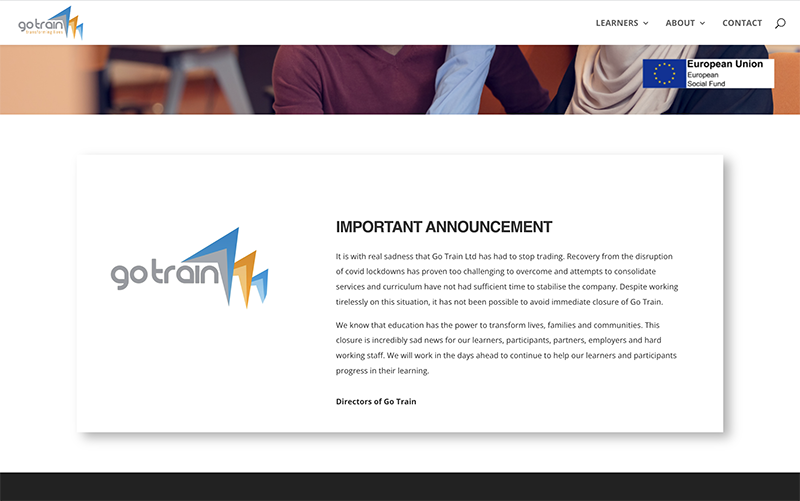 Attempts to rescue the business were unsuccessful and low learner numbers meant "the organisation lacks capacity to fulfil some of our contracts", Clewes added.
Go Train has offered adult learning programmes as a sub-contractor since 1992 and began direct delivery of the adult education budget with its own ESFA contract in 2017.
Since then it secured contracts with the West Midlands Combined Authority (WMCA) and Greater London Authority as well as the Department for Work and Pensions (DWP) for employability programmes including the Restart scheme.
FE Week understands that some of Go Train's employability work, including a number of members of staff, have been transferred to Serco, which also delivers Restart for DWP.
At the time of its last Ofsted inspection, July 2022 where it was judged to be 'requires improvement', Go Train had 700 learners on a range of face to face and online programmes.
The provider was one of only 88 training providers to successfully win a procured national adult education budget contract (AEB) with the ESFA in its last procurement round, and one of only four to win an annual contract worth over £2.5 million.
It's AEB allocation for this year was just over £2.5 million and £536,000 was allocated from the National Skills Fund.
Last year FE Week reported that Go Train had handed back its £3 million adult budget contract with the West Midlands Combined Authority mid-year due to low recruitment.
Marco Ferrara was interim chief executive of Go Train at the time. He left the business in October 2022. Ferrara said low adult enrolments following the pandemic, particularly job centre referrals, meant continuing the WMCA contract was "unviable".
Go Train held seven ESFA subcontracts in 2021/22 worth £730,000.
Holding company loans
Go Train Ltd received a £1 million loan in 2020/21, according to its latest available accounts. The company was reliant on learner numbers recovering to pre-Covid levels in order to maintain the cashflow needed to honour its loan repayments. Failure to achieve that learner footfall could "indicate that a material uncertainty exists that may cast significant doubt on the company's ability to continue as a going concern".
Go Train's controlling company, Go Train Holdings Limited, carried further debts. These include a £5 million loan with HSBC and £2.6 million owed to directors. Up to the end of 2020/21 reporting year, Go Train Holdings had total debts of £7.5 million, up from £6.7 million the year before. Just under half of that was reported to be due this year.
The company's debt levels were highlighted as a risk in Go Train's accounts which said: "The holding entity has significant bank loans and should learner numbers not be sufficient, then it may mean that the group (including this entity) will be unable to pay debts within agreed timescales, in particular bank loans."
'Terrific' staff
Clewes first joined the business as chief operating officer in December 2017. He left in March 2021 but returned in April 2022 as chief operating officer and was promoted to chief executive in November 2022.
He appealed to other providers in the sector to take on his "terrific" staff.
"We all work education and employment services because we know it's power to transform lives, families, communities and the economy. This is incredibly sad news for our hard working staff, our learners, customers and partners. We are working hard to ensure our learners and customers continue in their journeys and that our staff can make swift progression into roles in other organisations where their undoubted skills can be used to continue to transform lives.
"All Go Train staff are, at this point, at risk of redundancy and we continue to explore options for them; they are a terrific team and we hope other organisations quickly attract them."