An 'inadequate' community learning provider has been caught breaching government funding rules, after Ofsted found most of its construction apprentices were unemployed.
North Liverpool Regeneration Company Ltd, which trained around 129 learners last year with an Education and Skills Funding Agency apprenticeships allocation of more than £600,000, was given a grade four across the board in a report published on September 8.
In the latest sign that Ofsted is taking a more proactive role in sniffing out misuses of funding, inspectors said the "vast majority" of construction apprentices "are not employed" – a "key principle" of any apprenticeship.
As such, they do not receive their entitlement of on-the-job training, which is supposed to amount to 80 per cent of the time they spend on their course.
This, the report added, is "limiting the skills and experience that they should acquire on an apprenticeship".
Apprentices who do not participate in employment are ineligible for funding under ESFA rules.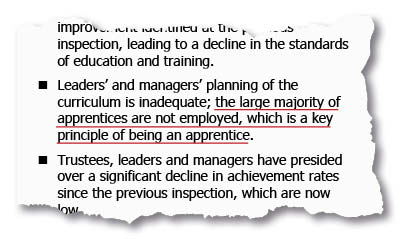 In addition to the strong possibility that its skills funding will be cancelled – usual when a provider gets a grade four – questions are now being asked about whether the ESFA should demand a full refund.
"North Liverpool Regeneration Company will be removed from the register of apprenticeship training providers," said a Department for Education spokesperson.
"We will always exercise our right to terminate contracts where a provider is not meeting the expected standards, working with employers and learners to ensure minimum disruption."
It is unclear whether the contract for pre-May apprentices has been terminated or whether any funding will be clawed back.
North Liverpool Regeneration declined to comment.
Other issues that raised during the inspection included apprentices who had an "insufficient awareness of the dangers associated with radicalisation and extremism" and ineffective safeguarding.
Trustees, leaders and managers had "presided over a significant decline in achievement rates since the previous inspection", while tutors had not set "sufficiently challenging" targets for apprentices.
"The vast majority of construction apprentices make slow progress on their apprenticeship programmes and do not develop the skills that they need to gain meaningful employment in the construction industry," the report continued.
Managers' monitoring of subcontractors was "poor", and they placed a "disproportionate emphasis" on achieving financial and recruitment targets, rather than "improving the standards of education and training of subcontractors".
The report concluded that North Liverpool Regeneration had "no strengths".
This is not first time Ofsted has uncovered practice that breaks funding rules.
In March this year, FE Week revealed certain colleges and providers were hiding banned subcontracting through the use of so-called "associate partnerships".
Ofsted first brought it to light in a report on Expedient Training, a provider based in Tyne and Wear, which was rated 'inadequate' in January, and was subsequently put on the ESFA's list for early contract termination.
Inspectors took the unheard-of step of stating that the "vast majority" of the provider's remaining apprenticeships and advanced learner loans training was "provided by an associate partner", an arrangement that had not been sanctioned by the ESFA.
Asked this week whether it was purposefully becoming bolder, and beginning in effect to act as an auditor, a spokesperson for Ofsted said inspectors were reporting "as they find against the criteria in the FE and skills inspection handbook".