Fears that Ofsted can't keep up with the UK's massive apprenticeships expansion have been raised before MPs, a day after the chief inspector spoke about her struggles to secure more funding.
The House of Commons education select committee held an oral evidence session this morning, part of its inquiry into the quality and monitoring of government-funded apprenticeships and skills training.
Giving evidence, Joe Dromey, a senior research fellow for the policy think-tank IPPR, warned apprenticeship numbers and Ofsted funding were "going in opposite directions", a day after the chief inspector Amanda Spielman told the public accounts committee about the added pressures that reforms had placed on her overstretched organisation.
"Ofsted needs to be resourced at least commensurate with the increase in apprenticeship numbers, and at the moment they seem to be going in opposite directions," he said. "So there's been a soar in apprenticeship numbers since 2010 and a significant reduction in capacity."
He warned the situation was getting worse and "Ofsted themselves have expressed concern about their ability to regulate and inspect the growing number of apprenticeships, given that funding gap".
Mr Dromey, who is a member of the Mayor of London's skills for Londoners advisory group, was expanding on comments from Labour MP Lucy Powell, about "a very underfunded and, out of necessity, very finite inspection regime".
The committee chair, former skills minister Robert Halfon, asked if there should be less focus on increasing apprenticeship numbers, and more on how well existing apprentices are progressing, for example from level two to three and four.
Mr Dromey agreed with this and said he understood why the Conservatives had set a target of three million apprenticeship starts by 2020, as "it sends good signals".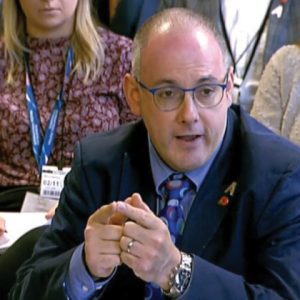 But "I think it is bad policy, because focusing on numbers at the same time as reducing inspection capacity and stimulating employer investment through the levy means you risk getting quantity not quality".
Ms Spielman spoke yesterday to PAC members, during a hearing on the Learndirect saga, about her efforts to secure extra funding to help Ofsted ensure that it effectively monitors growing number of new apprenticeship providers.
"Yes, it is the case [in FE] that providers come and go more regularly," she admitted. The introduction of the apprenticeship levy, and other associated reforms, had "brought in a significant number of new providers".
"This is something that I raised last year with Jonathan Slater, that if the levy policy was a success then a lot of these new providers are going to come on stream and start having learners and we expect to have more work and need more resource to do that," she said.
Mr Slater, the permanent secretary for the Department for Education, also gave evidence, and sat by Ms Spielman as she discussed the issue.
"We had the acknowledgement that the more work we had the greater resource we would need," she added.
"We haven't got a specific resource increase because we don't know how many of these [new providers] will come on stream with a volume of learners. But we have the acknowledgement in principle that this will be required."
Main pic: Joe Dromey, senior research fellow, IPPR, and Dr Carole Easton, chief executive, Young Women's Trust, giving evidence during today's education select committee hearing