"Big is not always beautiful," Ofsted's main man for FE has warned, admitting he is considering the effect of mega-colleges formed through mergers on quality.
Paul Joyce's admission comes just a week after the nation's largest college group NCG saw its rating slip to 'requires improvement'.
"We are looking at our survey programme as to whether something relating to the merger theme is timely to do," he told FE Week.
"We are concerned at the size of some providers, in relation to poor performance data, so big is not always beautiful."
NCG was downgraded from 'good' in part due to concerns around poor achievement rates.
These were well below average for both apprenticeships and 16-to-18 study programmes.
The report, published on June 21, noted that "executive" leaders had spent a "substantial amount of their time on due diligence" for the group's two most recent members, Carlisle College and Lewisham Southwark College, and reviewing other merger requests.
In an interview with FE Week ahead of the report's appearance, NCG's chair Peter Lauener insisted that he had staff looking at quality, but admitted that the main focus had been on tackling financial issues at the member colleges.
"Standards are not where we want them to be," he conceded.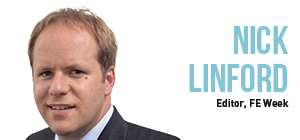 NCG's fall from grace came just eight months after another sector giant, Learndirect, received a damning grade four.
It received considerable governmental special treatment in the wake of the result, leading to questions about whether it, as the nation's largest independent training provider, was too big to fail.
In an exclusive interview with FE Week last week, skills minister Anne Milton conceded that "too big to fail is not an invalid point".
With the growing number of mega-colleges such as NCG being formed through mergers, she said she was "very mindful of colleges being too big to fail. I think we need to watch it."
Large college groups to have been created after the area reviews of post-16 education and training include Capital City College Group, which has three members and a turnover of £80 million, according to 2016/17 accounts.
And if New City College's plans to merge with Epping Forest College, Havering College and Havering Sixth-Form College go ahead, it will have six members and a combined turnover of £108 million.
The trend for colleges to join forces is showing no signs of slowing down, with FE commissioner Richard Atkins predicting around 15 new partnerships this year – the same amount as last year.
Ofsted's policy is to give merged colleges up to three years before they're inspected.
However, Mr Joyce said that while it is "right to give them time to embed their systems and processes" it is also "right that we do monitor them".
"If we do have concerns, if for example performance data does cause us a concern before the three-year period, if we get a lot of complaints from students or if there's other reasonable intelligence that the merger is not working, we will go and inspect sooner," he said.
FE Week reported in February on the prospect of Ofsted carrying out campus-level inspections from as early as next year.
A new "campus identifier" data field in the individualised learner record, to be introduced next academic year, is designed to allow "allow identification of provision delivered across the various sites of merged institutions".
This could pave the way for individual reports on colleges that were previously independent, but which now sit within merged groups.
Ofsted carries out a programme of surveys and thematic reviews alongside its main inspection programme.
This is meant to be an annual programme, but it has now been almost two years since its last FE-specific research, into the Prevent duty, was published in August 2016.