The quality of apprenticeships is in decline, Ofsted has said, and the programmes are starting to resemble the doomed Train to Gain initiative from the mid 00s.
The inspectorate's deputy director for FE and skills told MPs on the commons education select committee earlier this week that around half of inspections carried out so far this year have resulted in 'requires improvement' or 'inadequate' ratings for apprenticeships.
Paul Joyce (pictured above) reiterated concern about the "very mixed picture of quality" at the Skills and Education Group's conference, where he warned that the inspectorate is beginning to find traits of previous failed programmes creeping back in to delivery.
We want to avoid a Train to Gain-type programme being badged as an apprenticeship
"We are concerned and want to avoid a Train to Gain-type programme being badged as an apprenticeship," he told delegates.
"We are finding that providers are struggling with the implementation of some of these reformed programmes. There are examples where off-the-job training is still not demanding enough."
Ofsted is "particularly concerned" where it is starting to find "some issues where very little off-the-job training is taking place", particularly with apprentices that are enrolled on programmes for the "older age demographic".
Train to Gain was launched in 2006 to encourage employers to deliver vocational training to adult workers.
However, the business minister at the time, John Hayes, said the flagship training service was a "deadweight cost" that had no future because it gave money to highly profitable employers to train their staff when they were already willing to pick up the bill.
It was scrapped in 2010.
Mr Joyce said apprenticeships "must develop new and substantial skills and knowledge" in order for them to identify as an actual apprenticeship programme.
"If they are not and if providers aren't enabling that to happen, then their apprenticeship programme is unlikely to be graded 'good' or 'outstanding'," he added.
FE Week's analysis of the figures shows that the apprenticeship provision grade profile improved at the end of 2017, where 59 per cent of inspected providers were rated grade one or two for apprenticeships.
However, this dropped by three percentage points between January and May this year.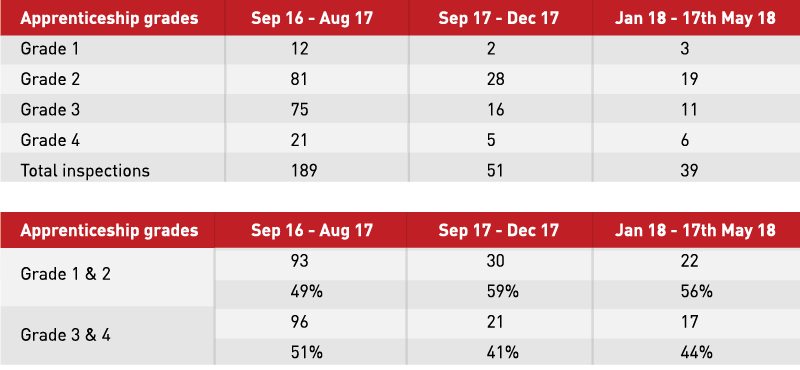 "It is a very mixed picture what we are seeing in terms of the implementation of the apprenticeship reforms and their impact on quality," Mr Joyce told the committee.
"The quality we are generally seeing is certainly not a universally positive picture."
During the hearing it came to light that there is much confusion over who is accountable for quality in apprenticeships, whether it is Ofsted or the ESFA.
MPs on the committee said the ESFA had recently "undermined" the inspectorate by allowing a provider described as "not fit for purpose" to continue training apprentices.
Skills minister Anne Milton admitted there is a lack of clarity over the accountability system which needs to be fixed.