Ofqual has confirmed it is investigating 'copy and paste' assessment allegations at a Newcastle-based training provider, uncovered during a recent Ofsted inspection.
The inspectorate's report into Northern Construction Training and Regeneration, published last week, said it had found evidence of assessment practice that was "not consistently appropriate" – including identical word-processed text in six out of 19 sample portfolios it checked.
Ofsted confirmed to FE Week today that it had reported its concerns to both Ofqual and the Education and Skills Funding Agency.
An Ofqual spokesperson subsequently said it was "looking into the concerns identified by the inspectors alongside Ofsted and others".
"We will not comment further until this work is completed," he added.
The ESFA has yet to confirm what action it is taking over the allegations.
FE Week has also been unable to speak to anyone at the provider. 
NCTR's Ofsted report, which rated it grade four overall, highlighted concerns over "poor assessment practice" in its retail provision.
"Within one sample of 19 portfolios made available by managers, inspectors found that six contained identical word-processed text in assessed work, which had been subject to internal quality assurance checks and had been formally accredited," the report said.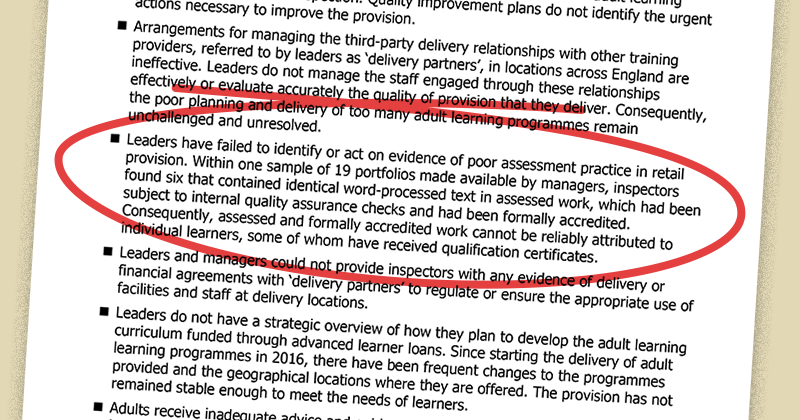 "Consequently, assessed and formally accredited work cannot be reliably attributed to individual learners, some of whom have received qualification certificates."
It's not clear which awarding bodies are affected.
Ofsted said it was unable to say, adding that it was up to the ESFA and Ofqual to take "appropriate action".
NCTR, which hadn't previously been inspected, had non-levy apprenticeship contracts worth £1,007,046 in 2017/18, the vast majority of which was for 16- to 18-year-old apprentices.
In addition, it had an advanced learner loan facility worth £2.5 million.
At the time of inspection the provider had 423 adult learners on programme, and 75 apprentices.
Last week's inspection report rated it 'inadequate' overall but grade two for its apprenticeship provision.
According to ESFA rules, this means it is likely to have its contracts pulled but it should keep its place on the register of apprenticeship providers.
However, neither the provider nor ESFA has yet confirmed that this will happen.