Standing in a courtyard facing the Elizabeth Tower at the north end of the Houses of Parliament, Iain Wright points upwards and insists that Big Ben is "leaning".
A quick search on Google back at the office later corroborates the Hartlepool MP's comment, which continued: "It is in need of refurbishment as it is starting to lean ever so slightly".
Of course leaning in any direction is a luxury denied to the Labour politician as chair of the Business, Innovation and Skills Select Committee with the overt playing of party politics frowned upon.
"I am going to support a lot of what the government wants to do, but I am going to challenge really hard on the manner and the means by which they do it and whether they will achieve it," explains 43-year-old Wright.
We have to make the case to government that if they are cutting from a department that is tasked with providing an economic future, then that's the wrong approach to take
And an early chance to do just that came last month with the committee's one-off evidence session on the work of the Department for Business, Innovation and Skills (BIS).
Seated in front of Wright and his committee members was Business Secretary Sajid Javid.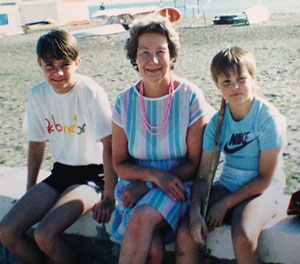 "I started off the selected session by asking Javid: 'What is the point of BIS and where do you add value?'," says Wright.
"That is going to be the hallmark of what I want the select committee to do — to really add value in our reports and in our enquiries."
He was elected as chair in June, beating previous post holder Adrian Bailey.
"It was an enormous privilege and a huge honour for my colleagues in parliament to choose me to chair," says Wright.
"So this is really important to me and I want to make sure I can live up to expectations."
Such expectations — or perhaps hopes — among the FE and skills community may well have been lived up to when Wright, with Javid before him, seized the opportunity to assess the government's 3m apprenticeship starts target.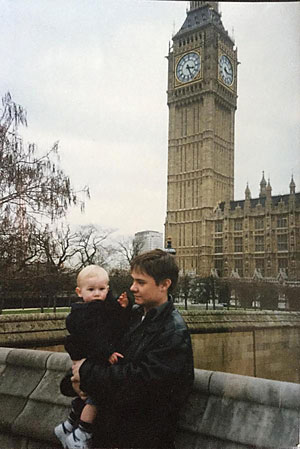 "This was a figure that was just plucked out of the air," says Wright.
"The government must have thought that it is more ambitious than 2m and more achievable than 4m — and they must have settled on 3m."
He explains that it was "very loud and clear" in the evidence session that there was "no rationale behind this number or how Javid would achieve it".
The session came to a close with Wright of the opinion, shared by many, that the apprenticeships target would be "needing work".
But, getting back to standing in front of the leaning clock tower home of Big Ben, Wright mentions a memorable photograph [featured above right] from 1995 in which he is holding oldest son Ben (now aged 21) — then just a year old — in front of the Elizabeth Tower.
It was the same year that Wright graduated from University College London with an MA in history. It was also the year, he explains, that he joined the Labour Party.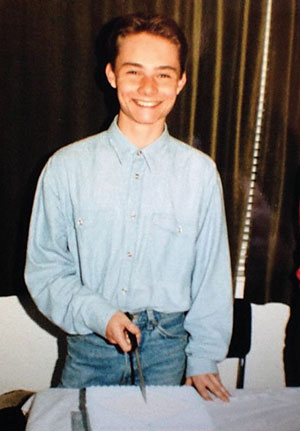 He had "wanted to become active in politics" and was then elected as an officer of Cleveland and Richmond Young Labour.
The following year he worked as a chartered accountant and, in 2002, was elected as a councillor for Hartlepool Borough Council.
Two years later Wright became the MP for Hartlepool following a by-election that brought an end to Peter Mandelson's 12-year reign as the local elected representative.
"My key job and the one that takes up the most time, and the one that I give most priority to, is representing my hometown in parliament," says Wright.
He adds: "I come from a manufacturing heartland where there was always traditional manufacturing.
"My parents wanted me to get on, and apprenticeships were dying at that time.
"So apprenticeships were never explained to me, never once."
But FE would play its part in Wright's career, albeit his political one. In 2009, he became parliamentary under-secretary of state with responsibility for 14 to 19 reform and apprenticeships at the Department for Children, Schools and Families.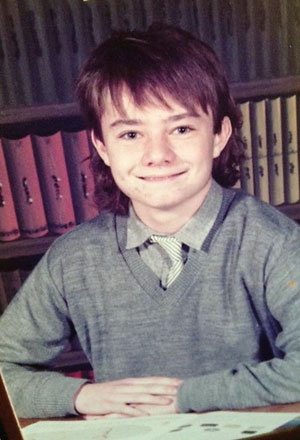 He says: "I was responsible for apprentices' curriculum and revisions to A-levels.
"Going around the sector and speaking to students was an incredible time and I only wish I had more time to do it now."
He adds: "It is essentially a sector that is trying to inspire the future. And what I mean by this is that you go into politics because you want to change the world for the better — and you want to give people opportunities that they might not have had before.
"We can do that by giving people skills and choices in education in order to fulfil their potential.
"Nowadays you can go back and retrain when you are 25, 35, or 45, because you have still got a long way ahead of you."
And it is here that Wright sees the danger faced by FE.
"Some people may not have liked school — I loved school and thought it was fantastic and I got a lot out of it — but some people might have hated that and thought 'I don't want to go back into education because it might be the same as that'," he says.
"So it is a case of trying to ensure that FE is not prohibited in terms of cost for people and also by giving an inspiring and stimulating environment where people can feel rewarded. And I think the FE sector does that."
Wright adds: "I worry that FE is a non-protected department in terms of funds and the cuts that our required mean the sector will be slashed to the bone.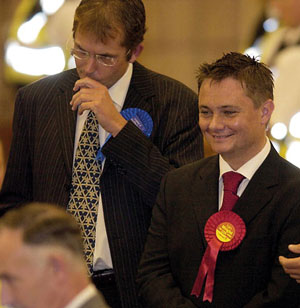 "We have to make the case to government that if they are cutting from a department that is tasked with providing an economic future, then that's the wrong approach to take.
"I would encourage readers of FE Week to keep in touch with my committee to let us know their concerns and give us the tools and the evidence in order to challenge the government."
And there's now a personal appreciation of the college sector with Wright's second oldest son, 19-year-old Jacob, studying A-levels at Hartlepool Sixth Form College, and contemplating whether he should go to university to study history as his father did in the 1990s.
"I said to him, 'why don't you take a different route to me and do an apprenticeship?'" explains Wright, who also has a 13-year-old daughter, Hattie, and 11-year-old son, Billy.
"They can be so rewarding and actually they are just what our country needs.
"They are a great way of sighting young people into a really worthwhile career and I still don't think we as a country value them as much as we should."