Cash-strapped Cornwall College Group has secured a £30 million government bailout to drive forward its "fresh start" business plan, but questions continue to loom about whether campuses will be sold off.
The group, which has eight sites across the South West, was told it was not financially "viable or resilient" and had "weak solvency" in its post-16 area review report from 2017, but that it should remain a standalone college.
A follow-up review of further education in Cornwall was launched last year at the request of Cornwall Council, which put pressure on the group to work more closely with its rival, Truro & Penwith College, and that a merger may be in learners' best interests.
The prospect of this mega-merger now appears dead in the water after Cornwall College Group secured a significant handout from the Education and Skills Funding Agency. Truro & Penwith also told FE Week that it has "no plans for merger".
Cornwall College Group had its initial request for the £30 million bailout rejected by the ESFA in May 2018, after receiving £4.5 million emergency funding in 2016-17 and £3.5 million in 2017-18.
One of the "main concerns" for the agency was around the "viability of maintaining eight sites", according to the FE Commissioner report published three months ago.
The college was "invited to prepare a 'deep dive' contribution model, which would include the ability to look at individual courses delivered at each site", and had a reworked bid accepted at the end of March 2019.
Details of the new financial plan are not known, but Cornwall College Group's interim chief executive, Dr Elaine McMahon, has said the "elements of the group's estate would be restructured".
A spokesperson for the group said it was unable to comment on its future plans any further when asked if it was preparing to sell off any campuses.
Other big college groups in financial difficulty have downsized in recent times.
In April it was announced that Harrogate College was being offloaded by the Hull College Group as part of its recovery plan.
A month later Birmingham Metropolitan College announced it was to sell off its Stourbridge College site, with learners moving to two other nearby colleges in September.
The last member of the Cornwall College Group to join was Bicton College in March 2015. It is nearly 70 miles away from the main cluster of the group's other campuses. Its Bristol site is the furthest away – sitting nearly 100 miles away from Bicton.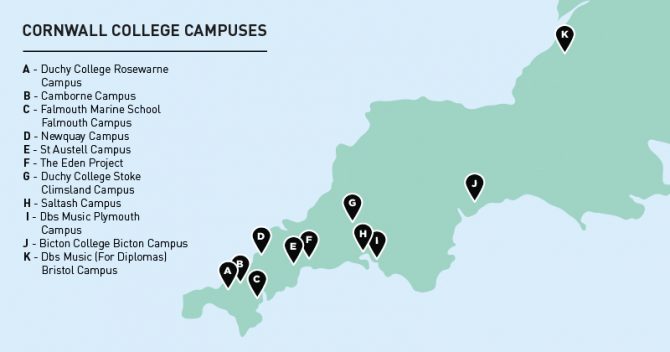 In return for receiving the £30 million emergency funding, the college group has committed to significantly changing its operating model – a process known as "fresh start".
Former principal Raoul Humphreys resigned back in November.
An FE commissioner assessment summary of the group, published in July 2017, said the new leadership team was "not responsible for the loss of financial control" experienced by the college under the previous principal Amarjit Basi, who resigned in July 2016 with a £200,000 payout.
McMahon said the group has now "reviewed the entire college curriculum in line with Local Enterprise Partnership priorities, market need, employer requirements and skills needs, and have rigorously tested the quality of each course".
A "modern and secure IT systems infrastructure" will also be implemented and there will be "investment in exceptional training and learning experiences for students and businesses".
A spokesperson for Truro & Penwith College said: "The aim of Truro & Penwith College is to support and complement those external interventions which enable the creation of a financially viable, standalone Cornwall College.
"It is offering support through sharing best practice in the areas of quality, planning, and leadership and governance."