The majority of NHS trusts in England will spend their apprenticeship levy at a faster rate than other employers – even though most are frustrated by the policy's "inflexibility".
The news will be welcomed by the government as it struggles on to reach its three million apprenticeship starts target by 2020 – given that the NHS is the largest employer in the country with tens of thousands of people to train each year.
However, one significant sticking point appears to be the 2.3-per-cent apprenticeship target for the public sector, which most trusts do not feel confident in meeting.
A major survey of 175 trusts, conducted by BPP University, found that 95 per cent plan to use their levy money rather than lose it, and half (52 per cent) would spend the cash in the first year.
This compares to less than a fifth (18 per cent) of employers outside the NHS, such as those in banking, engineering and construction, and law, who say they'll use their funds that quickly.
Four-fifths of the trusts (81 per cent) envisage spending their levy by year two, while only slightly over half of other employers (54 per cent) reporting that they will do the same.
It is gratifying to see so many in the health service embrace apprenticeships with enthusiasm
Meanwhile, 79 per cent of NHS employers plan to expand their number of apprenticeship programmes and almost all plan to offer clinical as well as non-clinical options – 89 per cent, for instance, plan to offer health care support and 85 per cent nursing degree apprenticeships.
"Many people in the NHS, especially those in clinical roles, had until recently little experience of apprenticeships," said Professor Lynne Gell, director of nursing and healthcare education at BPP.
"So barely a year or so after the introduction of the apprenticeship levy, it is gratifying to see so many in the health service embrace them with enthusiasm."
The findings will be taken as a boost by the apprenticeships minister Anne Milton, who is under pressure to urgently increase starts.
Figures released by the Department for Education in January revealed starts have fallen 41 per cent since the introduction of the levy in May, compared with the same period in the previous year.
For the government to hit its target there would need to be an average of at least 50,000 starts a month.
Ms Milton identified September as the month by which she expects to see a surge in starts, in an exclusive webinar with FE Week last month.
The NHS, which has a total workforce of 1.3 million, estimates its levy spend will be £200 million a year, and will achieve 28,000 starts by July 2018.
However, it appears the health service is not content either with how the levy is currently set up or the way the government is allowing it to spend its fund.
Ninety-one per cent of those surveyed said they wanted more "flexibility" in how they spend the levy and none are satisfied with the status quo.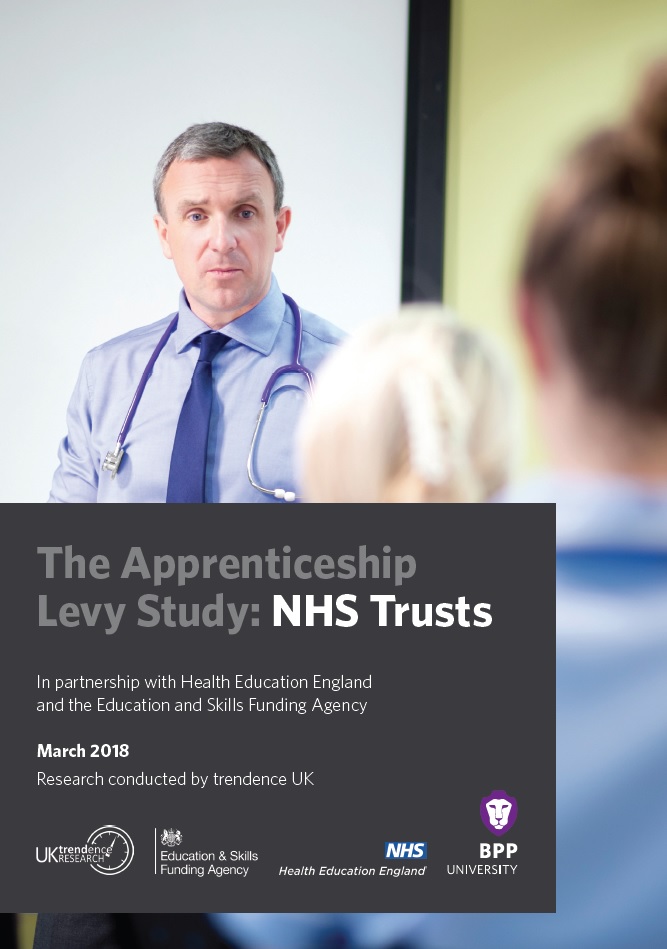 Large majorities wanted to be able to use the levy pot for in-house training programmes outside of apprenticeships (84 per cent), programme overheads (81 per cent) and salary and headcount (82 per cent).
But while the rules are as they are, NHS trusts are focusing most of their levy funds on internal rather than external candidates.
Two fifths said they would use 80 per cent of the levy on internal apprentices.
Professor Gell said the government's 2.3-per-cent apprenticeship target for the public sector is partly responsible for employers' focusing on existing staff rather external hires.
What is worrying is that less than half of trusts (48 per cent) said they felt confident they would meet this target.
One of the major stumbling blocks the NHS is coming across when delivering apprenticeships is the 20-per-cent off-the-job rule – which was identified as the biggest barrier to apprenticeship recruitment in an FE Week survey earlier this month.
Three -quarters of NHS respondents said the requirement remains a problem.
Despite the sector-wide concerns about this rule, Ms Milton recently confirmed she would not budge on it.