The north west was the region where NHS apprenticeships saw their biggest fall last year, as they dramatically dropped by nearly half, new figures have revealed.
As previously reported by FE Week, the health service had a total of 19,820 apprenticeship starts in the 2015/16 academic year, but this fell by 22 per cent to 15,532 in 2016/17.
Health minister Stephen Barclay has now divulged the regional figures in an answer to a parliamentary question tabled by shadow skills minister Angela Rayner.
Numbers for the north west show apprenticeship starts fell by 49 per cent between the two years, from 3,451 to 1,747.
The second largest drop was in neighbouring region the north east, which went from 1,239 to 750 (a 39 per cent fall), followed closely by the east midlands, which saw its apprenticeship figures decrease by 38 per cent, from 1,890 to 1,167.
Going in the other direction however was north, central and east London which increased its starts by a whopping 34 per cent, from 814 in 2015/16 to 1,087 in 2016/17.
The only other region to go up was Yorkshire and Humber, which rose 9 per cent, from 1,421 to 1,545 starts.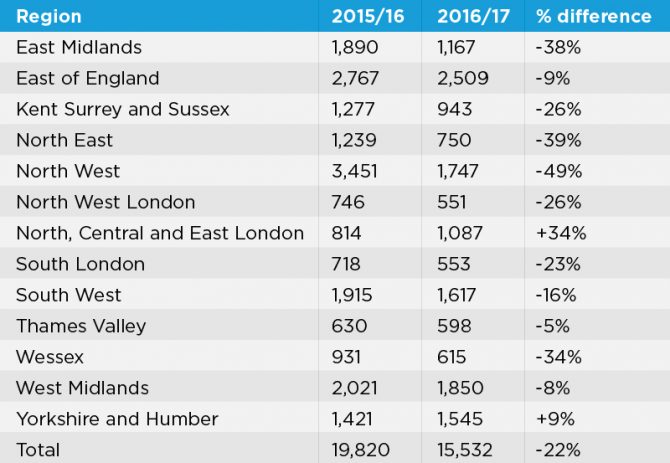 The release comes ahead of the next oral evidence session on nursing apprenticeships, being held by the education select committee on July 17.
Witnesses will include skills minister Anne Milton, as well as Mr Barclay – whose new boss is former skills minister Matt Hancock, who took over from Jeremy Hunt as health secretary following a recent government mini-reshuffle.
Also set to appear is Jane Belfour, deputy director for routes into apprenticeships and work at the Department for Education, and professor Ian Cumming, chief executive of the Department of Health and Social Care.
Increasing the amount of NHS apprentices has been an important government goal since 2016, when Mr Hunt pledged to create a further 100,000 starts in the sector by 2020.
The government hopes that degree apprenticeships will help solve nursing shortages across the country. It is hoped that more trainees will be encouraged into nursing, as they receive wages while they train rather than having to pay towards the traditional degree route.
But NHS leaders have warned that its starts target will be missed without urgent reform the apprenticeship levy.
As revealed by FE Week last month, the number of people starting an apprenticeship with the NHS has fallen by more than third over the last two financial years.
The health service is subject to a public-sector target, and needs to ensure at least 2.3 per cent of its workforce starts an apprenticeship every year.
It had to achieve 27,500 starts in 2017-18 alone to meet this.
But things have not gone to plan, with just 12,611 apprenticeship starts last year.