An Ofsted report into the nation's largest college has still not been published more than four months after it was inspected due to a row over the result, FE Week has discovered.
According to several sources who wish to remain anonymous, NCG (formerly Newcastle College Group) is actively disputing the overall grade-three, or 'needs improvement', rating it is understood to have received.
In public, neither Ofsted nor NCG is commenting on the dispute, which has meant a delay of 118 days and counting to the release of the final report.
FE Week understands that the week-long process involving 15 inspectors went smoothly, and that the college had been told to expect a second consecutive overall result of grade two, or 'good'.
Inspections all go through Ofsted moderation, and concerns raised during this process meant the overall grade was lowered to a grade three at best.
The delay – 118 days when FE Week went to press on Thursday, September 8 – is double the previous longest wait for an Ofsted report since the new common inspection framework (CIF) was launched last September
A delay of this length is especially unusual as Ofsted typically publishes its reports before the complaints procedure has been concluded.
In a statement, the spokesperson for NCG simply said: "We are in the quality assurance process."
For its part, Ofsted stated that it "does not comment on an inspection while it is going through quality assurance processes".
The inspectorate's handbook says, however, that "providers will receive an electronic version of the final report within 17 working days of the end of the inspection", while "in most circumstances, the final report will be published on Ofsted's website within 19 working days".
In cases where Ofsted decides that a report "requires further quality assurance, or finds the provider is provisionally inadequate, the provider will usually receive an electronic version of the final report within 26 working days".
The final report, it explains, will in such circumstances "usually be published within 28 working days", although Ofsted does not normally delay publication of an inspection report "while complaints are investigated".
This previous longest wait after inspection under the new CIF was 59 days, for a report on Ealing, Hammersmith and West London College. The average wait is just 35 days.
This is not the first time NCG has clashed with Ofsted.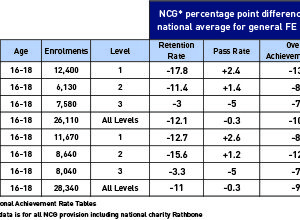 FE Week revealed in July 2012 that Ofsted inspectors had been asked to leave Newcastle College, after staff complained of "troubling incidents" during an inspection.
Ofsted's visit had to be cut short, although they returned several weeks later, eventually downgrading the college's overall rating from grade one to two.
The body's former principal Dame Jackie Fisher is understood to have lodged a formal complaint running to over 600 pages.
An inspector subsequently told FE Week that "it was never going to be easy inspecting a college that had outstanding etched into its windows".
Since then, Ofsted has introduced new scrutiny panels for complaints about inspections, but this mechanism is unlikely to have been the cause of the current delay; a spokesperson for the inspectorate said that such panels "would normally take place following publication of the inspection report".
The delay is more likely down to disappointing recent retention and overall achievement rates.
For example, NCG's overall retention rate for level two 16- to 18 year-olds in 2014/15 stood at 15.6 per cent below the national average for a general further education college, while the overall achievement rate at level three (formerly known as the success rate) for that age group was negative 7.5 per cent.
NCG insisted that this data was "misleading" because it was "for all NCG provision including national charity Rathbone, which works exclusively with young people not in education, employment or training, and national private training provider Intraining, both of which have national performance benchmarks lower than those of FE colleges.
"The disaggregated data for the four NCG colleges shows performance is at the national level for FE colleges.
"Rathbone and Intraining were not in scope for the inspection. Intraining was inspected separately in May and provision was found to be grade two."