A University Technical College (UTC) developed in partnership with Burton and South Derbyshire College will never open, despite the government spending more than £8m setting it up, the Department of Education (DfE) has confirmed.
Approval for the Burton and South Derbyshire UTC was withdrawn "following low pupil recruitment numbers" a spokesperson for the department said, adding that the institution would have been "financially unviable for the taxpayer".
The latest set of accounts for the year ended August 31, 2015  show that that UTC was given over £8m of funding by the Education Funding Agency, all of which was subsequently spent.
Built in Burton on Trent, it included a range of new equipment for learners and was set to specialise in biomedical science and engineering.
The DfE spokesperson added: "We will be undertaking a full assessment of future plans for the site looking at all possible options while taking into account local circumstances."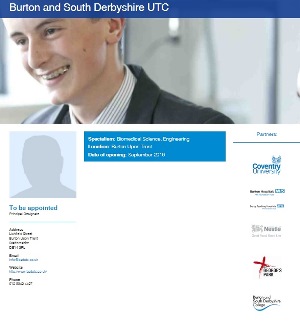 Alongside lead sponsor Burton and South Derbyshire College, other partners of the UTC project included Coventry University, Nestle, and hospitals in Burton and Derby.
According to the Burton Mail, the de Ferrers Trust, which oversees the de Ferrers Academy in Burton, has expressed an interest in taking on the building previously assigned to the UTC.
FE Week contacted Burton and South Derbyshire College for comment, but was told that the college "no longer handles media enquiries for Burton and South Derbyshire UTC" and this responsibility has now been handed over to the DfE.
A spokesperson for the Baker Dearing Trust, the organisation established to develop and promote the concept of UTCs, commented: "The minister took the decision not to proceed with this project in May 2016. Baker Dearing regrets this but accepts this was the right course of action on this occasion."
In July Ofsted's former chief inspector Sir Michael Wilshaw slammed UTCs, telling them that they need to make "radical improvement" if the model is to survive.
It followed FE Week research in February, which found that forty per cent of UTCs opened between 2010 and 2013 saw student numbers fall for the last academic year.
Many have now been forced to close, such as UTC Lancashire which said in a statement on May 3 that it would close for good just three years after it opened — due to difficulties in enrolling enough students "to secure future financial viability".
Meanwhile Central Bedfordshire UTC had announced in March that it would close in August — after admitting it had not been able to attract "sufficient pupils".
Hackney UTC closed in July 2014, also following problems attracting learners, and Black Country UTC shut in the summer of 2015 after a "disappointing" Ofsted inspection and, again, low student numbers.
In April, Burton and South Derbyshire College fell from an Ofsted grade 2 to a grade 3, due to factors such as the quality of teaching, learning and assessment being "not consistently good across the range of the college's provision", and leaders and managers failing to "use self-assessment sufficiently well to identify aspects of teaching, learning and assessment that require improvement".