Click here to download the campaign event briefing.
Our first ever official campaign will oppose damaging cuts to apprenticeship funding exposed by FE Week over the summer.
Exclusive research that we published last month showed proposed funding changes could mean rates being cut by up to 50 per cent for the most deprived 16 to 18-year-olds.
It provoked a huge national backlash.
Damning letters were sent by more than 50 Labour MPs led by David Lammy and shadow skills minister Gordon Marsden to new apprenticehips and skills minister Robert Halfon.
The issue was also raised in parliament and has been taken up by national papers the Guardian, Independent and Mirror.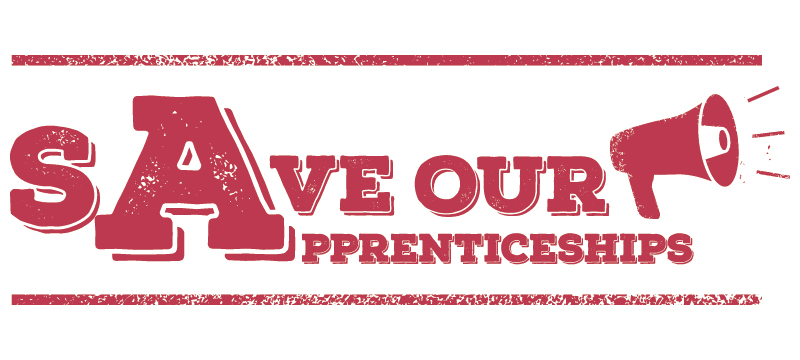 We agree the debilitating affect that this would have on the life chances of young people in poorer areas across the country is simply unacceptable.
It is why FE Week has decided to cast aside our usual impartiality and call for common sense and decency to prevail.
We're confident this paper's investigative reporting and editorials have influenced government policy in the past.
For example, there's little doubt our first ever edition's expose of 12-week call centre apprenticeships – published five years ago – and subsequent stories on disgraceful "hothousing" were driving factors behind the decision to increase minimum duration from 12 weeks to 12 months.
But this is FE Week's first ever official campaign, which hopefully reflects the hard-won maturity of the title.
These planned cuts appear to be the result of rushed policy making surrounding next April's levy launch, and it feels right to appeal for a change of heart to a new minister who has been rightly praised for his own campaigning to promote apprenticeships and cut fuel duty.
So come on Mr Halfon, show us that prime minister Theresa May's promise on taking office to 'help anybody, whatever your background' wasn't empty jargon. Save Our Apprenticehips!!
FE WEEK CAMPAIGN LAUNCH EVENT
FE Week will be holding a campaign launch event in the Houses of Parliament on Wednesday.
It will be hosted in Committee Room number nine by our editor Nick Linford and shadow skills Minister Gordon Marsden, with David Lammy and many other MPs in attandance.
The idea is to give sector leaders in the audience from colleges, training providers and third sector organisation, as well as small and large employers involved in apprenticeships, who subscribe to FE Week, the opportunity to talk to politicians about the impact of the proposed apprenticeship funding rate cuts and how we can all work together to pressure the government into changing its plans.
Here's how we covered the story online over the summer: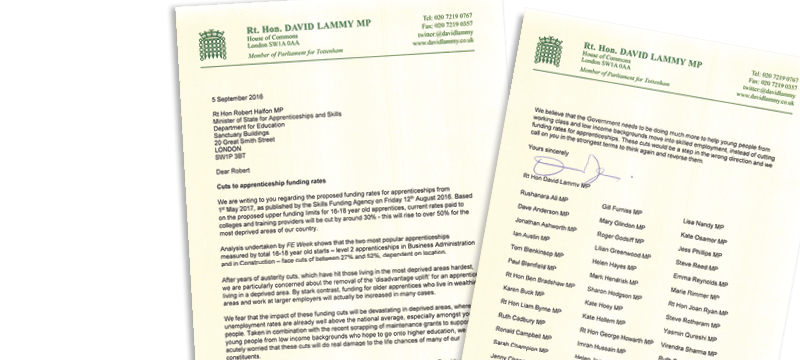 August 19, Funding rates cut by up to 50 per cent for the most deprived 16-18 apprentices
Proposed funding for 16 to 18 year-old apprentices will result in current rates to colleges and training providers being cut by around 30 per cent, rising to over half for those apprentices living in the most deprived areas of central London, FE Week can exclusively reveal.
Astonishingly, this compares with the funding for many learners aged 24 and over going up, particularly those living in affluent areas outside the South East and working for large employers.
The analysis for some of the most popular apprenticeship frameworks was conducted by FE Week.
It is based on new proposed new 'upper limit' funding levels and a £1000 16 to 18 incentive paid to the provider, for apprenticeship framework starts from 1 May 2017 published by the Skills Funding Agency.
Aug 23, Former minister asks PM why she is 'shafting' future of young people with apprenticeship reforms
The former minister for HE has slammed the Prime Minister for "shafting" the future of working class kids in his constituency, after seeing FE Week research into proposed apprenticeship funding cuts.
David Lammy said the impact of potential funding cuts for 16 to 18 year-old apprentices would be "devastating" for young people in deprived areas like his own area of Tottenham, where unemployment rates are already almost double the national average.
He said: "I have one question for the government in response to these cuts: why are you shafting working class kids?"
Mr Lammy added the cuts would "hugely undermine" the government's target to create 3m apprenticeships by 2020, and "entirely contradict" Theresa May's promise to boost social mobility.
 
September 2, Concern over FE Week funding cuts findings raised by shadow minister
Serious concerns about funding cuts for 16-18 year old apprentices have been raised by shadow skills minster Gordon Marsden, in a letter to apprenticeships and skills minister Robert Halfon based on FE Week research.
He referred directly to our analysis, published last month, which showed that proposed funding for apprentices from that age group would lead to current rates to providers being cut by around 30 per cent, rising to over half for those living in most deprived areas of central London.
The letter warned that the proposals "offer a damaging lack of support for young apprentices".
Mr Marsden added that he was "extremely concerned at the potential adverse effects for social mobility stemming from the proposed new apprenticeship funding methods".
September 4, MPs use FE Week analysis to demand funding cuts reversal
More than 50 Labour MPs have urged skills minister Robert Halfon to reverse apprenticeships funding cuts exposed by FE Week.
The group led by David Lammy, former minister for higher education and MP for Tottenham, have all signed a letter to apprenticeships and skills minister Robert Halfon describing the potential cuts as "devastating" for apprentices in deprived areas.
This follows publication of FE Week research last month, which exclusively revealed that proposed funding changes could mean a fall of around 30 per cent in funding to providers for 16 to 18 year-old apprentices, and over 50 per cent for those in the poorest areas of central London.
It called on Mr Halfon "in the strongest terms to think again and reverse them".
 
September 6, Greening challenged over apprenticeship funding cuts
The first day back from parliamentary recess saw education secretary Justine Greening challenged over widespread apprenticeship funding cuts uncovered by FE Week.
Shadow skills minister Gordon Marsden lodged a series of written parliamentary questions yesterday, following up on FE Week research which revealed proposed funding reforms would mean around 30 per cent cuts for 16 to 18 year-old apprentices, rising to over 50 per cent for those in the poorest areas of central London.
Mr Marsden asked if Ms Greening would "discuss with the treasury the potential to fully fund apprenticeships for 16-18 year olds from savings accrued as a result of the introduction of the apprenticeship levy".
This echoed comments by FE Week editor Nick Linford on September 4, when he wrote: "The Treasury will make a £1.5bn annual saving by switching the total source of apprenticeship funding to an employer levy. Perhaps half of this could be used to improve social mobility by fully-funding 16 to 18-year-old apprentices?"
See Nick Linford's expert piece on why Halfon should ask the Treasury to hand back the savings…