The Skills Funding Agency (SFA) has pulled the delayed national achievement rate tables (NART) for providers from its website, after FE Week alerted it to a series of errors in the data.
The long-awaited tables were uploaded this morning, but a number of mistakes led the agency to take the information down again until they had been rectified.
A notice on the site said the 2014 to 2015 education and training NART overall institution spreadsheet was "temporarily removed for revision" and a spokesperson from the SFA subsequently thanked FE Week for highlighting the problems and confirmed they were the result of "human error".
Mistakes in the data included the achievement rate percentage totalling over 100 per cent for the 'ethnicity' column and the achievement rate and retention rate being the wrong way around in the 'delivery LEP' column.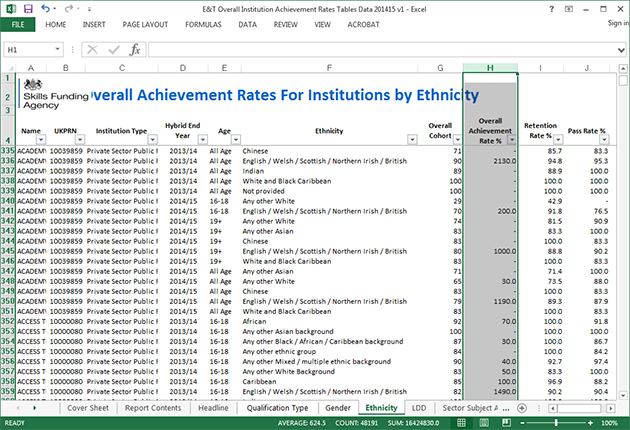 It comes after the SFA twice delayed publication of the 2014/15 nationwide qualification achievement rates (QAR).
FE Week described in December 2015 how the publication of the QAR for 2014/15 had been pushed back, with promises it would be published "towards the end of March".
The data would normally have been published in January and the rates were also missing from the Statistical First Release publication at the end of March, owing to "changes to the collection and storage of the data".
The twice-delayed QARs were finally made available on April 5, via new interactive dashboards on the SFA's online hub.
However, the dashboards did not include the facility to view national averages for individual qualifications – information that has been available in previous years, before the introduction of the interactive dashboards.
This led a number of providers to complain about the missing information through the SFA's FE Connect forums in the days following the QAR publication.
In an answer to an FE Week Freedom of Information request over development costs, the SFA said that the new 'Birst' QAR data dashboard cost a one-off sum of £153,000 to develop in 2014/15, but would subsequently require only £58,000 per year to run.
It claimed that this should result in annual savings of 65 per cent, when compared with the £164,000 the old system cost in 2013/14, using multiple PDF annual reports that were sent out to providers.
However, sector representatives told FE Week that they were worried the new dashboard could shift the burdens of time and expense onto them.