A sixth form college (SFC) in West Yorkshire has become the first of its kind to be rated 'outstanding' by Ofsted since the introduction of the common inspection framework (CIF) in September.
Huddersfield New College received grade ones across the board from the education watchdog, in a report published today which also found the 2,400-learner SFC had "no significant weaknesses".
It comes after Truro and Penwith College became the first general FE college to be rated outstanding under the new CIF, as reported by FE Week in April.
Inspectors found that Huddersfield New College's principal, Angela Williams (pictured below), had an "unrelenting focus on a high-quality learning experience for young people" and "established a culture in which staff and learners flourish".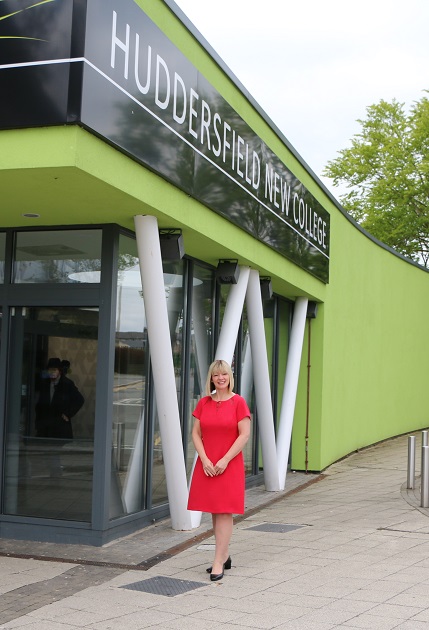 It continued: "Consequently, the principal, college leaders and governors make a genuine investment in transforming the lives of the young people who attend."
Success rates at the SFC were "well above those nationally and those for similar providers," the report said.
Inspectors found that a "highly successful feature of the college ethos is that all learners, irrespective of background or barriers to learning, should have the very best opportunities to achieve and develop into confident young adults".
As a result learners "make excellent progress from below average starting points" and "achieve better grades than might be expected from their prior achievements".
It continued: "Improved outcomes are particularly notable for learners who are known to have been eligible for free school meals: a group who make up almost one fifth of the college cohort."
The "rich and varied curriculum" meant that learners were well prepared for future study or employment, the report said.
Inspectors found that teachers at the SFC were "skilled and enthusiastic" and "consistently set high expectations" for students.
Teachers "take a forensic approach to the monitoring of learners' progress and achievement" to "pinpoint priorities for future development", the report said.
Learners in AS and A-level classes "work diligently and collaboratively" and were empowered by teachers to "take responsibility for their own learning", it said.
Commenting on the Ofsted report, Ms Williams said: "It has taken years of hard work to remain highly inclusive and to become one of the best SFCs in the country and we fully intend to continue to work hard to stay top of the class and to transform even more lives."
James Kewin, deputy chief executive of the Sixth Form Colleges' Association, said: "This is a huge achievement and reflects the exceptionally high standard of education offered by the college, and the outstanding results achieved by students."
Linda Summers, Huddersfield New College chair, said the Ofsted grade reflected "a team effort by students, staff and managers, and the governors are immensely proud of them all".