The UCU has blasted the "woeful" lack of transparency in the area review process, after it emerged that key guidance waiting for ministerial sign-off has been circulating in draft form for months.
The Department for Education has still not officially published a crucial set of implementation guidance that was originally due in July, because final clearance from the new apprenticeships and skills minister Robert Halfon (pictured) has not been forthcoming.
However a draft version has been shared among colleges for up to three months, FE Week has learned.
The document has been so widely shared, FE Week even found it available for download from the Association of South East Colleges' website – although it was removed this week after we asked them about it.
This revelation prompted Sally Hunt, the general secretary of the University and College Union, to call for immediate action from Mr Halfon.
"For any process to have the confidence of those involved, transparency and engagement is crucial," she said, adding that there had been a "woeful lack of meaningful consultation with unions on outcomes and implementation" throughout the area review process.
"The minister needs to urgently intervene to ensure much better consultation at a local and national level," she said.
The draft guidance lists the different phases involved in implementing area review recommendations, as well as key issues that colleges will have to consider.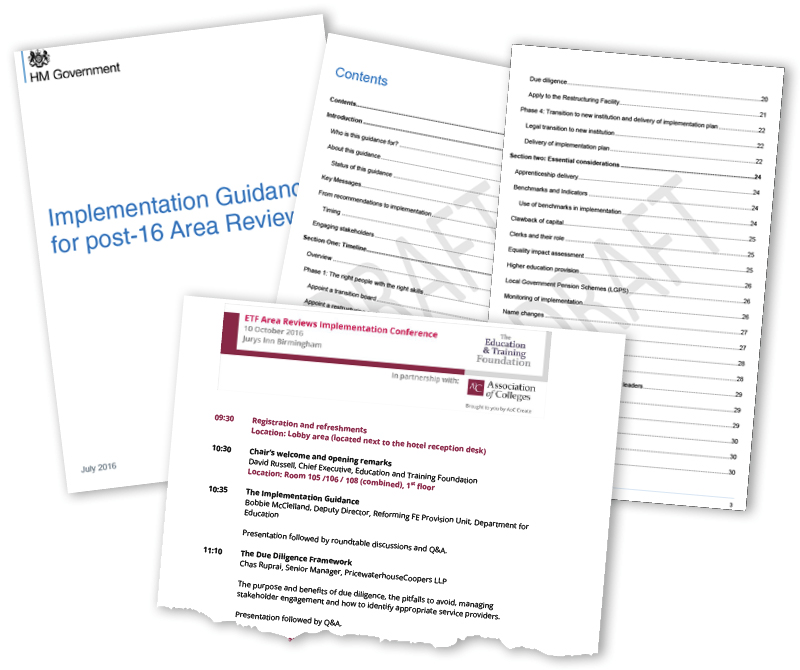 Pamela Lumsden, AOSEC's chief executive, told FE Week that the document had been "intended to be shared with members".
Her organisation represents local college interests and is, according to its website, affiliated to the Association of Colleges.
But when asked to explain AOSEC's actions, an AoC spokesperson said it was "a separate organisation from AoC, so you'd need to get in touch with them directly about what's on their website".
The guidance has been delayed for nearly three months; Bobbie McClelland, the deputy director of the DfE's reforming FE provision unit, told FE Week's area review summit on July 7 that a final version would be released before parliament's summer recess, which began on July 21.
FE Week has lodged repeated requests with the DfE asking to see the guidance, but we've been told each time that it would be available "in due course".
In the meantime, the DfE appears to be side-stepping ministerial sign-off.
Officials will make two presentations this week, one on the implementation guidance and another on a separate document also awaiting publication, the due diligence framework.
Both documents are on the agenda for Monday's Education and Training Foundation area review implementation conference – where Ms McClelland is due to discuss the implementation guidance.
The event is billed as "a key opportunity to understand and discuss the due diligence and implementation guidance documents".
Ms McClelland will also give the keynote address on Thursday at a Westminster Briefing event, entitled 'Implementation of area-based reviews: understanding the outcomes for post-16 education and training'.
FE Week asked the DfE why its officials were giving presentations on guidance that had not yet received ministerial sign-off.
A spokesperson said that these events were "not dependent on the guidance being published".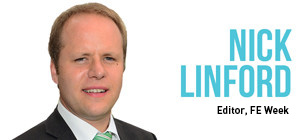 The guidance and framework are just two of a number of area review documents to have been held up as a result of the widespread FE-related government changes sparked by the EU referendum in June.
Others due in July – but which have yet to appear – include separate guidance for local authorities and local enterprise partnerships, and final reports into the reviews to have completed so far.
Details of the colleges involved in the fourth wave of reviews are also yet to be publicly announced, even though a number of the reviews have already held their first steering group meetings.
Sir David Collins' successor as FE Commissioner has also still not been officially confirmed, two weeks after FE Week revealed the post would go to former Exeter College principal Richard Atkins.
*****************************************************************************
London review deadlines extended
FE Week has uncovered yet more evidence of area review delays, with all four London reviews running up to four months behind schedule.
Two of the reviews should have completed by July and the remaining two should have finished by September, according to the timetable originally planned.
But minutes from a number of the colleges involved reveal that the four reviews are now not expected to complete until November.
A spokesperson for the London mayor acknowledged that the timing for the first two reviews had changed to coordinate with the second two reviews, but denied that the overall schedule was delayed.