More than 10 per cent of university technical colleges are now expected to close, just six years since they were first introduced.
The latest to close its doors will be Royal Greenwich UTC in London, on which Greenwich Council is forking out £13m in order to convert it into a secondary school.
Royal Greenwich UTC will become Greenwich Trust School from next September, just two years after it opened as a 14-to-19 institute.
FE Week analysis in February showed that the college, which has a capacity of 600, had just 257 students during the last academic year – representing a 35 per cent drop from the 397 who attended in 2014-15.
Its closure makes it the fifth UTC out of 48 to shut up shop since they were launched in 2010.
Greenwich Council now needs to pay hefty conversion costs so that it can meet its statutory obligation to provide enough school places.
A council spokesperson said: "The Greenwich UTC sadly did not attract the expected numbers; as seen with colleges nationally, some students were hesitant at switching to a technical course at the age of 14."
The college, which according to its website cost £10m to set up, will instead cater for 11- to 18-year-olds.
The government has already agreed to the expansion, with most of the £13.7m bill to be paid by the council, but £200,000 will come from its Section 106 payments – money that a developer pays to a council to reduce the impact of a development.
The council said the conversion cost will involve adapting the existing building, as well as a new extension to cater for the extra pupils (see box-out).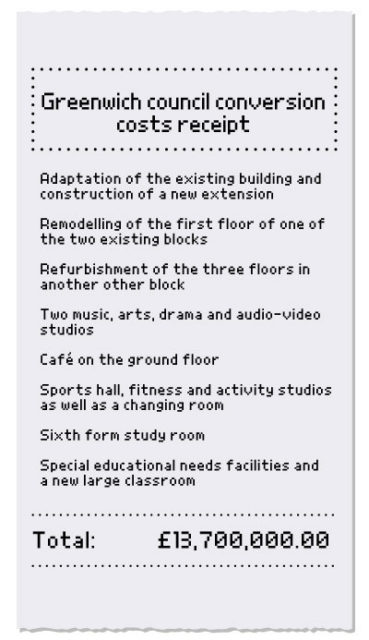 Greenwich UTC did not respond to repeated requests for comment.
Low pupil numbers are common at UTCs, which has often left them financially unviable.
Our February investigation discovered that student numbers had fallen at 40 per cent of UTCs that opened between 2010 and 2013.
Four other UTCs: UTC Lancashire, Central Bedfordshire UTC, Hackney UTC and Black Country UTC have all closed citing low student numbers.
The Department for Education meanwhile confirmed last month that a proposed UTC developed in partnership with Burton and South Derbyshire College would not now open, despite the £8m the government had already spent setting it up.
Just last week, Heathrow Aviation Engineering UTC was issued a financial notice to improve due to an "apparent loss of financial control".
The UTC, which opened in north London in September 2014, has a 600-pupil capacity, but just 231 on roll as of January. It was found not have failed to balance its budget and has suffered cashflow problems since 2015, the Education Funding Agency said.
The college must now get approval from the EFA for all its transactions, and launch an external governance review.
Barry Hersom, the college's principal, said: "The board and senior team take this matter very seriously and we are working with the EFA to bring the UTC's finances into order as quickly as possible. We have already taken measures to reduce expenditure and are confident that the situation is improving."
Former education secretary Nicky Morgan has since voiced concerns about the UTC model, suggesting that they should look to admit pupils from the age of 11.
At a fringe event on educational inequality at the Conservative Party Conference this week, she said: "I would, in order to avoid this change at 14, like to see them admitting pupils from the age of 11, because I think that would mean they would have a stronger, more sustainable pipeline of students."
FE Week pressed the government on its struggles with the UTC model, but the DfE refused to be drawn on whether an independent review would be needed to re-evaluate them.
Instead, a spokesperson said: "The best UTCs do a great job in helping pupils get the knowledge and skills they need for successful future careers. We are continuing to look at the performance of the UTC model and learn lessons from those that are open to ensure they offer great education for young people who want to follow a technical or vocational path."
Charles Parker, chief executive of the Baker Dearing Trust, an organisation established to develop and promote the concept of UTCs, said: "Four UTCs have closed, and Greenwich is becoming a normal 11-18 secondary school, reflecting the changing local demographic since it opened.
"There are 48 UTCs open across the country successfully matching young people aged 14 to 19 who want a high-quality technical education with employers who face a serious skills shortage."