Careers advice in schools is having little to no impact on young people's decisions to stay on into FE, a new study has revealed.
The disappointing results of Edge Foundation and City & Guilds report come over 18 months since the government launched the Careers and Enterprise Company, to help 12 to 18-year-olds "access the best advice and inspiration about the world of work by encouraging greater collaboration between schools and colleges and employers".
It showed that 62 per cent of 16 to 19-year-old respondents believed the decision to study in FE would help them to go on to get a good job.
But just one per cent said careers advice at school had been the most important factor in their choice to study in the sector.
Around a quarter of young people in FE, the findings also indicated, still rely on their parents as their main source of careers guidance, while only 16 per cent of learners would turn to their institution's careers service for information about the job market.
Over 30 per cent of apprentices said their employers were their first port of call for details about the workplace.
Well over half (57 per cent) of respondents said they wanted more information from employers, while 44 per cent called for more presentations by representatives of colleges and schools.
The findings make up the first wave of results from a longitudinal study of learners in vocational education undertaken by the Institute for Employment Research at the University of Warwick and commissioned by the Edge Foundation and City & Guilds.
Further waves will focus on employment status, job satisfaction, wages and intentions towards further study.
Over 600 young people aged 16-19 took part, including college-based students in full or part-time study and apprentices engaged in work-based learning.
Chief executive of the Edge Foundation, Alice Barnard, said: "The poor quality of careers information, advice and guidance is compromising students' choices and leaving a significant proportion of young people with no sense of direction for their future.
"Naturally you expect young people to seek advice from mum and dad, but many parents and carers will just not know enough about the range of career or learning opportunities to be the main influencer in such an important decision.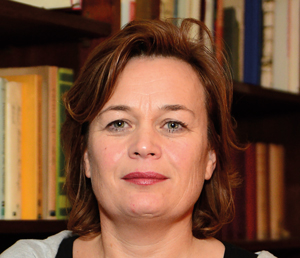 She added: "There are currently over 650,000 19-24 year olds who are not in education, employment or training, and I fear this number will rise further unless young people can access quality careers information."
Kirstie Donnelly, managing director of City & Guilds (pictured right), added: "Sadly these findings come as no shock to me.
"Last year we commissioned a study among 14-19 year olds and found a similarly worrying picture of patchy or incorrect careers advice, and a complete lack of understanding among young people about the breadth of the jobs market."
She said: "This report adds to the growing canon of evidence that there is a postcode lottery for careers advice for young people."
On December 2, FE Week reported that the colleges and local enterprise partnerships included in the Careers and Enterprise Company's "enterprise adviser network" also revealed a postcode lottery for FE coverage, with 15 LEPs not covered – and London completely absent.
Claudia Harris, the company's chief executive, confirmed that it did not work with any of the capital's 44 FE and sixth form colleges.
She said the company was working with "nearly all" local enterprise partnerships across the country, but the list of colleges that FE Week saw listed just 24 of the 39 LEPs.