Nearly 80 of the UK's most skilled young people are battling it out in a five-day competition this week that will decide if they get to represent the nation at WorldSkills Kazan 2019.
The squad of apprentices and learners have travelled to colleges all over the country for the team selection event.
The 40 best performers from across 36 skills will win a spot at the next WorldSkills competition in Kazan, Russia in August.
Dubbed as the 'Olympics of skills', WorldSkills brings together learners from around the globe, who compete in tests of their technical skills in areas such as landscape gardening, electrical installation, beauty therapy and jewellery.
FE Week went along to one of the Team UK selection events in Nottingham to see how the competitors are faring, and was joined by the Education and Skills Funding Agency's director of employer engagement and the UK's new official delegate, Sue Husband.
"I'm always impressed by these competitions, seeing all those individuals putting themselves out there," she said.
"I'd find it quite challenging not just competing against colleagues from college and other colleges, but against people from as far as Russia. The standard of the work they are delivering is so impressive."
All the competitors at World Skills Kazan 2019 will have to complete 22 hours of competition over four days.
For most of the competitors, the projects they will have to complete in Russia will be released before they get there; but when they arrive at Kazan, 30 per cent of the project will be changed.
Some competitions, such as cooking, have completely blind tests.
Beforehand though, the competitors have to go through a boot camp at Loughborough University, where they are trained by 2012 Olympian Peter Bakare and John Walton, who was part of the training team for Team GB.
Competitors are taught how to diet, exercise and sleep to get them in prime condition and then each morning in Kazan, the competitors will have to be up at 6.30 for Yoga and stretching.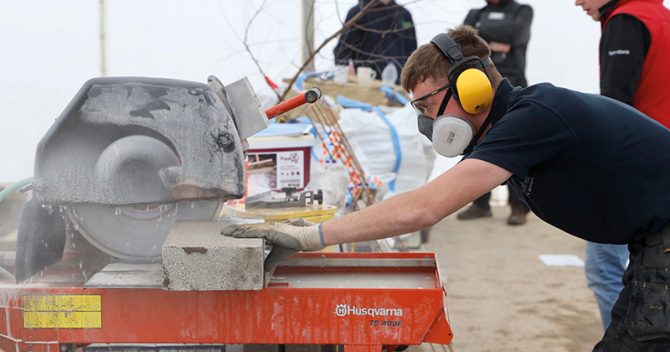 Someone who knows what it's like to prepare for the competition is Daryl Head, who won silver for the UK in the car painting competition at the 2017 competition in Abu Dhabi, and is now a judge of the UK team selection.
"It was pretty intense," he told FE Week. "There was a strict plan we were following."
Asked how he brought his technical skills up to a competition level, he said: "Repetition. Find out what you're weak at and work on those areas."
The training manager for the painting team, Richard Wheeler, said of the 2019 candidates: "Over the period of 18 months, I have been training these guys up in frequent intervals. They will obviously go away, practice, and their skill set will get better."
There are two people competing for a place on the UK team and Wheeler said it would be difficult to choose between them.
"It's going to come down to their interpersonal skills, time management problem-solving and how they deal with pressure."
The two car painting competitors, and the rest of the candidates, will find out if they have made the UK team going to Kazan at Loughborough University on Sunday.
The 45th WorldSkills event will take place from August 22 to 27.
At the last WorldSkills, which took place two years ago in Abu Dhabi, saw Team UK retain its top-10 position, after our competitors bagged one gold, three silvers, three bronzes, and 13 medallions of excellence.
FE Week is proud to be the official media partner for WorldSkills UK and Team UK. FE Week will bring you all the latest developments in the lead up to WorldSkills 2019 and will be onsite in Kazan to bring rolling coverage of Team UK's progress.