The new owner of Learndirect's apprenticeship division has transferred all assets, in a hastily arranged deal, to the company that had previously had an offer rejected, FE Week can reveal.
It has been confirmed today that PeoplePlus Group Ltd, part of Staffline Group plc, has taken on the staff, customers and apprentices of Learndirect Apprenticeships Ltd (LDA) for a nominal fee believed to be £1.
FE Week understands that by the end of last week it had become clear that many LDA employers had chosen to stop recruiting new apprentices.
With new business drying up, Learndirect group's new owner Wayne Janse van Rensberg made the quick decision to agree a deal.
Mr Janse van Rensberg and Simon Rouse, who leads PeoplePlus Group, were said to have begun "constructive discussions" about building a "long term strategic partnership".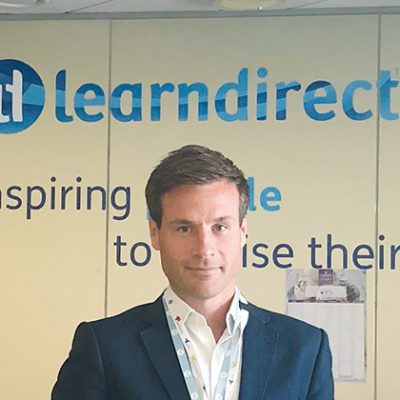 "Those discussions identified PeoplePlus Group as the ideal long-term home for LDA given its strategic focus on growing its apprenticeship, learning and skills business and the strong cultural fit between the two organisations," a spokesperson explained.
It is understood that the LDA business will now be integrated into the PeoplePlus Apprenticeships operation.
"I am really pleased that we have been able to find the right long term home for colleagues in LDA and the learners they support," said Mr  Janse van Rensburg.
"This is a great business which I am sure will go from strength to strength within PeoplePlus.
"This transaction enables us to focus on the role I want Learndirect to play in transforming technology, content and the learner experience in adult education across the UK – looking forward to new funding streams and capitalizing on the great people and resources that remain in the Learndirect Group."
It comes just over two weeks after FE Week revealed that the entire senior executive team at LDA along with 18 other senior employees had quit to work for PeoplePlus Group, the firm that had only recently had a purchase offer for LDA rejected.
As reported exclusively, Learndirect had been working for weeks on a sale to PeoplePlus Group, a division of Staffline Group, a listed company and one of the biggest recruitment firms in the UK.
PeoplePlus undertook several weeks of due diligence on a purchase of the entire Learndirect Group, but the talks were understood to have ended after their offer to only take ownership of Learndirect Apprenticeships Ltd was rejected.
Learndirect, then owned by the private equity firm Lloyds Development Capital, instead did a deal with entrepreneur Mr Janse van Rensburg to take ownership of the whole group.
Mr Janse van Rensburg is also the managing director of the Stonebridge College Group, which supplies Learndirect with a Virtual Learning Environment known as PEARL.
Mr Rouse spoke of his huge pleasure that the LDA had gone through.
He said: "I am delighted that the business of LDA is joining PeoplePlus Group.
"I view the collective team in LDA as the very best in the UK apprenticeships market and we are excited about the opportunity our combined business now has to be the leading apprenticeship provider in the UK."
Mr Janse van Rensberg previously spoke to FE Week about his vision for the rest of the non-apprenticeship business and rebuilding the brand, which has was plagued by scandal in the months leading up to his takeover.
"Part of my vision, and people might question my sanity here, is to bring the brand back into the forefront of education," he says. "I have big things I need to do in terms of reputation repair."
 "I plan to keep the business and run Learndirect Ltd as a commercial training provider, as there is no opportunity for us to receive any more government funding," he added.
"It has great content, initial assessments and diagnostics, which a lot of money has been spent on over the years. My ambition is to bring that into the sector and allow other training providers to use our content to support their delivery.
"Whether we charge to do that or, as part of our 'sorry' statement to the sector, give it away for free, that is where we want to go with Learndirect Ltd."