The education select committee chair has pleaded for nursing apprenticeships to be made a "special case" with flexibility over levy spending.
But skills minister Anne Milton told him in a special session this morning – dedicated to investigating what is holding up their roll-out – that this could not be done.
It comes after FE Week reported grave concerns last month over the slow take-up – with only 30 starts recorded up to the end of January this year.
Ms Milton's predecessor as skills minister Robert Halfon, who now chairs the education committee, raised the issue today. He asked if there could be more flexibility over how funding generated by the levy could be spent to help.
Do you not think there is a special case for the NHS – because of the amount of training that the nurses have to do is longer than the usual 20 per cent off the job requirement, there is a lot more theory and so on?
"Do you not think there is a special case for the NHS – because of the amount of training that the nurses have to do is longer than the usual 20 per cent off the job requirement, there is a lot more theory and so on?" he said.
Mr Halfon also put the low take-up in-part down to crippling cuts to NHS trusts' continuing professional development budgets. He fears this is undermining their ability to invest in nursing apprenticeships, viewed as more expensive to employers than traditional degrees.
"Looking at a national level the budgets were cut from £205 million to £83 million from 2015-17 to 2017-2018," he said. "This is a big problem. They want adequate funding to ensure lifelong learning."
Mr Halfon asked if the levy, which large employers have had to pay since last April, could be reformed so they could spend some of the generated funding on CPD, or "towards the cost to departments that are releasing clinical support workers towards undertaking nursing related apprenticeship courses".
"They are incurring costs to backfill the shift while their employees are at university on their apprenticeships," he explained.
Ms Milton replied that the levy "has got to be used for what it was intended for, which is training and end-point assessment of apprenticeships".
"There would be no end for requests to fund the backfill jobs if we allowed for that," the minister added. And nurses were said to be "not alone – there are other professions that need more than the 20 per cent off the job training".
The government requires that employers must allow for 20 per cent of apprentices' time to be spent on off the job training.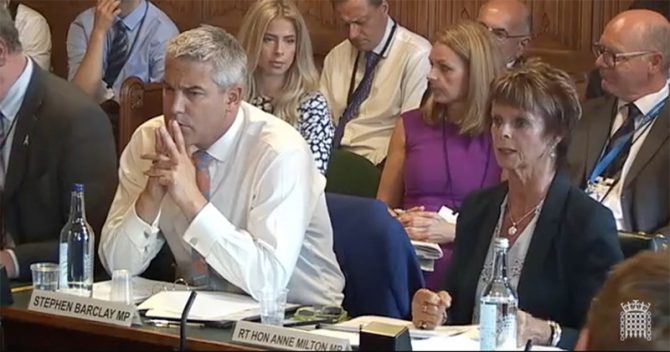 Stephen Barclay, minister for health, did however tell MPs that he has "been very much struck" by the CPD issue, also raised by the Health and Social Care Committee. The department is "actively considering" how to address this.
Panel members were also asked if they were satisfied with the rate of progress for nursing degree apprenticeships.
Professor Ian Cumming, chief executive of the Department of Health and Social Care, replied: "What we have been doing is building the pipeline to nursing degree apprenticeships.
"That means bringing people into apprentice training as nursing associates. Then we know from the first cohort that 40 per cent of those people want to go on to a nursing apprenticeship degree route.
"We had 2,000 people start over the first two years of the nursing associate pilot. We will have another 5,000 starting this year. If we see that 40 per cent conversions rate, we will have a significant number of people going on to nursing degree apprenticeships."
Nursing degree apprenticeships were unveiled in November 2016, involving new nursing associate and full, registered nurse apprenticeships, lasting two and four years respectively.
A nursing associate role was also introduced, with people who complete nursing associate apprenticeships able to count it as training towards a nursing degree.
Nursing associates work alongside healthcare support workers to deliver care, to free up existing nurses to focus on clinical duties.
NHS Employers, which represents employers in the health service, had previously called for levy reform.
It told the education committee in March that the NHS needs longer than the standard two years to use up the £200 million apprenticeship levy payments it is shelling out annually.
Ms Milton told MPs today that an extension was unlikely.
Main image: Robert Halfon