A new parliamentary campaign has been launched by the MP David Lammy to try and counter the sweeping cuts the government is making to adult education, after learner numbers fell by nearly 40 per cent since his time as skills minister.
The Labour MP has secured an adjournment debate in the House of Commons on the future of adult education scheduled for tomorrow (Friday 13), where he will launch a drive to massively expand part-time evening classes for adults who want to retrain.
According to government figures, there are around 1.5 million fewer adults aged 19 or over participating in further education than there were during Mr Lammy's stint as minister between 2007 and 2008, when the figure stood at 3.75 million – a fall of 38 per cent.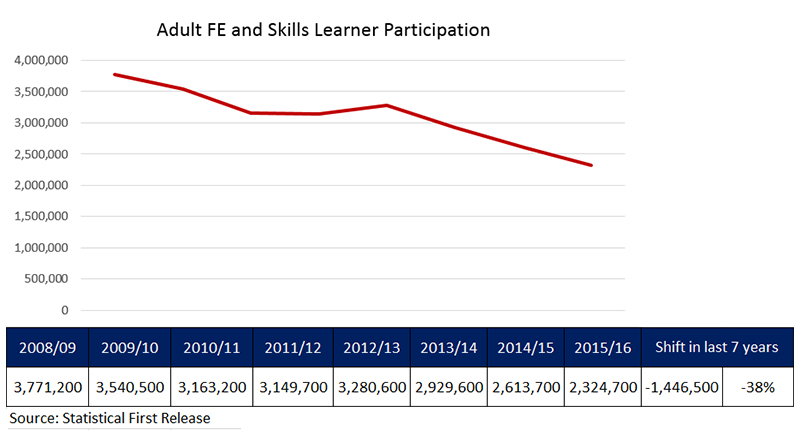 Ahead of the debate, the MP told FE Week that he would be calling for a return to the traditional concept of "night schools", which he wants provided either by local authorities or FE colleges.
"Working class people used to be able to do part-time courses after work to get new skills, move into a better job and build a better life for their family," he said.
"The political class is obsessed with university but education isn't one-size-fits-all, and I will be calling on the government to bring back night schools."
He believes that too many people are trapped in low-paid work, and that "there is no real prospect of moving up the ladder" for those who "missed out as teenagers".
Sue Pember, a former top civil servant for skills, welcomed Mr Lammy's demands, saying: "I hope his debate starts a proper, in-depth, lasting conversation on how we invest in our people."
Her new employer, the adult learning provider membership body Holex, has also previously called on the government to establish a new adult education investment strategy, setting out "a 'grow our own' approach to education, skills and employment from April 2017 to meet the challenges of Brexit".
Meanwhile, Baroness Sharp, who contributed to report on colleges in 2012 that described them as "intimidating institutions" which seem as though they are "not for adults", told FE Week that she did not believe the situation had improved.
"I felt at the time, and still feel very strongly, that we have lost sight of people being able to connect with their local college and do a course in the evening," she said.
"At a time when we know many people are going to have to switch careers and retrain in their 30s and 40s, the opportunity to do this has reduced."
And David Hughes, the chief executive of the Association of Colleges, agreed that creating more provision for older people to help them retrain was a good idea, but warned that "it would have to be paid for".
He said: "In addition to more direct funding from the government, another solution could be expanding FE loans which are only for level three and above at the moment.
"Retraining, or preparing to return to work, can often require lower-level qualifications."
Advanced learner loans were introduced in 2013 for those aged 24 and above and studying at level three and four. It was then announced in November 2015 that they would be extended to 19- to 23-year-olds, but not at levels one and two.
A Department for Education spokesperson said: "We want people of all ages to have access to skills and learning. Advanced learner loans are available to thousands of adults wishing to retrain, helping them to meet upfront fees and removing one of the main barriers to learning."