In these cash-strapped times, many principals would like to shave a few pounds off the expenditure column of their college finances.
And it was no different during the time of incorporation, back in 1992, when a fortuitous boundary decision benefited Martin Ward, as principal of Hull's Wyke Sixth Form College.
It resulted in bills going to a neighbouring school — an outcome he must look back on enviously today now that he keeps his eye on finances at Leicester College as its governors' board chair.
"The college [Wyke] was on the same site as a secondary school, and there never had been a boundary between the two, so we had to decide on one," he says.
"Years later we discovered the council was still paying our gas bill because there never had been a separate gas meter."
The role at Leicester marks somewhat of a homecoming for 64-year-old Mr Ward, who is also Association of School and College Leaders (ASCL) public affairs director, having been born in the upstairs room of the city's George and Dragon pub. It was run by his mum, Doris, and dad Cecil, who was killed in a motorbike accident when Ward was just 13.
"I never knew him after I grew up, and I never appreciated him at the time — you don't when you're a teenager," says Ward.
He adds it's "hard to know" whether the tragedy impacted on his school progress.
"I barely know what that 13-year-old was like now, even though there are some things still in my head that are parts of him," he says.
"So it's possible that helped me to think I could do right by my dad."
Ward adds: "I sort of woke up when I was about 13. People 'wake up' at different stages in their childhood, depending on who they are and what happens to them — in my case, I was pootling along, not doing very much, and when I got to what we now call Year 8, I found I was in the top maths set.
"And I thought, 'oh, blimey — I must be quite clever really' and I never looked back after that."
His love of mathematics led him to study at Warwick University and on to teaching maths.
He chose teaching because "I liked talking, I liked the sound of my own voice" and found himself drawn to FE.
"I realised that for the people who don't wake up when they're 13, but when they're 17 or 25, it gives them the opportunity to then do what they are really capable of," he says.
"That's got to be a good thing, hasn't it?"
After working his way up to head of department at Queen Mary's Sixth Form College, in Basingstoke, and a stint as deputy principal at New College Telford, in 1986 he landed the job as founding principal of Wyke College and oversaw its development from the very beginning.
"I was very young to be a principal at 35, and they made a brave choice," he says.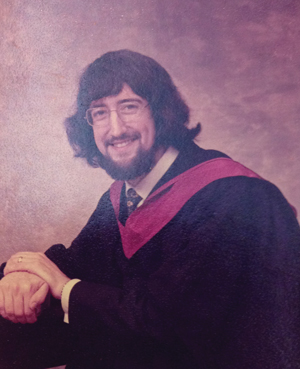 "We were given the luxury of two years' preparation time to develop the college, oversee building work and appoint staff.
"It was a very daunting task. Certainly there were days when I thought if I overlook something really critical we're going to need on day one it's going to be very embarrassing — you know, what if there's no chalk to write on the blackboards?"
Despite this, he says, the project was "really exciting".
"It's just such a privilege to be able to open something new, draw all the policies and procedures from the ground up," he says.
"And it proved to be very successful."
However, his time at Wyke came to a tragic end following the death in 1999 of Mary, his wife of 29 years, after complications from coeliac disease — a gluten intolerance that is not usually fatal.
"I was at work on Friday morning, I got a call from our cleaner saying I must go home as Mary had collapsed," says Ward.
"I took her into hospital and thought, 'they'll sort this out'.
"They called me at five the following morning to say I must come in and just when I got there she had died.
"The worst thing I ever had to do was ring her father — because you don't expect your children to die."
The two years that followed, were, says Ward, "a very dark period".
"My wonderful vice-principals had to run the college for quite a long period while my head was somewhere else. I was in a very deep depression, I now realise, looking back," he explains.
He devoted himself to looking after his and Mary's sons, Edmund, then aged 17, and Michael, then 15.
When he emerged from depression in 2001, he decided it was time for a change.
"Because with the best will in the world, you become a drag on the institution if you stay too long as principal and I felt I really needed to move," he says.
"I didn't see the point of running another college just like it, where I hadn't had the opportunity to open and appoint the staff and so forth — where's the joy in that?"
For the people who don't wake up when they're 13, but when they're 17 or 25, FE gives them the opportunity to then do what they are really capable of
Ward was already on the council of what was then known as the Secondary Heads Association, and when the job of deputy general secretary came up.
One of the first changes Ward made to the organisation, along with then-general secretary John Dunford, was to change the name to ASCL.
"The name change opened it up a bit more," he says.
"And I have always had that role in the organisation — saying, 'and colleges, don't forget them'."
In 2002, Ward married old friend Jo, who had two sons of her own — Robert, a year younger than Edmund, and Jon, a year younger than Michael.
"I've had the very good fortune to have been married to two wonderful women," he says.
"Jo's had the better of me, there's no doubt about it. I'm a better, more emotionally intelligent person now than I was before — which is not saying a lot, and Jo has really taught me how to enjoy myself, which I had never really got the hang of before. I never really understood that it was all right to really fully enjoy yourself."
Ward certainly seems to have fully bounced back — he waxes lyrical about both Leicester College and ASCL — so much so that it would be fair to say he's had some difficulty in retiring.
In 2011 he stepped into "semi-retirement", moving over into the ASCL public affairs role.
"I was going to stop this summer, then it was going to be next summer, when I'll be 65," he says.
"And now I'm going on until 2016, but then I think I really, really have to stop, because there are so many other things I want to do — notably, a lot more travelling than one can fit in with having even half-time work."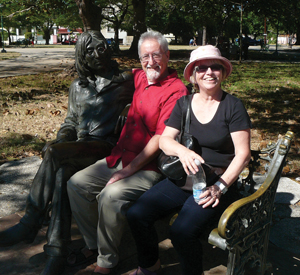 Ward has spent much of his career in sixth form colleges – a type of college that is now seemingly being passed over by government policy in favour of free schools — but he's optimistic about their future.
"It's one of these policy drifts that happens," he says.
"The minister says we've got this problem, so let's open some free schools, but then that becomes an aim in itself — and never mind how you do it or whether it's actually the right thing to do, because the minister has spoken.
"Will it make any difference whether it's nominally a school or nominally a college? I think probably not.
"They're all going to be free-standing institutions with their own governance arrangements and their own lack of funding.
"In 10 years' time some of these free schools that have opened as sixth form schools will just be sixth form colleges and will be indistinguishable from the ones we've had for the last 20 or 30 years, others will have gone bust and disappeared or sort of taken over by the FE college next door."
It's a personal thing
What is your favourite book, and why?
The Name of the Rose Umberto Eco. It started the craze for historical whodunnits. It's set in the 14th century in a monastery and the hero is both very clever and rational, and humane — and therefore someone I'd very much like to be
What do you do to switch off from work?
Cooking. It's something I came to in later life as it were, and I spent a lot of time trying to do it right — and of course the beauty of cooking is that you get to eat the product and I very much like eating
What's your pet hate?
Putting people down because they're different from you. You get that in so many different contexts and forms and it's often in the popular press. It's something that certain political parties are pushing very hard at the moment and it's something that affects the FE sector because it's different from most of the backgrounds of people making the decisions in Whitehall that are affecting the sector
If you could invite anyone to a dinner party, living or dead, who would it be?
I was tempted to say Socrates, Jesus, Mohammad and Buddha, but thinking about it what I'd really like would be my mum and my dad and my two brothers and all my dear friends who have died all together and tell them I love them one
more time
What did you want to be when you grew up?
I wanted to be grown up. That was it, I'm afraid. No great aspiration to do anything