High apprenticeship drop out rates are ripping off taxpayers, according to the education secretary, who told the Conservative Party conference she is "hugely focused" on improving completions.
Speaking at a conference panel organised by the think tank Policy Exchange, Gillian Keegan also said she was "outraged" by the introduction of the apprenticeship levy when working in business before becoming an MP, admitting that she later realised it was designed to "irritate us into action" amid low private investment in training.
At the 'How can degree apprenticeships fulfil their potential' debate yesterday, Keegan was asked by Association of Colleges president Corrienne Peasgood how degree apprenticeship completion rates could be improved, particularly for apprentices from disadvantaged backgrounds.
Keegan claimed that the completion rates for degree apprenticeships were currently "about 88 per cent", which would be much higher than the 55 per cent national average for 2021/22.
Official apprenticeship achievement data does not single out degree apprenticeships, but the published statistics do show that the latest retention rate was 58 per cent for level 6 and 59 per cent for level 7 apprenticeships. It's also not possible to determine retention and achievement data for universities specifically, but the 'other public funded' provider type, which includes universities, scored a retention rate of 64 per cent for all higher-level apprenticeships.
Keegan said: "Completion rates are my big thing at the moment. Every lost apprenticeship is lost taxpayers' money, and I'm not happy about taxpayers' money going to waste.
"And it's an opportunity cost for someone else that could have done it. So that's where I'm really focussed at the moment."
Keegan added that more apprentices are completing better quality apprenticeships because she "got rid of all the crap ones" by companies that were abusing the system.
"They were terrible at the beginning. Because I mean, you know, companies had 40 per cent of their employees suddenly being apprentices. They weren't apprentices. They were just trying to take advantage of the incentives that were there in terms of pay. So there was misuse of the system.
"So the reason they [completions] shot up and then went back down again is because I got rid of all the crap ones, because the crap ones were not really apprenticeships, right. But completion rates are where I'm hugely focussed."
The high number of apprentices not completing and not achieving has concerned ministers before.
Last year, then skills minister Alex Burghart introduced a new 67 per cent target for apprenticeship achievements by 2024/25 in response to a 57.7 per cent achievement rate in 2020/21. In 2021/22, that figure dropped to 53.4 per cent.
"I can't understand why they [completion rates] are not 99 per cent. Who would give up that opportunity? I know one or two may drop out, but it should be really, really high because it's a brilliant opportunity that loads of people want now," Keegan said yesterday.
Levy 'irritated' 'lazy' businesses
Keegan's defensiveness over protecting public money came after she revealed she was "outraged" by the levy when it was first introduced in 2017, before she was an MP.
"I remember when the levy was introduced, and I was in business, and I was outraged. Outraged from wherever I was working at the time. And the reason was because it was a tax.
"And then I realised, actually, it was meant to irritate us into action, because businesses had got lazier than when, you know, I was younger and General Motors would reach into a comprehensive school and find a couple of kids there and help them get on in life."
Joining Keegan on the panel was Manchester Metropolitan University vice chancellor Malcolm Press, Grant Thornton partner Justin Rix, Liverpool City Region mayor Steve Rotheram.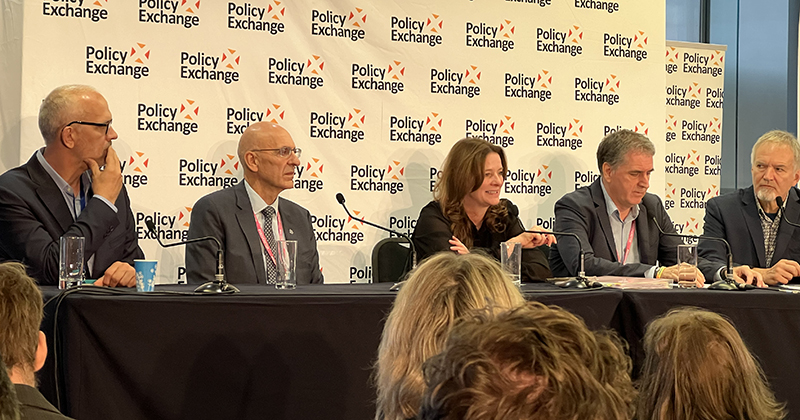 Devolve apprenticeship levy underspends
Rotheram attacked a "significant underspend" in the levy and called on the government to work with devolved mayors, in real time, to "help the government deliver its targets and close those skills gaps".
His pitch was to allow mayors to use any levy underspend to fund priorities identified in their local skills improvement plans.
"We've gone out to the employer base and said, what sort of skills do you need? They told us what they are. We've put all that into a document. We've now gone to all of our private training providers, HE sector, and FE, and said, how many spaces could you have for each of these areas, so we know what the capacity is," he said.
"And we know there's an underspend in the apprenticeship levy. And we know there's employer demand. Yet, for whatever reason, the government seems unable to join the dots. We can do all of that. So I'd ask the secretary of state, work with us … and we can start to deliver on the promises that you made about skills and apprenticeship."