Shaid Mahmood has been an FE governor for 20 years. Now he's launching a review of the work of the Association of Colleges
Across the road from where Shaid Mahmood grew up in Moss Side, inner-city Manchester, there was a Christian missionary man with whom his mum was good friends. He remembers coming home one day aged 11 with an envelope from school and handing it to his mum, who couldn't read English. She crossed the road and handed it to her friend, who read it out to her.
"He said, 'Oh, it's your son's school report'. Then he said, 'Oh bloody hell, he's really quite bright.'" Mahmood grins. "He advised her to push me, get additional lessons and get me to university."
The new chair of the Association of Colleges, appointed in December last year, has a fire in his belly. It's more under control these days, he says, but he describes early experiences of a kind that have driven him ever since. He was aware of being capable but was acutely reminded, in 1970s Britain, of the way he was perceived.
"I really, really enjoyed picking up books and learning, I enjoyed memorising things, I always liked working out how things worked. When my dad was rewiring the house, I'd take one of the electrical socket boxes and take it all apart and put it back together again."
Aged seven, he was placed by teachers in a class with 11-year-olds for English, maths and science. At home, his dad was entrepreneurial and opened a corner shop, and also worked as a bus driver, and his mum was a sewing machinist.
But there were many assumptions at that time that "the sons of corner shop keepers become corner shop keepers," explains Mahmood. "There was poverty and inequality, and a backdrop of quite racist attitudes. When you see your parents being abused in the street, being spat on, when you're called names yourself… it kind of lit a fire in me. I wasn't going to be second best to anyone."
He has opened up recently to his own grown-up son about the circumstances he and his five younger siblings had to endure, so his son understands the family's history. "Those kinds of things don't leave you. It leaves an imprint on your soul."
It could have gone wrong for Mahmood. He was in a boys' gang in his neighbourhood, not one that robbed, but that scrapped with other boys. But at the heart of this, he explains, was a sense of community. "That's just what you did. We protected each other, and of course we got into fights, but it was about being part of a neighbourhood."
The strong sense of community (not the scrapping, evidently) came from his parents. While his mum ensured, in line with her friend's advice, that he get extra maths and English lessons as well as Koran classes, both his parents were clear with him that he was expected to share those advantages around.
"My mother and father taught me, if you've got any kind of talent, it's about what you do for others. So I did a lot of paperwork!" The young Mahmood could be found filling out citizenship forms and applications for school places, all in his little printed handwriting.
"That was inbred in me, that it's about what you help others achieve." He laughs, before growing serious: "I'd go and march, metaphorically speaking, for anyone! It really got my goat, when people said we wouldn't amount to anything."
At the end of school Mahmood had A-levels in biology, chemistry and general studies, and got a place at Lancaster University to study chemistry and later a masters in polymer science. He went on to a PhD in chemistry at Sheffield University, before landing a job at Dupont, the huge American chemicals company.
By his mid-20s, he was travelling the world, from the US to Belgium, France and Germany. "For a young lad out of Moss Side, it was…" he shakes his head, laughing.
A career highlight was his invention of a shorter and less dangerous process for producing a light-sensitive chemical used in the printing industry. From there, he managed teams and so entered the business of developing people.
Back in the UK, Mahmood decided to make the move a permanent one. "I changed tack and join the management team at a company commissioning services for young people," he says. The company was none other than Connexions, the government-funded support service for students up to age 19, which was wound up in 2012.
But Mahmood was joining in 2003 and was soon director of a northern branch. From there, he landed a role as assistant director at Leeds city council for children's services, and has worked at the council ever since, currently as a chief officer.
His energy is infectious. He does not, happily, at all fit the mould of a dusty governor at the back of the Christmas party sneaking the odd sandwich. His personal philosophy explains why: "I don't like to do things half-baked, it has to be brilliant – it is a fault of mine. I hear this thing about 'good enough is good enough', but I'm just not sure."
He leans forward. "My view is, as a parent, I want any institution to strain every single sinew to do the best for my child." Just as his parents had taught him, Mahmood delivers a very hands-on version of giving back.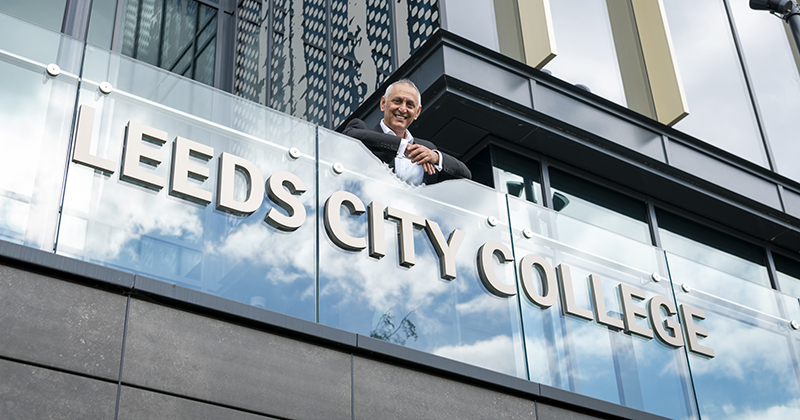 He has held governance roles in FE for almost 20 years, including at Park Lane College, now called Leeds City College. By 2014 he was chair, but the college was in "dire financial straits" and Ofsted was breathing down their necks. 
"You can't do governance sat behind a desk," asserts Mahmood. So he got stuck in, setting up working groups in English and maths chaired by governors themselves, to drive up standards. He got governors into classroom observations, to compare their findings with practitioners.
"Being on the board is not just about dotting the i's and crossing the t's. It's about really providing leadership on where that kind of organisation needs to be."
Mahmood is a rare governance expert in that he clearly spells out that governors are leaders within FE. They're more often portrayed as guardians who hold the real leaders to account.
But Mahmood doesn't see it that way. "I work with the chief executive and his team to drive the organisation forward. My views and thoughts and those of the board have influenced the strategy. If you asked my chief executive, I think he'd say we've navigated this through as a pair." He grins again. "My job is not just to chair four or five meetings a year."
My job is not just to chair five meetings a year
Whether all colleges are lucky enough to have such a hands-on, committed chair of governors is another question – but if they do, Mahmood is also clear they are too rarely recognised at a system level, and are at risk of being lost as a result.
"These are volunteers offering their time up, we have to remember that," he points out. Also, he adds, unlike senior managers, he and most trustees are unlikely to move on after a few years because they don't have to build a career. "The board members are often the ones who are still there after senior managers have gone." As such, governors should be celebrated "as leaders of cultural change".
Governors are leaders of cultural change
To recognise this, says Mahmood, more explicit mentions of governors in Ofsted reports would be welcome, as would policymakers listening more closely to governors for their "different perspective", rooted as it is in industries, employers and communities outside the college gates.
But despite the frustration of under-recognition, Mahmood has a rallying call to all would-be governors, in his new position as chair of the Association of Colleges. The potential to lead, and make a significant impact, is greater than ever, he says.
"There's never been a better time to start influencing local, regional and national policy. FE is definitely in the spotlight in a way I haven't seen for quite some time. The FE white paper, the 'levelling up' agenda, the commission of the college of the future…"
To that end, Mahmood is positioning the AoC to be ready – to take stock of all the changes that have happened in the past 18 months, but also to look ahead.
So he and the board are calling for a review of the AoC's work, he reveals. "It's something myself, the board and [chief executive] David [Hughes] feel is the right thing to do. Just think what's happened in the past 18 months: the white paper, Covid, a new interim chief executive at the ESFA, a new FE commissioner. It's about looking at what we do, and how we can even better serve our members."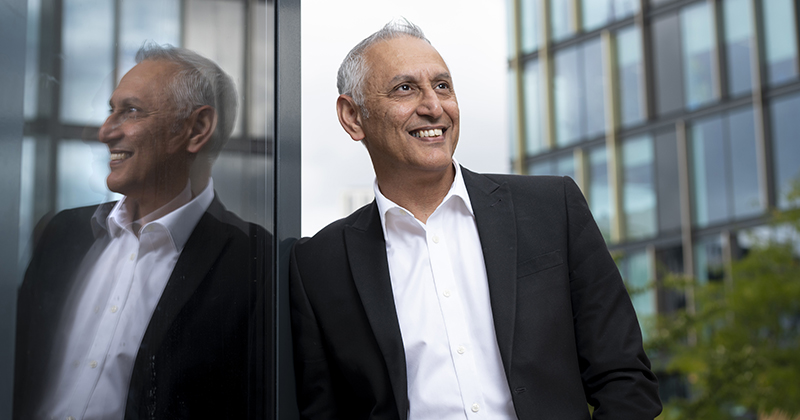 Mahmood is particularly interested in 'strategic marketing', which he describes as an "effective way of planning an approach to the future" from a "relationship management point of view". One relationship he's particularly keen to build is between FE and HE, both of which are "anchor institutions" for their areas, who can work "hand-in-hand to deliver community education".
He's also determined to support efforts to get more under-represented individuals into leadership in FE, so the attitudes that plagued him in his youth are robustly challenged. This is particularly important outside cities, he says, where communities may never see a community leader from a minority ethnic background.
Well, he's almost made me want to sit on a trustee board, so I can't think of a better marketeer to encourage more people in. Mahmood turns to me again, eyes shining. "It has never been a better time to be a chair of governors in a college."