After four years in the job, Jonathan Slater was unceremoniously sacked as permanent secretary of the Department for Education. Now he's calling for better accountability within the civil service
Jonathan Slater, former permanent secretary at the Department for Education, is on the phone to one of his daughters. He and his family have just moved house to south London, he tells me, and his 13-year-old is now braving the local bus route. On both the occasions we chat it's around hometime, and Slater picks up with lightning speed whenever she rings.
"It's the first time she's done it, it's no big deal," he says, airily, checking again whether she needs a lift, before adding with a sheepish grin, "I'm probably overdoing it."
It's been quite a time for Slater. In late August last year, after a chaotic year of late-in-the-day government communications during the pandemic, and following the public outcry over the grading fiasco, he lost his job.
Boris Johnson said the DfE needed "fresh official leadership" (although Slater was not blamed personally) and Slater was gone. He's said he only learned of his possible imminent departure because of a Times journalist's enquiry.
Since then, however, Slater has been careful to remain sanguine in public, saying, "When you become permanent secretary, part of that is the risk that you might be asked to step down." He'd lasted for four years of his five-year term, and had lost his job alongside several other permanent secretaries.
None too impressed, one civil service union boss accused the government of being "prepared to throw civil service leaders under the bus without a moment's hesitation".
But Slater, as in all of our interview, is determinedly politer about his former bosses, adding only, eyes twinkling: "One of the advantages of the prime minister having had enough of me is I have more time with the family."
When we speak he's returned from visiting his mum, a former children's social worker, and later this month his family are celebrating the life of his dad, who passed away last February and was himself a teacher across schools, further education and university. Both his parents were Guardian readers and life-long public servants, says Slater.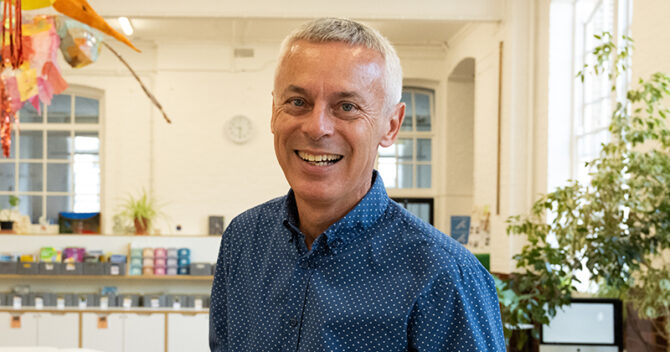 "I felt very proud of dad my whole life. It did mean when I went into the department, I was always thinking, I wonder what dad makes of what I'm doing."
Since leaving, however, Slater continues to be bugged by what the public – including teachers like his dad – think about government decisions and how they are impacted by them. He says a key question he used to ask new civil service recruits is what teachers and students would miss if the DfE disappeared tomorrow.
"Half a billion pounds would be saved. Would schools and colleges rejoice, or regret the fact there wasn't a central organisation to disseminate best practice? The point is we have to to be the latter."
Slater believes there's an issue facing civil servants and ministers, which can cause decisions not necessarily matched to what's needed on the ground. On this, he is refreshingly blunt: "Civil servants spend too much time in a room in meetings with each other and ministers and not enough time with families, teachers, parents."
Was this a big problem during the pandemic, I ask? After all, many colleges and schools were largely infuriated with the government's last-minute communication of decisions. There was even one explosive report from the Institute for Government, where Slater sits on the board, that said the government's decision not to make any contingency plans for college and school closures in the event of another lockdown has been its "single biggest failure".
Does Slater agree? He will not be drawn on pointing the finger. "I don't want to comment on whether ministers made the right decisions, contingency plans or anything else," he says. "I have my own views but they are views I want to hold onto."
I have my own views, but they are views I want to hold onto
But, he says, "if you look back at the pandemic, what you find is an insufficient focus on what the public at large will find acceptable and will work for them".
Take for instance, he says, the DfE's decision only to allow certain groups of learners into colleges and schools during lockdown. "A different approach" would have been to let parents and carers decide whether to send students in, having told them only half of the usual placements in colleges and schools were available.
"There are some students for whom it's more important to go in than others, and it may depend on circumstance." It would have been an alternative way of approaching the issue that might have worked better for the public, he says.
Similarly, the government told leaders they didn't need to close their college or school for a day to clean after a student had Covid, in line with scientific evidence. "But that's us looking at it from a theoretical point of view. In practice what leaders were doing was working out how to ensure parents were confident."
OK, I say. But the DfE can't pretend it wasn't sometimes warned what the public reaction to a policy might be. What about the warnings from staff months ahead of results day about the grading algorithm for A-levels?
Slater answers slowly. "So I would say […] these are difficult decisions, that ministers should be allowed to make. The lesson is that at the DfE and more generally across government, we should be more mindful at looking at things from the perspective of those on the ground."
There does seem to be a contradiction here: knowing a policy will be more effective if stakeholders are more deeply consulted, but also holding onto the civil-service idea that a politician has every right to come up with a different, technically sound argument if they wish to.
To Slater's credit, however, he's calling for an increase in civil servant accountability around decisions like this. This partly arises from his experience as a director of education at Islington council, where he says he felt more accountable than when he was in Whitehall.
"At the council, my job was to go to a public meeting and have to explain directly why we had to close this school. Contrast that with the civil service model, where […] I work for the minister, and it's my job to explain what the minister thinks. In local government I had to explain what I think."
Meanwhile in central government, one of the very few ways in which the permanent secretary is publicly held accountable is through a "direction", Slater continues – a public letter written to a minister when they have rejected civil service advice that a policy is not good value for money or lacks feasibility.
"It's to make sure I feel properly accountable, and it works both ways."
The 'feasibility' category of a written direction was only introduced a decade ago, says Slater, and he soon discovered he was the first permanent secretary ever to use it.
In 2018, then-prime minister Theresa May and former education secretary Damian Hinds both wanted T Levels to be ready from 2020. Slater's written direction to Hinds reads "it will clearly be very challenging to ensure that the first three T-levels are ready…to a consistently high standard".
"That's one of the most difficult things I did," says Slater, explaining he had asked the Treasury for previous examples of feasibility directions and was told there were no precedents. "It felt hard, going against the prime minister and secretary of state."
It felt hard, going against the prime minister and secretary of state
Slater did allow himself "a moment of humour" later on, when former skills minister Anne Milton also publically criticised the unrealistic timeframe, just as he had.
One consequence of civil servants rarely being on public record giving advice must be that it's quite easy for ministers to ignore that advice, I ponder. How often do ministers listen? I ask (after all, T Levels still rolled ahead on the original schedule).
Rather than abandoning a policy or its timeframe, says Slater, "they might change the language around it". Using a schools policy as an example, he describes Hinds's goal to halve the vocabulary gap among five-year-olds by 2030, because of the evidence this determines so many later life outcomes. But Slater's team challenged the proposal on feasibility terms. So Hinds called it a 'moonshot ambition' instead.
"That's a minister not making a cast-iron commitment. That's the sort of thing that would happen," he says.
Now Slater has taken up a new role as a visiting professor at King's College London, where he will look into this very issue: "civil service accountability" or as he puts it to me, "why the civil service is not as accountable as it should be". A lecture on his findings is due in November.
His solution for now is that government should be using "more qualitative rather than quantitative information" before making decisions and measuring impact. One of the policies he's proudest of is Opportunity Areas, and he doesn't believe their impact should be measured against hard targets.
"It's a relatively recent phenomenon, this idea that you judge the success of something on a numerical target. That's a modern new public management invention." The advantage is that ministers can say "tick, it's done, but the disadvantage is it might not relate to reality and how people are actually finding it on the ground."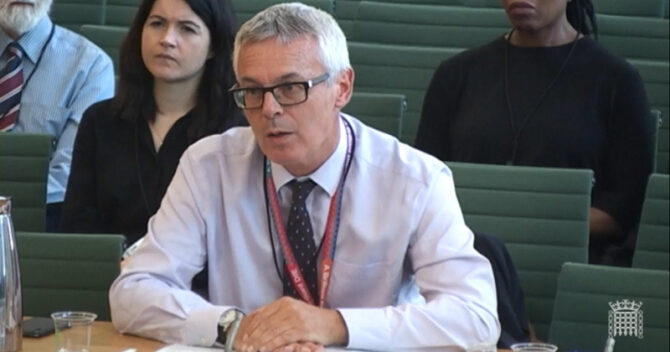 In some ways, it's surprising Slater lasted so long at the Department. He praises ministers for listening with respect – including schools minister Nick Gibb, who he says was the "most determined" minister he worked with, with "strong views".
But with his public service parents and values, it would be easy to see him as a bit "proggy". He was his department's diversity and LGBT champion, having himself proudly supported one of his stepdaughters through transition in her 20s. He also made efforts to increase minority ethnic representation in the DfE. Did his careful challenges cause him to fall out of favour with No 10?
Again Slater won't be drawn, but he does say later, "certainly No 10 has a strong influence on all the government departments at the moment".
One of his last acts was to meet with the prime minister and advise that if the government wished to take 'levelling up' seriously, it might consider evidence that "the attainment gap is the same whether you are an 'outstanding' or 'inadequate' graded institution."
"Clearly you can imagine a system in which you can't be outstanding if that is the case," explains Slater. He didn't hear back on the proposal, before he was fired.
It turns out Slater's daughter does need picking up, and, like any doting parent, he must go. He's determined to stay involved in education, he says, but now, like his parents before him, at the grassroots level.
He leaves me with a parting shot about the system he has left. "My concern about the civil service is it's spending too much time in meetings with itself – and not enough time on the frontline."