An apprenticeship standard is set to have its funding band doubled following the Institute for Apprenticeships' recent review.
The maximum cash on offer for the level three aviation ground specialist will increase from £3,000 to £6,000, according to Annette Allmark, director of strategic policy at People 1st, who worked with the employer group that developed the standard.
It's one of the least popular of the 31 standards included in the IfA's review, with just 30 starts in the first nine months of 2017/18.
A number of major employers, led by the Ministry of Defence, were involved in the development of the standard, which was approved for delivery in April 2016.
It's designed to train an apprentice to work on the ground in a range of different aviation environments, including a commercial airport or military base.
A number of specialist functions are covered in the standard, including aircraft handling and movement, flight operations, passenger operations and fire-fighting.
These are all focussed around the "arrival, turnaround and departure of aircraft and maintaining an aviation operation" and also include "knowledge, skills and behaviours to complete complex aviation tasks".
The IfA's funding band review, launched in May, was intended to "help make sure that employers can access high quality apprenticeships and that funding bands represent good value for money for employers and government".
It covers 31 standards – including some of the most popular.
Analysis at the time the review was launched found that the 31 represented 64 per cent of all starts on standards for the first half of 2017/18 (45,900 out of 71,720).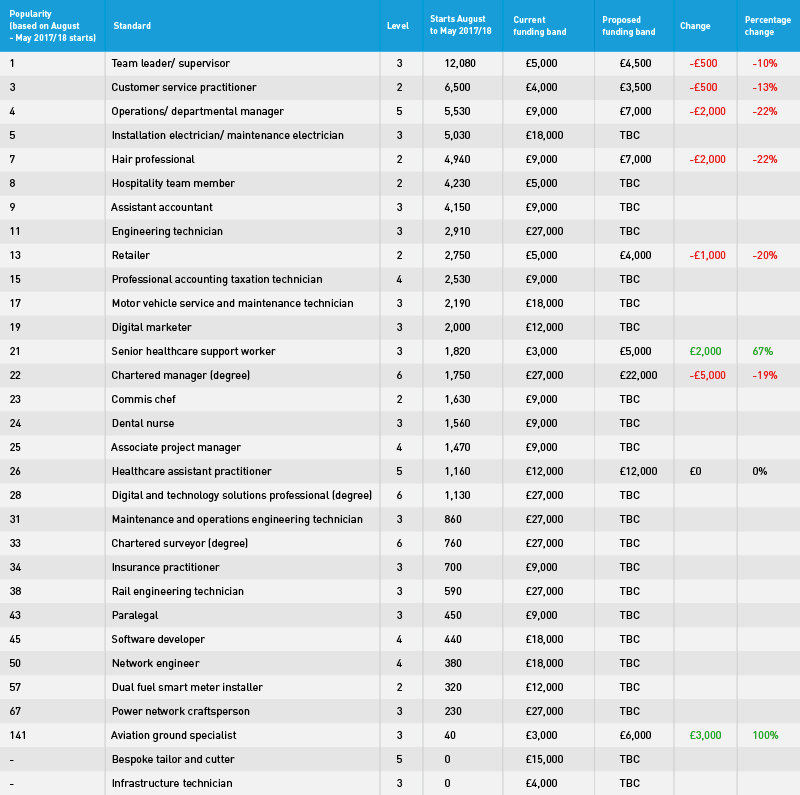 This is just the second standard that FE Week is aware of to have had its funding band increased as a result of the review.
The level three senior healthcare worker will have its maximum funding cap increased from £3,000 to £5,000 – a rise of 67 per cent.
Funding for the level five healthcare assistant practitioner standard will remain the same, at £12,000.
A further six standards are set to have their funding bands cut, including three popular management apprenticeships (see table above).
Each of these proposals is subject to potential appeal by the employer groups behind them, and final approval by the education secretary, Damian Hinds.
Writing for FE Week, the IfA's chief executive Sir Gerry Berragan insisted that the "collaborative approach" it had taken with the reviews was working.
Some of the reviews had resulted in recommendation that the bands "stay the same, some increase, and some decrease", he said.
The IfA has also refused FE Week's request for a full list of its recommendations, insisting it would be "premature" to do so.