The contract to run the government's FE course directory could be sold on as part of a deal that could net £15m for Health Secretary Jeremy Hunt.
The Tory MP co-founded and partly owns Hotcourses, which hosts and provides a database for the National Careers Service (NCS) online course directory, which FE Week understands is worth £11m.
Hotcourses, which also runs a similar, competitor online course directory commercially, is understood to have brought in Ingenious Corporate Finance to advise on strategic options, according to Education Investor magazine — and one of the options could be a sale.
The company, which is on track to make profits of £4m this year and is 49 per cent owned by Mr Hunt, is estimated to be worth around £30m.
A spokesperson for the Skills Funding Agency (SFA), which oversees the NCS, told FE Week: "We have a contract with Hotcourses to provide course data in support of the National Careers Service course directory.
"If Hotcourses is sold we would expect the contract to be novated to any new organisation to ensure continuity of contractual requirements.
"It is not possible at this stage to anticipate any implications as a result of any change to supplier."
A number of potential buyers are thought to have been approached, but it is not clear how far any talks have progressed. Hotcourses declined to comment.
According to information obtained from the SFA by FE Week under the Freedom of Information Act, the NCS course directory gets 36,200 hits and an average of 150,000 searches is conducted per month.
However, the directory has come under fire in the past over poor quality of data.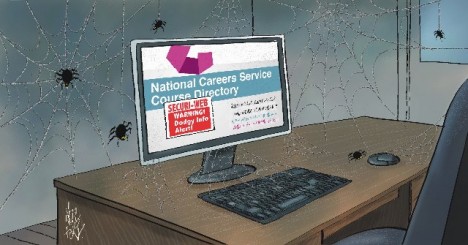 Submitting information to the directory is contractual requirement the SFA has given providers, but concerns were raised last year over the directory failing to adequately display the options available to people searching for courses.
A 'dashboard' was implemented, giving providers a rating based on the quality of data they uploaded.
However, Stephen Hewitt, Morley College's strategic funding, enrolments and examinations manager, was critical of the website's online profile having attended sector feedback meetings about the directory with the SFA and the Information Authority.
Speaking to FE Week back in February, he warned further investment would be needed to improve the search engine ranking of the course directory.
"I've yet to see the course provider's directory on the first page of Google, which effectively means it doesn't exist," he said.
Mr Hewitt pointed out prospective learners would simply enter their desired course and location into a search engine and would find, as he had, the top results were local college websites or Hotcourses' own commercial directory.
"I just don't see the point of the directory — there is already a course provider directory available and easily searchable by the public and it's called Google," he said.
He said there were "genuine concerns about the entire validity of the project".
An SFA spokesperson said at the time that support was available for providers, including a dedicated team of information officers, contactable at support@coursedirectoryproviderportal.org.uk.