Training providers are flooding the government's Find Apprenticeship Training website with hundreds of locations they have no permanent presence in, to get around a search function that only allows employers to filter geographically.
FE Week found one provider listing itself as having nearly 400 different sites from where it can deliver training, most of which are residential homes.
This tactic, which has been sanctioned by the Education and Skills Funding Agency, optimises providers' search rankings to appear near the top for apprenticeships around these areas, as the site restricts searches by location.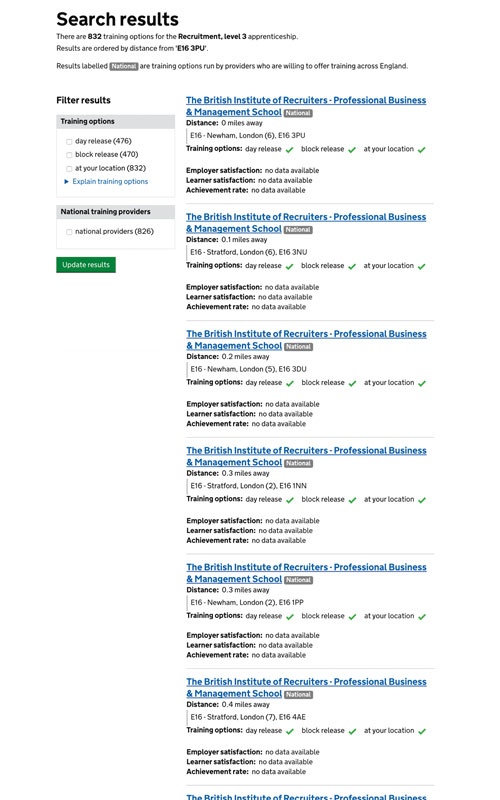 One of the most high-profile examples is that of Lifetime Training, a provider with a giant £37.2 million allocation to deliver training this year, which plotted itself 189 times for the business and administration level two standard.
The provider's boss, Alex Khan (pictured), who was awarded an MBE in the New Year honours list, explained this was the "purest way" of getting across that his organisation is a "national provider" on the government site.
He inputs the home postcodes of tutors he employs to deliver work-based learning so that any employer or apprentice looking for a provider in their area is aware that Lifetime Training can train them.
"We worked with the ESFA on this one," he told FE Week. "When you do a search, it does it on a geographical radius from the point of where the potential learner or employer is.
"The most logical way of doing this for us, because most of our training delivery is done on site, is that we utilise the locations of our trainers.
"So if you put Birmingham and we have a whole bunch of trainers in that particular area, it would show we have a presence.
"There is nothing sinister about this but we need to demonstrate we have the national coverage. We can do everything everywhere and therefore we should feature to actually have the capabilities."
The most logical way of doing this for us… is that we utilise the locations of our trainers
He admitted that it doesn't seem like the "most sophisticated way of doing it" but that it is "pure".
The Department for Education told FE Week that it doesn't mind if providers use Find Apprenticeship Training like this, as an organisation that offers an apprenticeship doesn't need a permanent site, as long as it actually delivers in an area.
"Organisations listed on the Register of Apprenticeship Training Providers are eligible to use Find Apprenticeship Training to promote their apprenticeship offer, and are responsible for keeping their information on the course directory up to date," said a spokesperson.
Other providers employing this tactic admitted they had similar motivations.
"We approached the directory by listing postcodes in areas our tutors are based, to ensure our provision comes up in searches where we nationally deliver," said Azmat Mohammed, director of the British Institute of Recruiters, which bombarded the government site with 372 different postcodes, mostly around London, for the level three recruitment apprenticeship standard.
And at the business and administration level two standard, Professional Training Solutions listed itself over 150 times, while CQM Training & Consultancy inputted nearly 100 different locations.
"CQM Training & Consultancy Ltd is a national award-winning provider which delivers tailored business improvement programmes mainly on employers' premises," said Andrew Cheshire, its managing director.
"It is important that we reflect our ability to deliver nationally on the government's Find Apprenticeship Training website and we are proud to offer our successful programmes anywhere in England."
Professional Training Solutions did not comment.