Top Education and Skills Funding Agency officials have suggested they are not concerned about the financial health of the independent training provider sector, despite several high-profile closures and market exits.
Senior agency directors told the Association of Employment and Learning Providers (AELP) autumn conference this week that data they have gathered shows the sector's finances are looking positive.
The comments followed multiple interventions from provider leaders attending the conference highlighting significant financial challenges, specifically around poor apprenticeship funding rates and increasing costs.
AELP's director of policy, Simon Ashworth, said ITP financial health "has never been as bad as it is now, from what I see".
However, Andrew Thomas, director of finance and provider market oversight at the ESFA, said this didn't tally with the financial data he was getting from providers themselves. "It does feel like the tone of the conversation this morning hasn't quite been in line with what you're saying to us in terms of financial health," Thomas said.
He explained that the agency uses a "rolling programme" of monitoring financial statements and an annual review of "around 60" training providers' financial forecasts to determine the financial health of the sector.
Both are returning positive results, Thomas said.
According to the agency's review of financial statements for the most recent financial year, 60 per cent of ITPs are rated good or outstanding for their financial health, down from 66 per cent six months ago.
The number of ITPs scoring inadequate for their financial health remains "very low" Thomas said, with seven per cent currently judged inadequate, up from 6.5 per cent six months ago.
Early analysis of the "around 60" sampled training provider financial forecasts painted an even more positive picture.
Thomas said that, of those sampled, 61 per cent of training providers were forecasting good or outstanding financial health this year, rising to 65 per cent next and 91 per cent the year after.
Provider bosses were left aghast at the remarks and were critical of the agency's methodology for forecasting the financial health of the training sector.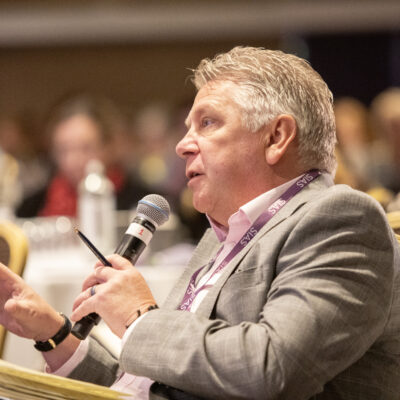 Ashworth pointed out that financial forecasts will always be "optimistic" because providers want to avoid agency intervention.
One provider boss, whose company was sampled this year, described that the financial information he was asked to provide was "very basic" and didn't look at the finances of groups that providers could be subsidiaries of.
And Paul Warner, AELP's director of strategy, said he was "shocked" that sudden policy changes, like the abolition of traineeships, and procurement outcomes, which can cause ITPs to "suddenly go bust", didn't factor in the agency's evaluations.
Kirsty Evans, director of post-16 regions and FE provider oversight at the Department for Education, encouraged training providers to be "as open as they can be" about their financial challenges in strategic conversations with officials.