UPDATE AT 8.24AM Friday, July 31: Apprenticeship vacancy matching service up and running (see foot of story)
Frustration is growing as providers remain unable to access the apprenticeship vacancy matching service or post new adverts — three days after it should have reopened following maintenance.
Provider access to the website which allows them to advertise apprentice job opportunities to potential learners was shut off as part of a planned closure on Thursday (July 23) to switch suppliers which was planned to end first thing on Tuesday morning.
However, three days later, although members of the public can view and apply for jobs posted on the site, providers are unable access applicants' details or post new vacancies — and the Skills Funding Agency (SFA) said it has no idea when the problem will be fixed.

Provider staff have taken to Twitter in desperation, asking @sfadata for news. Among them was Kathryn Osborn (see below) who wrote: "It's a joke employers are waiting and there will be loads of applications waiting to be screened."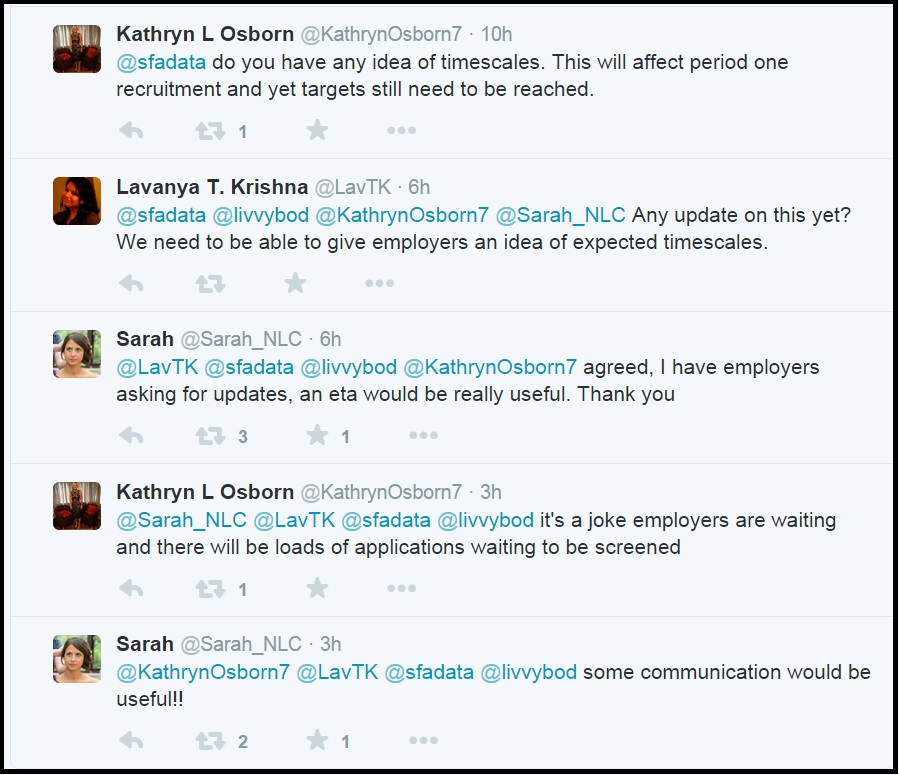 An Association of Employment and Learning Providers spokesperson told FE Week: "Given that school leavers are now trying to enter the employment market it's important that vacancies site is back up as soon as possible."
And dissatisfied providers also took to the SFA-run FE Connect help forum to complain.
One user, Blackledgeds, said: "Do you have any idea when the apprenticeship vacancies website will be up and running?
"I have 3 sets of interviews tomorrow and I need to be able to contact applicants today to arrange interviews for them."
Another, user name chrislant1, said their company had 17 vacancies it needed to place on the site and "numerous" interviews to arrange using applicant details.
The user said: "We have now not been able to contact any applicants for a week.
"This is not acceptable, we are unable to provide any guidance for applicants or information.
"At the moment there must be thousands of applications which have not been read or responded to just sitting there."
The SFA's representative on the forum said at 9.29 this morning that there was no "eta" — estimated time of arrival — for the service, but added the apprenticeship vacancies site was "the current priority".
So far he has yet to respond to a request for an update at 11.10am.
An SFA spokesperson said: "Our priority is working on the apprenticeship vacancy website, the issue is that the find an apprenticeship website is up and running for the general public but providers are currently unable to publish new vacancies.
"We have sent a communication to all apprenticeship vacancy users today and have set up a specific e-mail address should any particular apprenticeship vacancy users wish to get in touch."
The planned closure also include the SFA's Hub service, the online data uploading system, which allows providers to submit their Individualised Learner Record data to the Skills Funding Agency (SFA) in order to process payment — that remained closed for an extra day after it was supposed to reopen, causing concern over whether providers would be able to meet the August 6 deadline for the twelfth monthly data return (RO12) for 2014/15.
The data collections facility on the Hub has now been reopened, allowing provider to upload data, although the finance and contracts hub remains down.
---
Update: Friday, July 31 8.24am
The apprenticeship vacancy service is now up and running — four days after it was due to reopen following maintenance work.
The Skills Funding Agency (SFA) tweeted from the @sfadata account at 10.40 last night: "Our apprenticeship vacancy site is now back up and running – providers can post vacancies."

An SFA representative posted also update on the FE Connect help forum at 8.24 this morning.
The post said: "The AV system is now back online and providers can now post and manage vacancies."
It added: "We apologise for any inconvenience caused by the delay in restoring our systems."
The email account the SFA set up yesterday for concerned providers has received "a number of queries" the post said.
It added: "We are now replying to each of these."