England's first college to be put through the government's insolvency regime is selling off a huge parcel of land, as the local community fights to reopen its popular farm shop.
A total of 45.42 acres – equivalent to 25 football pitches – has been put on the market for £580,000. The college entered education administration in May 2019.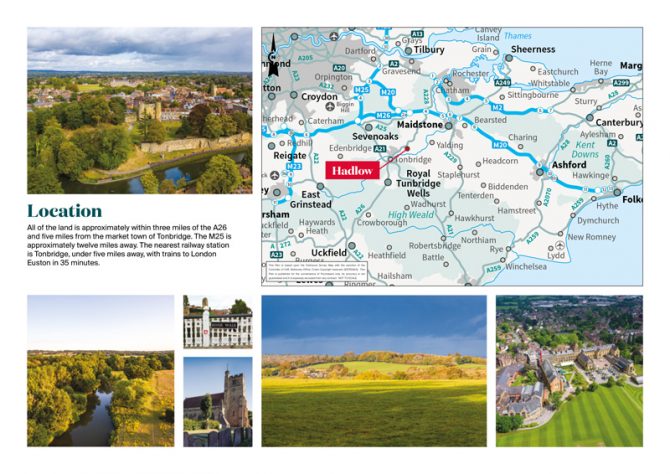 A brochure for the sale by estate agent Knight Frank (pictured, left) said the five lots up for grabs are separated into various field enclosures and would be "suitable for agricultural, equestrian or other leisure uses".
The college and its sister institution West Kent and Ashford College (WKAC), which entered administration in August 2019, have seen their campuses and sites split up between local providers.
Capel Manor College, EKC (East Kent College) Group, and North Kent College (NKC) took over the two colleges' educational provision over the course of last year.
Administrators BDO declined to comment on what the proceeds of this sale will go towards. Their latest administration report shows they have received 177 claims from unsecured creditors, totalling £20.8 million, to date.
Meanwhile, a petition is running to ask North Kent College, which took over the main Hadlow College site in Tonbridge, to keep its on-site farm shop open.
At the time of writing, there are 644 signatures on a Change.org petition entitled Save Hadlow College Farm Shop.
The shop was closed last year by Hadlow College before North Kent College took over in August 2020. It was not part of the transfer of facilities
to NKC and is not part of the land sale.
BDO's latest progress report on Hadlow College's administration, published in December 2020, says a marketing exercise was undertaken to sell the farm shop, but there was "insufficient interest to support a commercial transaction", which directly led to its closure.
The petition, started last year, calls on NKC to reopen the shop as it has "played a vital role in our neighbourhood for many years. During lockdown, its staff have gone above and beyond to serve the community. Please help us not to lose it," it asks readers.
Petition organiser Anne Waddingham told FE Week they had held out hope for the facility to reopen after local MP Tom Tugendhat met with NKC's principal David Gleed.
Tugendhat wrote on his website last September, following the meeting, that the closure of the shop "has hit the community hard".
But: "I was encouraged following my conversation with David that there could be a future which can serve local residents.
"In the case of the farm shop, North Kent College are considering how a shop in this location, with alternatives not far away, could be run sustainably."
The shop was not transferred to NKC as it was not directly linked to the college's education provision, Tugendhat wrote.
But NKC was "looking at how a farm shop can better work with the courses students are studying at the college, so that there is benefit for those learning too".
Waddingham said she had "heard nothing since then, which is disappointing".
An NKC spokesperson said it has "never operated the farm shop and at present have no plans to reopen it".