The FE Commissioner has finished his work at New College Nottingham (NCN) after overseeing dramatic improvement with its financial position.
A spokesperson for the Department for Business, Innovation and Skills (BIS) told FE Week that "the intervention at NCN has ended".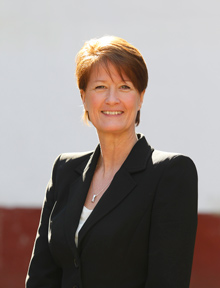 Commissioner Dr David Collins' initial visit to the 20,000-learner college from February 9 to 13, was prompted by a Skills Funding Agency notice of concern over its finances.
His report published in July called for careful implementation of a "well thought out recovery plan," to be overseen by Dr Collins as NCN worked towards merging with 20,000-learner Central College Nottingham (CCN).
Dawn Whitemore (pictured right), NCN principal who has written an exclusive expert piece for FE Week on how the college achieved the improvements, told FE Week she was delighted the college's progress had been recognised by Dr Collins.
She said: "We're on track to achieve our planned £1m surplus in 2015/2016."
Dr Collins launched an area review of FE provision for Nottingham in May, following grade three Ofsted inspection results for NCN and CCN, which prompted the merger announcement.
Both colleges confirmed that a project manager had been appointed to help oversee the merger process.
Click here for Ms Whitemore's expert piece outlining NCN's road to recovery