Sixth Form College (SFC) leaders were today in the dark about whether Chancellor George Osborne's announcement they could become academies to escape VAT would also allow them to escape post-16 area reviews.
Mr Osborne announced during his Budget speech that the government would allow SFCs to become academies "so they no longer have to pay VAT".
It was welcomed by the Sixth Form Colleges' Association (SFCA), which recently led a campaign backed by more than 18,000 people who signed a petition calling for an end to the anomaly of SFCs having to pay VAT, while schools and academies get a refund on the 20 per cent tax.
However, the Department for Education (DfE) declined to confirm to FE Week whether SFCs that gained academy status would be exempt from post-16 education and training area reviews.
A DfE spokesperson would only say that "further details will be clarified in due course".
James Kewin (pictured above), deputy chief executive of the SFCA, said: "We understand the area review process will be the means by which applications for academy status will be considered."
He added this would introduce "a degree of urgency to the process, as some SFCs are already half-way through their area review.
"Many SFCs are interested in academy status and we welcome the decision," he added.
The first wave of area reviews launched since September for Sussex Coast, West Yorkshire, Tees Valley, Sheffield City, Solent, Birmingham and Solihull, and Greater Manchester, involve 33 SFCs and 50 general FE colleges — but no schools.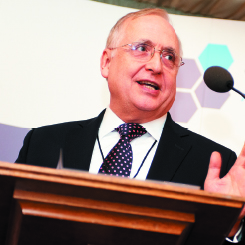 David Igoe (pictured right), SFCA chief executive, who will be standing down early next year and has written an exclusive expert piece reflecting on the academies announcement for FE Week, said he did not think there would be a danger of SFCs losing their identities as part of academy chains.
"I think that in many cases SFCs will be the lead instigators with local schools, so they will, for example, keep their names."
He added: "If the Chancellor wanted to give us a Christmas present then he succeeded. These concessions were
on my personal wish list to achieve before I hang up my boots at the end of March."
The DfE spokesperson said allowing SFCs to join existing or start new academy chains would "help drive up standards and improve efficiency of 16 to 19 education institutions".