Skills minister Alex Burghart has made his first trip to a college since being appointed, in one of a number of visits by politicians to further education and skills providers this week.
The minister, who was appointed last month, took a tour of City of Wolverhampton College on Thursday after having previously visited a T Level school and a skills bootcamp provider.
"Great outing to Wolverhampton, thank you City of Wolverhampton College and [Conservative MP] Stuart Anderson for having me," Burghart posted on Twitter afterwards.
He also visited Walsall College yesterday, with the provider tweeting: "Some excellent conversations have taken place this afternoon, with Alex Burghart listening to everything we had to say about T Levels, apprenticeships and vocational course opportunities."
Gove visits college to see 'levelling up in action'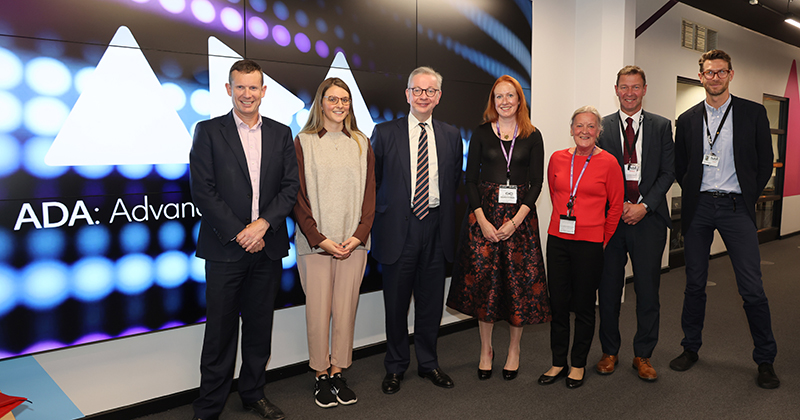 On Wednesday, minister for further and higher education Michelle Donelan visited Swindon and Wiltshire Institute of Technology to launch a wave of 65 short and modular technical courses.
Levelling up and communities secretary Michael Gove was another political leader who went to college this week, visiting Gloucestershire College's new Advanced Digital Academy on Tuesday.
The former education secretary met with cyber degree apprentices, T Level students and staff on Ada Lovelace Day, which commemorates the famous mathematician and is intended to celebrate women in science, technology, engineering and maths.
"It's exciting to see levelling up in action," Gove said of his visit.
Starmer makes first visit to an independent provider
Labour leader Keir Starmer attempted lorry driving at apprenticeship provider Mantra Learning's National Logistics Academy on Tuesday.
Starmer made headlines during the visit when he hit a fence while reversing a lorry, causing the instructor sat next to him to remark: "You would have failed your test."
He tweeted following his scrape: "It takes weeks of training to drive an HGV. Thanks to Mantra Learning for showing me how it's done."
Donelan's visit was intended to publicise the free courses, which are being offered through ten of the 12 institutes of technology.
However, she faced questions during the trip over the government's decision to pull funding from level 3 applied general qualifications such as BTECs, in favour of the government's own T Levels.
This week, a cross-party group of 118 MPs and Lords wrote to the new education secretary Nadhim Zahawi, calling on him to "recalibrate" the government's "disastrous" plans to scrap the majority of BTECs.
"One thing you can be sure of is we will ensure there is a good range of courses, these are high quality, and young people have those opportunities to go into whatever career they want," Donelan told the BBC.
In addition to this week's outing, Donelan paid a visit to Bury College last week to speak to staff and students about the provider's new T Level courses.
The new education secretary, Nadhim Zahawi, has already visited a college, making the trip to Barnet and Southgate College a couple of days after he was appointed in September.