A minority of colleges are still failing to address areas of concern identified last year, FE Commissioner David Collins has warned.
In his 2014/15 annual report, Dr Collins said challenges already dealt-with by most providers were still proving problematic for others.
He said the interventions undertaken in 2014/15 suggested that there were "still a number of problems in colleges that could be considered to be 'basic' and highlighted in last year's report, which the majority of the sector has long since addressed".
In the report, Dr Collins identified a number of key areas of weakness, including the role of the clerk, governance, leadership and management, quality improvement and financial health.
He also reiterated a point made in the government's Reviewing post-16 education and training institutions report, which expresses the need to move towards "fewer, often larger, more resilient and efficient providers".
Dr Collins said: "After a period of intense competition between institutions, the new approach is to encourage collaboration and the creation of fewer and larger institutions that will be better placed to deliver high quality and relevant training in a more stringent environment, while creating stronger specialisation."
He added that this would be especially significant for weaker colleges, such as those struggling financially or those with "quality issues".
In last year's report, Dr Collins detailed his concerns about the future of small colleges, and said "consolidation and indeed some specialisation" would be needed.
He also commented on the limited skillsets of some governing bodies, slow responses by college leaders to changing financial situations and problematic differences in the role of clerks between colleges.
This year's annual report summarises the work of the FE Commissioner and his team through interventions from August 1, 2014 to July 31, 2015, with updates on the colleges assessed to the end of October 2015.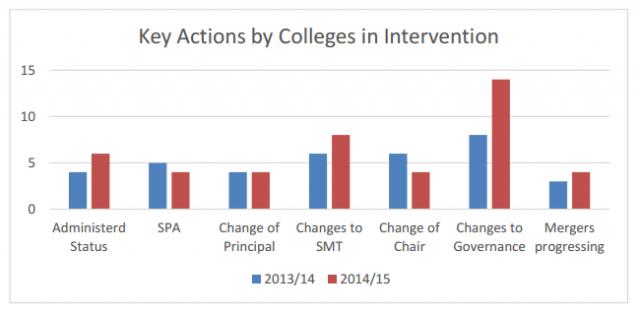 Over this period 21 cases were referred to the commissioner, with seven of these (33 per cent) triggered by an inadequate Ofsted inspection and 14 (67 per cent) because of "financial concerns".
Each of the organisations visited underwent a two week intervention or review. At Redcar and Cleveland College, Lewisham Southwark College, Greenwich College and West Cheshire College, this was followed by a more detailed Structure and Prospects Appraisal (SPA).
As a result of these appraisals, the report says new partnership arrangements have been put in place at Redcar and Cleveland College, Greenwich College and West Cheshire College, while Lewisham Southwark College continues as an independent institution with an altered board membership and curriculum offer, and a new principal and management team.
During the year, six colleges were also placed into 'administered college' status by Skills Minister Nick Boles, following FE Commissioner intervention.
The report says Bournville College, City of Bristol College, Central Sussex College, Weymouth College, Greenwich Community College and Lewisham Southwark College have all responded to this process either by making significant changes in-house or by pursing a merger.
Weymouth College underwent what the report describes as an "accelerated recovery", as previously reported in FE Week.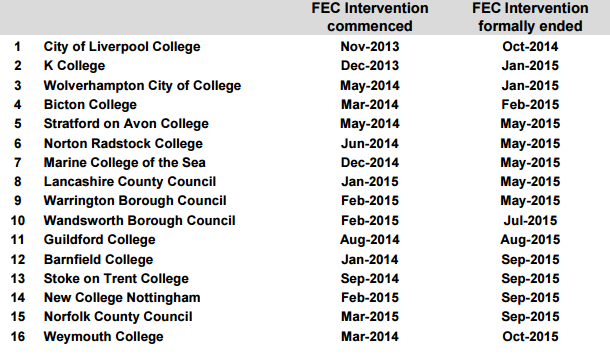 Overall, 12 colleges and four councils saw an end to formal interventions by the FE Commissioner during the year, as their problems were seen to be satisfactorily resolved (see table).
In conclusion, Dr Collins said it was "perhaps unfortunate" that the annual report of the FE Commissioner by its very nature "concentrates on those colleges that are in difficulty and therefore does not give credit to the excellent work that is being carried out throughout the sector".
He added that it was "encouraging" that twelve colleges and four local authorities have resolved their problems.
Skills Minister Nick Boles, who wrote the foreword to the report, said he had seen "many examples of outstanding practice, some of which match the best in the world".
He said: "For the minority of colleges where either quality or financial management is not good enough, it is essential that robust and swift action and monitoring is put in place to secure improvements for the learners and employers they serve
"Dr David Collins was appointed as FE Commissioner in November 2013 to assess the position of colleges found to be inadequate in terms of quality or financial management. I am delighted that two years on we can see the benefit of his work in institutions that have turned the corner, and are achieving stronger results."