Exeter College reigns supreme as the best college in the country for the second year running in FE Week's exclusive league table.
This year's NICDEX gave 202 colleges a score of up to 40, with 10 marks available in four categories: learner satisfaction, employer satisfaction, 16-to-18 positive progression and adults into employment.
The league table was devised last year by Nick Linford, FE Week's editor and a former director of performance at Lewisham College, based on key criteria published by the Department for Education.
Exeter College, which was led by Richard Atkins until he retired in March 2016 and become FE commissioner, topped of the leader board with an impressive score of 35, scooping a perfect 10 for employer satisfaction and nine out of 10 for both learner satisfaction and 16-to-18 positive progression.
The college's principal and chief executive John Laramy said he was "delighted" that it was top two years running, and thanked everyone "involved with or connected to" the college for their "engagement and support".
"Our success is not down to luck. We have amazing students, great partners, committed employers, exceptional staff and astute governors," he said.
Second place was shared by Kendal College, Barnsley College, Petroc in Devon, and Northampton College.
All four came in just one point behind Exeter with a score of 34.
Both Kendal and Barnsley received full marks for learner and employer satisfaction, but Kendal dropped marks on 16-to-18 destinations and Barnsley on adults into employment.
Barnsley's principal and chief executive, Christopher Webb, described the ranking as a "fantastic achievement" and "an accolade the whole college can be proud of" after it climbed from joint third in last year's inaugural table.
"We work exceptionally hard to ensure our students enjoy their time with us and progress to higher education or employment, and we are continuing to build strong working relationships with all of our stakeholders," he said.
"To be ranked second in the country means we are definitely doing something right."
Kendal's principal Graham Wilkinson said the college was "delighted" with the result, after it was also ranked joint second last year.
"We appreciate the views of both our employers and students and are very proud of our sustained destination data and our strong record of ensuring local unemployed students' progress to long-term employment," he said.
Petroc improved this year, after it came joint seventh in 2016, receiving a perfect score for employer satisfaction and nine out of 10 for 16-to-18 destinations.
Petroc's principal and chief executive, Diane Dimond, said she was "delighted" to be joint second, and congratulated Exeter College, saying "we are pleased to see Devon colleges leading the way nationally".
"At Petroc we are all absolutely committed to delivering excellent teaching and learning experience and outcomes for all of our students. It is great to see our staff team's hard work recognised," she added.
Northampton College received 10 points for learner satisfaction and nines in employer satisfaction and 16-to-18 destinations, but was not available for comment.
Explained: Our league table and points-based method
Nick Linford
The NICDEX is back! After a successful inaugural edition launched at the annual AoC conference last year, we return with a new and improved college league table.
The government has legislated to improve the way it reports learner destination data, and this year I've replaced the apprenticeship allocation score with a new DfE measure on the percentage of young learners (at key stage 5) progressing positively into further learning, an apprenticeship or work.
The overall score for each college is based on a balanced scorecard approach, covering satisfaction and progression. It was what the Framework for Excellence had been intended to be, but it lost its way as it morphed into a simple satisfaction survey through FE Choices.
For those wondering why I have chosen not to include qualification achievement rates, it is well recognised that an overall all-age, level and sector-achievement rate tells you little to nothing about how good a college is.
I've also chosen not to include Ofsted grades in the NICDEX because they represent a snapshot in time, and many colleges go long periods without a visit.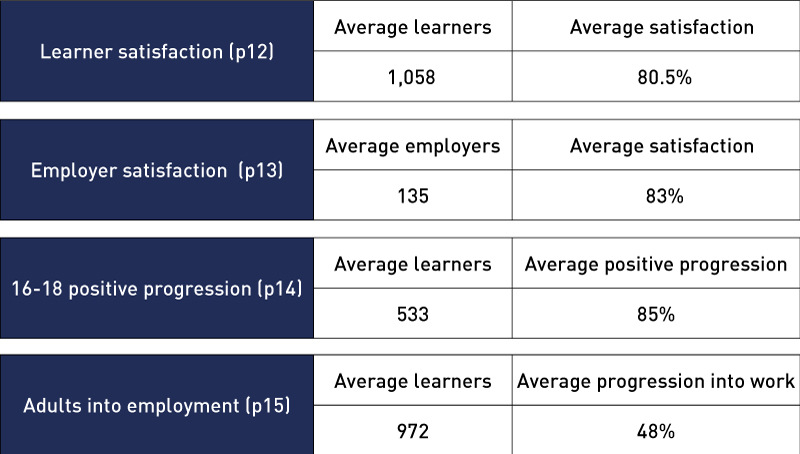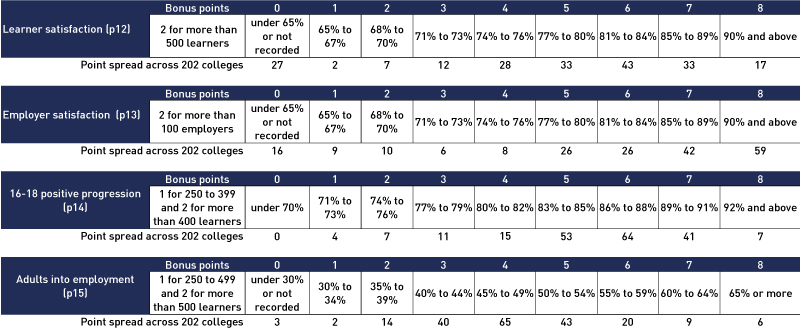 Click on the images below to view the tables