Proposed funding for 16 to 18 year-old apprentices will result in current rates to colleges and training providers being cut by around 30 per cent, rising to over half for those apprentices living in the most deprived areas of central London, FE Week can exclusively reveal.
Astonishingly, this compares with the funding for many learners aged 24 and over going up, particularly those living in affluent areas outside the South East and working for large employers. In one example, the proposed adult funding is nearly quadruple current levels.
The analysis for some of the most popular apprenticeship frameworks was conducted by FE Week. It is based on new proposed new 'upper limit' funding levels and a £1000 16 to 18 incentive paid to the provider, for apprenticeship framework starts from 1 May 2017 published by the Skills Funding Agency last Friday.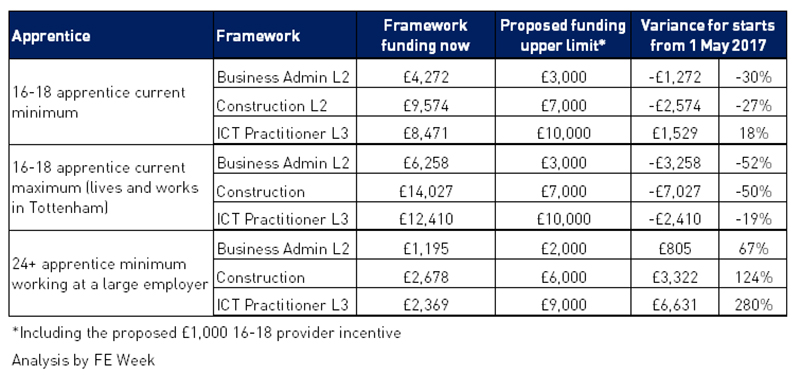 The level 2 in business administration has the highest volume of 16 to 18 starts according to government figures, and our analysis (click here) shows they face between 30 per cent (-£1,272) and 52% rate cut (£3,258). Yet an adult aged 24 or over at a large employer would be funded 34 per cent (+£506) more than their current levels.
The level 2 in construction framework has the second most 16 to 18-year-old starts so far this year, and our analysis (click here) shows they face between 27 per cent (-£2,574) and 50% rate cut (-£7,027). Yet an adult aged 24 or over at a large employer would be funded 124 per cent (+£3,322) more than their current levels.
The level 3 in ICT Practitioners is a popular framework across all ages, and in February the SFA said it was over-paying so reduced the funding levels (all other framework rates have stayed the same since 2012). Yet, last Friday this framework was classified as a STEM pathway so receives an 80 per cent uplift. As a result our analysis shows (click here) the 16-18 funding impact ranges from an 18 per cent increase (+1,529) to a 19 per cent cut (£2,410). However, the 24+ apprentice living in a non-deprived area and working at a large employer would see their funding rise £6,631 and almost quadruple from £2,369 to £9,000. 
FE Week showed the analysis to Mark Dawe, chief executive of the Association of Employment and Learning Providers. He said: "Our member providers have also been running the numbers this week and they are very concerned at what they're looking at.  For many popular sectors, the proposed rates will undermine the prime minister's social mobility agenda.  In fact feedback suggests that large numbers of providers will withdraw provision altogether because the rates will not be viable not only in terms of basic delivery but for offering a good quality programme for the employer and the apprentice.  All the good work in establishing the apprenticeship brand will quickly become undone.
The cuts to 16 to 18 in deprived areas and rises to adults in wealthy areas come as result of the SFA seeking 'simplification'. It proposes removing many of the long standing variables within the current funding methodology.
The proposed upper limits are based on a 'historical volume weighted' [see SFA explanation at end of article] mix of current 19 to 23 and 24+ adult funding rates, and take no account of: the current additional funding for 16 to 18 apprentices (more than double the current 19 to 23 adult rate); a disadvantage uplift for an apprentice living in a deprived area (up to 32 per cent more); a delivery in the south east (up to 20 per cent more in central London) and a reduction for working with large employers (25 per cent). The highest funding levels therefore currently go to 16-18 apprentices living and working in Tottenham, classified in the SFA methodology as the most deprived part of central London.
Mr Dawe added: "The apparent removal of the location element [disadvantage uplift] is particularly alarming – again, hardly helpful for the social mobility agenda.  We want apprenticeships to grow in all areas but there is an issue with urban youth which needs to tackled.  Providers are working very hard for example to encourage employers to take on more apprentices from BME backgrounds who are underrepresented on the programme and they will find it very difficult to maintain this effort if the rates are not revised.  Officials are stressing that the consultation is genuine however so we would urge providers and their employers to share their views with AELP and respond to the government consultation."
FE Week also sought a reaction to the analysis from the SFA. This is what an SFA spokesperson said, in full: "In future we will be putting funding in the hands of employers and the system needs to be simple for them to navigate, choose the apprenticeship training they want to purchase and negotiate on price.  That means we have to simplify some of the complex funding arrangements that currently exist, while retaining the right incentives for high quality training. 
"We know that taking on a younger person entails some extra cost to employers and providers and that's why we propose to give them each a cash payment of £1,000 when they train a 16 to 18-year-old, or a 19 to 24-year-old care leaver or someone with an Education and Health Care Plan.  They will have freedom to use this money however they choose, for example to provide extra mentoring support in the first few months of the apprenticeship.
"In addition, for all STEM framework pathways we propose to increase the current government-funded adult rate by 40 per cent at Level 2 and 80 per cent at Level 3 and above, and then allocate these frameworks to the nearest funding band.  This uplift takes into account the fact that employers of these apprentices are currently disproportionately likely to be paying extra to providers on top of the funding provided by government. 
"Over the course of the parliament, we will phase out the current apprenticeship frameworks so that all new apprentices undertake standards.  Standards are higher quality and more rigorous and so more expensive to deliver.  This is recognised in the current funding system and we will recognise it in the new system by allocating higher funding bands to apprenticeship standards.
"We will engage with employers and providers over coming weeks and conduct further research to establish whether this proposal provides an appropriate level of support for younger apprentices.  We particularly welcome evidence-based feedback from employers and providers on the investment they currently make in supporting younger apprentices."
Nick Linford is editor of FE Week and author of the Complete Guide to Apprenticeship Funding.
---
The SFA supplied FE Week with a more detailed explanation than in their document concerning how they assigned the upper limits to apprenticeship framework pathways. They said: "In the calculation we take into account co-funding for both 19-23 and 24+; this means the rates are 50% of the overall published rate for 19-23 and 40% of the published rate for 24+. We weight the rates according to the volumes of 19-23 and 24+ starts; therefore in framework pathways where there are 24+ starts the calculated rates will be lower than the 50% in the example. We also assign the pathway to the closest band, not the next band above the rate. For example; a calculated rate of £1,700 is assigned  to the £1,500 band but a rate of £1,800 is assigned to the £2,000 band."