The apprenticeship levy "will not level up Britain" without serious reform, the cabinet minister that introduced the policy has said.
Justine Greening, along with the former skills minister Anne Milton and eight business leaders, have written to chancellor Jeremy Hunt urging him to launch a formal review of the levy in next week's spring budget.
The intervention, seen by FE Week, points to "billions of levy [funding] going unspent by employers" as their main argument for reform.
"There is a real opportunity for reform, not least having more transparency and engagement with employers on how that centrally returned levy is invested," the letter says.
The former ministers are the latest figures to claim the apprenticeship levy is suffering from huge underspends. While that was true for the early years of the levy, data obtained by FE Week in December showed that just 0.4 per cent of the apprenticeships budget went unspent in 2021/22, reigniting fears the budget could soon run dry.
Current skills minister Robert Halfon has denied the need for controls on apprenticeship spending to manage the budget, despite growth in expensive higher level and degree apprenticeships swallowing an increasing amount of the budget.
Greening, now founder and chair of the Social Mobility Pledge said: "When I introduced the apprenticeship levy in 2017 its overriding objectives were driving improved social mobility through better quality skills education and tackling Britain's skills shortages, which were acute even then.
"The introduction of the levy was a hugely positive step which has enabled many apprenticeship opportunities nationwide but five years on and with billions of levy going unspent by employers, there's a risk that without serious reform the levy doesn't level up Britain in the way we intended."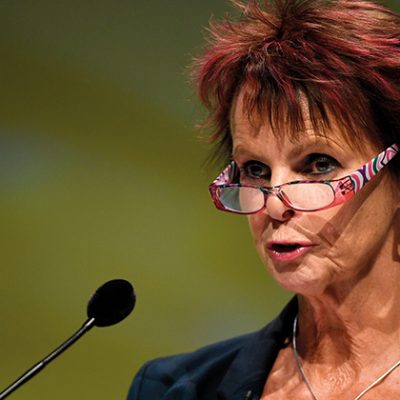 The business leaders and former politicians hope for a "properly structured review" this time, and what they call "apprenticeship levy 2.0".
This time last year, then-chancellor Rishi Sunak announced that the Treasury would "consider" and "examine" the effectiveness of levy in his Spring statement in the House of Commons, only for the Treasury to deny days later that this amounted to a formal review.
Ideas put forward in the letter include increasing the levy transfer cap from 25 per cent to 40 per cent, reviewing prior attainment requirements "particularly with regards to maths", and allowing funding to be used for wider skills training.
Adding their names to Greening and Milton's calls for action are Shirine Khouvry-Haq, chief executive of The Co-operative Group, Mark Goodyer, HR director of Sodexo and Daniel Curtis, head of talent of Travelodge.
Khoury-Haq said the Co-op is backing a review because the current levy model doesn't promote social mobility. 
"Apprenticeships are one of the best tools we have to promote social mobility, but the levy as currently designed holds us back. A structured review by government could empower more employers to offer apprenticeships to those who would most benefit," she said.
"At the Co-op we're already working to create apprenticeship opportunities for disadvantaged individuals and communities – we do this by working with other employers to pool and redistribute unspent levy funds. If the cap on redistribution of unspent levy funds were to be increased from 25 per cent to 40 per cent with increased flexibility on how the levy can be used, we could deliver even more of these opportunities." 
Anne Milton took over as skills minister just two months after the apprenticeship levy was introduced in April 2017. She has co-signed the letter as chair of Purpose Health Coalition.
"Five years on from the introduction of the apprenticeship levy, now is the right time to review how it is structured and make sure the operation of the levy is properly aligned with the drive to level up our country. We need, in effect, an apprenticeship levy 2.0, and I hope the chancellor will take the opportunity presented by next week's Budget to fire the starting gun on this process."
This intervention comes just one week after another former DfE minister, Jo Johnson, called for the chancellor to double employer contributions for a new apprenticeships and skills levy.
The chancellor will deliver the spring budget in the House of Commons on Wednesday March 15.