Businesses have called on the government to keep faith with its employer ownership of skills pilot despite a damning review of the project having revealed the first stage had resulted in less than 40 per cent of desired starts.
A review (pictured below right) of the £340m pilot, which aimed to involve employers in the design of skills training by giving them public money to combine with their own investment, has revealed that starts were at 37 per cent of the 10,000 apprenticeships and 90,000 non-apprenticeship qualifications originally planned in grant offer letters from the Department for Business, Innovation and Skills (BIS).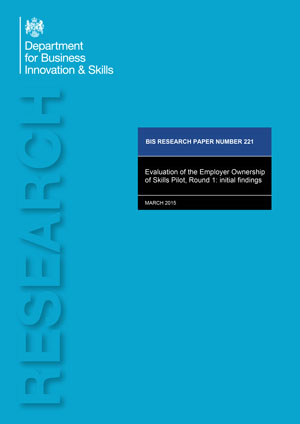 The review outcome sparked a call from Association of Colleges chief executive Martin Doel for an investigation by MPs, while Association of Employment and Learning Providers chief executive Stewart Segal said it was "disappointing".
But despite criticisms in the review that a lack of demand or commitment from employers was a factor in the low recruitment numbers, businesses that were involved in the first pilot have sung the praises of the scheme and called for continued faith in it.
Toby Peyton-Jones (pictured), HR director for Siemens UK, told FE Week: "There is no doubt that employer ownership of skills has set the right policy direction for the future as it drives a demand led approach to skills development."
He said the pilot was "working well" despite "difficulties" with early contracting, adding: "There are of course learning points that need to be made on implementation of these new policies, but the demand-led direction of travel is right, and we need to work out how to make it better not try to reverse what is probably one of the most important innovations in the skills arena for decades."
Steve Pallas, training manager at Nissan's Sunderland plant, said: "The employee ownership of skills pilot helped Nissan launch five new car models in two years, supporting the training and skills development of over 3,000 Nissan employees and involving additional staff from a further 25 companies in our supply chain.
"The value of the employee ownership of skills fund is that it gives us increased flexibility in developing the skills of our workforce to meet the needs of the business. In addition to providing match-funding from Nissan and our suppliers, having exceeded the targets in our grant letter, we're confident we're providing value for money."
Dr Adam Marshall, policy director for the British Chambers of Commerce, said: "The employer ownership of skills pilot has been a useful way to find out what does and doesn't work when it comes to boosting business investment in skills.
"From the lessons learned it's important that we now look forward and think about how we can help more interested businesses to get involved, while keeping other routes to access training open too."