Promised emergency funding uplifts for a select few apprenticeships under the most pressure from rising costs face yet another "shocking" delay due to "excessive bureaucracy and indecision".
Cash boosts for 20 apprenticeship standards were supposed to be finally introduced from May 1, but sign off on the process is still with the Treasury with just days to go before the deadline.
Institute for Apprenticeships and Technical Education chief executive Jennifer Coupland revealed last month that just half of those in scope have actually opted to go through the exceptional process, which was first announced six months ago.
FE Week understands it is unlikely that all remaining 10 standards will have a positive outcome.
Apprenticeships that are going through the emergency funding review include hard-pressed industries such as adult care, hospitality, and HGV driving.
A spokesperson for the institute told FE Week: "We continue to work closely with the department to conclude the exceptional funding band review process and implement any funding changes as soon as possible."
Some providers have put starts on hold in anticipation of a funding uplift in recent months and have been left angered by the prospect of another setback.
Jill Whittaker, managing director of HIT Training, which offers several standards going through the review, said: "This was supposed to be an emergency funding uplift: firstly, we are told it will only be one funding [band] level which will still not cover the costs of delivery; secondly, we hear it will only be applied to future starts, which disadvantages existing providers over new entrants to the market; and thirdly, the urgency is real, and it was urgent when the review was announced.
"A number of providers have gone bust in recent months. Where's the urgency? To delay further is shocking."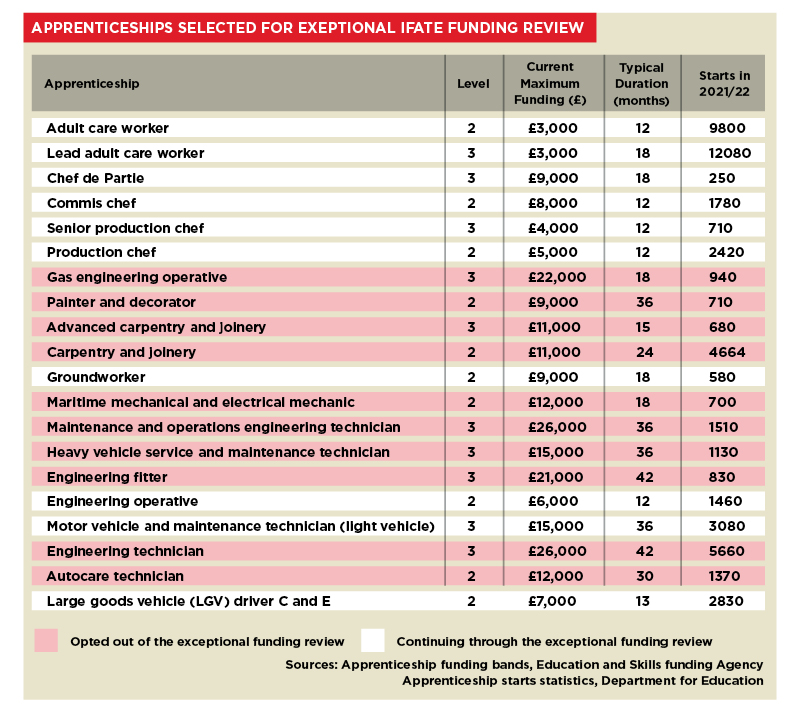 Is the funding band review process is fit for purpose?
In November the Education and Skills Funding Agency announced plans to quickly increase funding bands in the hardest hit sectors to recognise the impact of soaring inflation on training delivery, with an ambition to unveil details of the process at the end of that month.
The IfATE belatedly announced in January that this "exceptional funding band review" would only apply to 20 "high-volume apprenticeships in skills shortage occupations and priority sectors".
The chosen standards represented about 20 per cent of all apprenticeships starts. Evidence for an uplift was needed by early March and the new funding bands had planned to be implemented by May 1.
IfATE said the exceptional review would not include the full apprenticeship content or end-point assessment review that the ordinary revisions process includes, to help speed up the process.
Coupland told last month's Annual Apprenticeship Conference that the institute received "different responses" from the 20 trailblazer groups that were identified for the review, where "one didn't want to go for it and another clutch said they would prefer to go through the usual funding band process, because they actually wanted us to review their end-point assessment, the content of the apprenticeship, as well as the funding".
Any uplifts will only be by one funding band, and they will only apply to new starters.
Responding to the likelihood of yet another delay, Jane Hickie, chief executive of the Association of Employment and Learning Providers, said: "As the sector waits for any news of these uplifts, and inflation rates continue to soar, providers are under enormous financial pressure and apprentices suffer despite being lauded as part of the governments flagship programme.
"Excessive bureaucracy and indecision would appear to mean that we will not see the promised funding increases to be in place for May's new starts."
She added: "At a time when the Treasury are collecting hundreds of millions from employers, and the system cannot work for even a very small number of standards, questions must be asked about whether the funding band review process is fit for purpose."