Having taken on the challenge of a round-the-world sailing event, Lindsey Noble has dropped anchor for the challenge of turning around the fortunes of Greenwich Community College.
Ms Noble, who left City College Southampton in August 2013 after 12 years as principal to take part in the Clipper Yacht Race, has been taken on at the South East London college following its inadequate grading from Ofsted last month.
She took up the post of principal on January 8, replacing Gary Chin, who left at the end of last month.
Ms Noble said: "I am very excited about the opportunity of working at Greenwich Community College it will be a challenging role, but one I am familiar with. I have total commitment to the student body, and I intend to work very closely with the FE Commissioner over improvements."
Ms Noble dropped out of the famous yacht race a fortnight early to go to the wedding of her partner's grandson, but has a college principalship record from Southampton that ended with the transition from an Ofsted grade three to two.
Richard Bourne, interim governors' chair at Greenwich Community College, which got grade fours across the headline fields, said: "Our recent Ofsted inspection had a disappointing result, and we will now be subject to the scrutiny of the FE Commissioner.
"We are so pleased that Lindsey is joining us now, as she has the skills and experience necessary to lead the college along the path to recovery."
Meanwhile, Lewisham Southwark College is set for a new principal and chief executive in Newcastle College's Carole Kitching this summer.
She is due to take over in July, replacing the current interim leadership team of Jo Lomax and Ioan Morgan.
Ms Kitching, who joined Newcastle College as assistant principal in 2011 and was appointed as principal in September 2013 after eight months as interim principal, said: "I am delighted to have been appointed as principal and chief executive at Lewisham Southwark College at this exciting time.
"I am passionate about establishing the college as a beacon of excellence in London and beyond for services to students, employers and the community and I am looking forward to working with governors, staff and stakeholders to achieve this vision."
The South London college has been without a permanent boss since May with former principal Maxine Room having resigned after a visit from the FE Commissioner, whose inspection was triggered by a January 2014 inadequate rating from Ofsted.
Former Warwickshire College principal and ex-157 Group chair Ioan Morgan became interim principal and chief executive in June. Ms Lomax became interim principal from January 5 with Mr Morgan's contract terminating at the end of last year, at which point governors agreed to split the role of principal and chief executive, keeping Mr Morgan on in the latter role.
Lewisham Southwark College corporation chair John Landeryou said: "The corporation is delighted that Carole has accepted the offer of the position. The board welcomes her experience and expertise and look forward to working with Carole to returning the college to its rightful place as an outstanding college in the heart of South London."
Joe Docherty, chief executive of Newcastle College's parent NCG (Newcastle College Group), said: "It is a challenging role but one which I am Carole she will excel at."
He added: "We will start the process immediately to look for a suitable replacement for Carole to ensure a smooth hand over when she leaves us in July. We wish her every success when she takes on her new role."
Croydon College principal Frances Wadsworth (pictured) has been appointed as one of two independent trustees on the new, eight-strong board overseeing the Construction Industry Training Board (CITB).
She is the only FE and skills-related appointment to the board, with Skills Minister Nick Boles giving five posts to figures from construction industry employers and the chair to James Wates CBE, chair of the Wates Group.
"I am delighted to have been appointed by Mr Boles as an independent trustee to the CITB, which is entering an exciting period of development," said Ms Wadsworth, whose 11,000-learner college got a grading of good from Ofsted in June
"Construction is a key enabler of growth across the UK economy. Critically, the sector employs around 10 per cent of the UK workforce and contributes almost £90bn to the UK economy each year.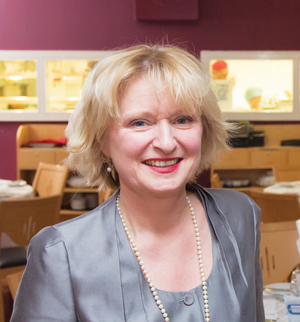 "I look forward to working with the executive and other trustees in developing the role and scope of the board and the ways in which the CITB can support this important industry."
She was also one of five women appointed a trustee of the independent learning provider, which achieved a clean sweep of outstanding ratings from Ofsted in January 2013 as the 12,000-learner National Construction College.
Mr Boles said: "The new board will have a major role in helping this dynamic industry develop the skills it needs to grow.
"I congratulate all the new trustees on their appointment and look forward to seeing them working with business and employers to address the skills challenges faced by the construction sector.
"I am particularly pleased to see greater diversity on the Board and hope that it encourages more women to consider a career in construction."
Maureen Douglas, group HR director at Forster Group, David Harris MBE, managing director at WRW Construction, Karen Jones, group HR director at Redrow, Maria Pilfold, HR consultant and former director of the Taylor Wimpey Group and Ray Wilson, director and general manager of Carillion Training Services were appointed employer trustees and Dr Diana Garnham, chief executive of Science Council was the other independent.